In his picture book BASEBALL AND BELONGING, illustrated by Chris Brown, Ryan Lavarnway chronicles his story as a kid growing up playing baseball to his career as a catcher for Major League Baseball teams. Along the way, Ryan had many accomplishments, and his passion for baseball ultimately led him to explore and embrace his Jewish identity. Eventually, Ryan joined the Israeli National team. Ryan's career in professional sports is impressive, and his search for belonging is inspiring. I am happy to learn more about his journey. Welcome, Ryan!
Can you tell me about your journey from Major League Baseball to the Israeli National team?
I first joined the Israeli National team in 2016 when we had to win a "play-in" tournament to earn a spot to play in the 2017 World Baseball Classic. It was the first time I had ever been on a team with all Jewish players. It was incredible to be a part of.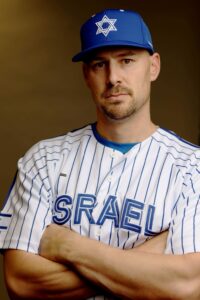 How did your experience on the Israeli team help you connect with your faith?
When we won the "play-in" tournament, the team brought us to Israel to get to know the country we would be representing on the world stage. It was the first time many of us had been there. It was so beautiful and powerful. I felt more connected to my faith and the Jewish community than I ever had before in my life.
Why did you decide to write a kid's book about your life experiences?
My rabbi was the one who recommended that I turn my Jewish Identity story into a children's book—for a lot of my life playing baseball kept me away from my faith. I was always playing in tournaments on weekends. I never got to go on a birthright trip because I was always playing. But eventually, through Team Israel, baseball brought me back and helped connect me to Judaism. You truly can do what you love and find where you belong.
Do you have any meaningful anecdotes about your experiences that didn't make it into the book?
To me, one of the most beautiful things about Judaism is that there are so many different ways to be Jewish. Beyond the simple categories of Orthodox, Conservative or Reform, people can feel connected to their Judaism through food, through culture, through community, or even through baseball.
What do you hope readers take away from BASEBALL AND BELONGING?
I hope that this story transcends baseball and that readers can see themselves in the character. I want to encourage people to follow their passions. Whatever it is you love to do, and wherever you feel a sense of belonging, do it!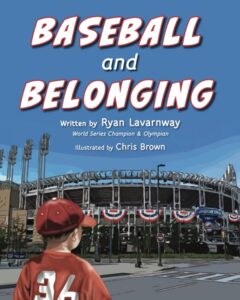 What does Israel mean to you?
To me Israel represents hope. It's a place where we can all belong. When Hatikva plays before the game as we stand on the foul line and I'm wearing "Israel" across my chest, regardless of where we are around the world, I feel hopeful.
Thanks, Ryan!
Ryan Lavarnway is a 10-year Major League Baseball (MLB) retired catcher, currently serving as a broadcaster for MLB's Colorado Rockies. Originally drafted by the Boston Red Sox in the sixth round of the 2008 MLB Draft, Ryan made his MLB debut in 2011 and went on to play a decade in the MLB for eight different teams. Lavarnway is a current member of the Israeli national baseball team where he was recently named team captain. He first played for Team Israel in the 2017 World Baseball Classic (WBC) where earned Pool A MVP honors and also played in the 2020 Tokyo Olympics, the 2023 WBC and played in the 2023 European Baseball Championship.