Tammar Stein's illustrated chapter book THE GIANT, THE SLINGSHOT, AND THE FUTURE KING (Apples & Honey Press, 2023) illustrated by Dodo Maeder, retells the story of David and Goliath, as well as David's life beyond his victory over the giant. Young readers will learn about David's victories and challenges in this accessible and fast-paced story. The illustrated chapter book format is perfect for an adult to read aloud, or for an emerging reader to enjoy independently.
I'm excited to learn more about this terrific book. Welcome, Tammar!
What inspired you to create a midrash about David and Goliath as an illustrated chapter book?
It started when I was approached by not one, but TWO Jewish librarians who asked me to write easy readers for Jewish kids. (For those who don't already know, easy reader refers to the type of book that newly independent readers are reading.) While there are lots of terrific easy readers out there, very few are specifically on Jewish topics. So I was already intrigued and thinking about that type of book, when it struck me that I hadn't come across many contemporary re-tellings of famous bible stories. It seemed like the perfect intersection to tell a familiar story in a fresh, modern way while giving independent readers a chance to test their reading skills.

David was the perfect subject because he's a kid when much of the action takes place. There aren't many bible stories where our main character is a kid.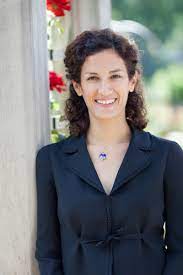 In the book, readers learn about David learning to play the harp and practicing with a slingshot. Why do you think it's important for young readers to learn about these very different skills David acquired?
We have this myth of "instant" or "overnight" success. Overnight success just means no one noticed the years of effort that went in behind the scenes. I wanted to debunk the famous narrative that David was this young lad who strolled up and effortlessly won against Goliath. But David specifically says that he has protected his family's sheep from a mountain lion and a bear. It wasn't a stretch to read between the lines and understand he'd had years of practice with his slingshot before Goliath ever showed up. And there's no way he was an accomplished musician without practicing the harp daily for years. (Just ask any parent of a kid learning an instrument…)
I was really happy to put that on the page because sometimes kids give up on something when "they aren't good at it." As if anyone could be good at something before they practiced a lot!
The story has a contemporary tone. For example, David makes friends with King Saul's son Jonathan, who makes David laugh when he tells him he has bad taste in clothes. Was this a specific creative decision, or did the tone evolve as you wrote the story?
Language evolves, even if people stay mostly the same. Boys tease each other. Friends reach out to help. That's timeless and universal. I wanted to make sure today's kids felt they could relate to these figures from so long ago.

Were there any interesting things you discovered that didn't make it into the final draft?
Everyone knows the famous story of David and Goliath. But David has a long story after he defeats the giant and before he becomes king. There's a whole section where King Saul becomes paranoid and suspicious of David. There's this surreal scene where David is hiding from King Saul because King Saul wants to kill him. King Saul needs to answer nature's call and he enters the cave where David is hiding. Then David pops out to essentially say, "hey, if I wanted you dead, you'd be dead by now. Can you please trust me now and let me come back to the palace?"
I wanted to have the scene in the book so badly! I mean, potty jokes just write themselves and who doesn't like a big bathroom surprise? But alas, we made the editorial decision to leave that one out of the book.

What were your thoughts when you first saw Dodo Maeder's illustrations?
I adore her art, and that cover! I love the sense of movement and humor, the lettering. It's so attractive and kid-friendly. She caught the exact tone I wanted for the book: a vibrant, fresh take on an old story.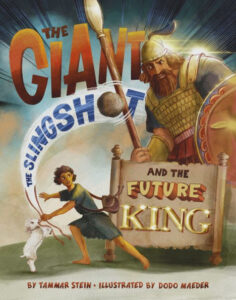 What do you hope young readers come away with after reading THE GIANT THE SLINGSHOT AND THE FUTURE KING?
My primary goal, as for everything I write, is that it's a fun, immersive read. The first job of an author is to make the reading experience enjoyable. This isn't their work, it's not their job to read this book. Reading THE GIANT, THE SLINGSHOT, AND THE FUTURE KING needs to be a great experience. 
 
My second, sneakier goal, is that this story normalizes hard work and persistent effort. David is not a talented musician when he starts playing the harp (just ask his sheep!) He isn't accurate with the slingshot when he first uses it. But his practice pays off. I hope that by practicing the skills that my readers care about, they'll grow confident in themselves and succeed beyond their wildest dreams.
Thank you, Tammar!
Tammar Stein is the author of books for children and young adults, including Beni's War, winner of the Middle East Book Award and The Six-Day Hero, a Junior Library Guild Selection and Sydney Taylor Honor. Tammar has lived on three continents, in five countries, and six states. She currently lives in Singapore with her family and adopted street dog.