In CHALLAH DAY! (Holiday House, 2023) by Charlotte Offsay, illustrated by Jason Kirschner, a family spends the day baking Challah. The bouncy, rhyming text takes readers through preparing and mixing ingredients, waiting for the dough to rise, and braiding and baking challah. Shabbat preparations are shared along the way, culminating in lighting Shabbat candles with extended family around the table. Featuring engaging and playful illustrations, CHALLAH DAY! is a great introduction for young readers, including a helpful back matter with a challah recipe. I'm pleased to learn more about CHALLAH DAY! from both the author and the illustrator.
Welcome, Charlotte and Jason!
Charlotte, what inspired you to write about baking challah as a family tradition?
I began baking challah with my two children as soon as they grew old enough to stop trying to eat the raw challah dough. It was and still is one of my favorite things to do with them. I love the messy delicious sweetness that comes from baking together as a family. When I sat down to write what would eventually become Challah Day!, I never actually set out to write a manuscript – I simply sat down one evening to celebrate our weekly tradition on paper, just for our family. In writing that first early version, I fell in love with crafting stories and decided to take my first writing class. Writing Challah Day! inspired my author journey.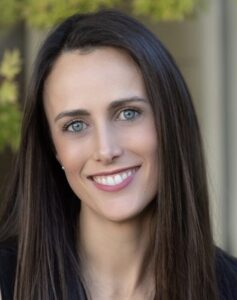 Do you have a favorite personal story about baking challah?
What a fun question! There are so many memories that have popped into my head that this one is very hard to answer. Thinking back on the early days of making challah with my kids evokes memories of delicious giggles – many of which are referenced in the book that exists today. For example, I remember trying to teach my kids how to crack an egg, and the countless eggs that ended up on the floor or smooshed in their tiny hands. This is referenced in the spread in Challah Day that reads….
Crack the eggs – one… two… three… four –
Extra if some hit the floor.
Another example is the spread that reads….
Chocolate, raisin, which to use?
It's not hard for us to choose!
This was inspired by my daughter who once dumped an entire bag of chocolate chips into her challah dough! Here is a photo: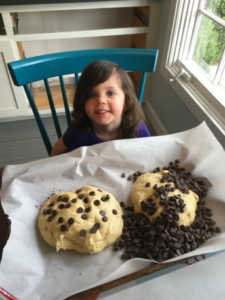 More recently, my favorite challah memories are of making special challah designs for the holidays. For example:
Turkey Challah for Thanksgiving: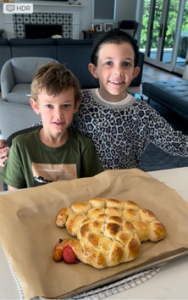 Apple Challah for Rosh Hashanah: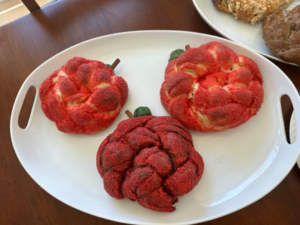 Menorah challah for Hanukkah: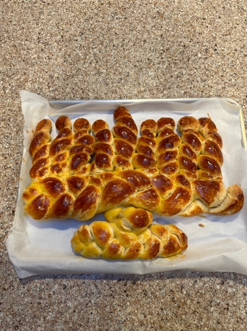 What were your thoughts when you first saw Jason's illustrations?
I was (and still am) absolutely delighted! Challah Day! for me is all about celebrating Jewish Joy. Baking challah is a timeless tradition that has been a gift for my family to embrace and Jason captured the celebratory giggle-inducing deliciousness perfectly. I adore the warm loving family Jason cooked up and am in awe of how he managed to elevate the text with humor and brilliant shifts in perspective. One of my favorite spreads is the narrator leaping across giant sized ingredients. I am very grateful to Jason for agreeing to partner with me on this book and have since become a big fan of his other work – I highly recommend checking out his Bunny Noir series on his Instagram page @jkirsch118!
Jason, what were your thoughts when you first read the text for CHALLAH DAY!?
I thought it was a really fun manuscript. I've made challah with my kids many times and I could feel the joy in Charolette's text.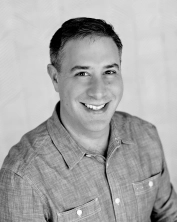 Can you share a bit about your illustration process?
The challenge to me was to make all the different illustrations of the baking process interesting. There's only so many times you can draw people standing behind a kitchen counter adding things to a bowl and have it be interesting and dynamic. Finding ways to keep that interesting was the fun part of illustrating this book.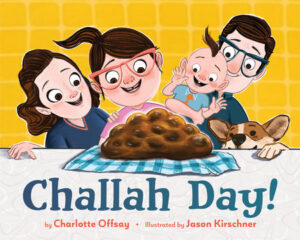 How important is the subtext when creating illustrations for picture books?
I don't know that there's too much subtext in Challah Day! It's a pretty straightforward book. Having said that, there are plenty elements that I get to layer onto Charlotte's text. I thought it would be fun if the family had a dog that helped bake. The little flights of fancy with our main character jumping from giant ingredient to the next were my way of making some of the cooking spreads more dynamic. They were also a little tribute to one of my favorite illustrators, Maurice Sendak and his book In The Night Kitchen.
Thank you, Charlotte and Jason!
Charlotte Offsay was born in England, grew up in Boston, and currently lives in Los Angeles. Every Friday she bakes challah for Shabbat with her husband and two children. She is the author of four picture books. Challah Day! is her first book for Holiday House. Learn more about Charlotte's work at CharlotteOffsay.com and follow her on Twitter at @COffsay and on Instagram at @picturebookrecommendations.
Jason Kirschner is the author and illustrator of Mr. Particular: The World's Choosiest Champion! When not writing and illustrating, Jason is an Emmy-nominated set designer for television. His credits include The Meredith Vieira Show, Late Night with Conan O'Brien, and The Late Show with David Letterman. He has baked plenty of challahs with his wife and teen twins, although they always get hung up at the braiding stage because it isn't as easy as it looks. You can find his work at JasonKirschner.com or on Instagram at @jkirsch118.