Martin Lemelman's graphic novel for young readers, THE MIRACLE SEED (Eerdmans Books for Young Readers, 2023), tells the remarkable true story of modern scientists rediscovering an ancient Judean date palm seed. In a perfect melding of history and science, the book explores the collaborative scientific process of bringing the seeds to life. Readers will be riveted from the start. Back matter includes more information for eager readers and young researchers. I am delighted to learn more about Martin's research, writing, and artistic process for creating this fascinating book. Welcome, Martin!
I am also pleased to announce that we are offering a giveaway! If you are interested in entering the giveaway to receive a copy of THE MIRACLE SEED, courtesy of Eerdmans Books for Young Readers, leave a comment by April 20, 2023. Please include your email address as the winner will be notified via email. The winner will be chosen at random.
The MIRACLE SEED is a wonderful combination of history, religion, and science. What drew you to the story of the Judean date palm seed that was brought back to life?
Precisely because it's a wonderful combination of history, religion, and science!
Nature amazes me. I wake up every morning and work in my garden. I watch butterflies emerging from their chrysalises. When I first read about this story, I couldn't consume enough. I emailed the scientists; I went to the library; I searched the web. It became an obsession. This obsession became The Miracle Seed. History and religion can teach us so much about the world. And science can bring it all together.
The story is created in comic (graphic novel) style for young readers. In understandable terms, you explain some very complicated scientific processes. What challenges did you face in making the story accessible to young readers?
Great question! This was my biggest challenge. How do I make a book that is clear and concise, but also accurate? There were sections in the book that I rewrote and redrew dozens of times to get the concepts as clear as possible. Then I sent the pages to Dr. Solowey (the scientist that created the miracle) to check if what I'd created was both understandable and accurate.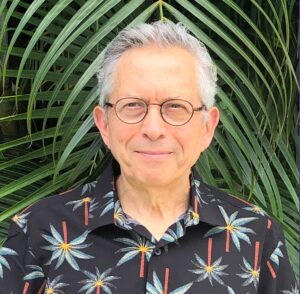 As an artist and writer, can you share a bit about your process? What comes first to you – the words or the art?
Ideas come to me all the time. I keep a notebook by my bedside just in case I need to jot down a thought or concept. Some of my best work gets started on a napkin, after a bike ride or working in the garden.
Once I decide on a project like The Miracle Seed, I want to learn as much as possible about the topic. This requires hours of focused research.
Even though much of what I learn in my research doesn't make it into the book, I feel the book is better because of this work. While creating The Miracle Seed, I emailed Dr. Elaine Solowey many times with questions about her methods of reviving the ancient seed. I even grew medjool date seeds to learn how date seeds form into plants. I also read, read, read!
Then, when I'm ready to get down to business, I write a simple outline – what's first, what comes after, etc. Then I write a rough version of the book based on my outline. Then I paginate. Pagination means creating a simple black and white book with text and very rough sketches. After that, I begin drawing in earnest. Amazingly, as I draw the images, I find I need to change the text. It becomes a kind of a dance between the words and the art. The words first inform the art; then my art informs my words. After many months of this dance, I finally scan the drawings into the computer to begin painting using Photoshop.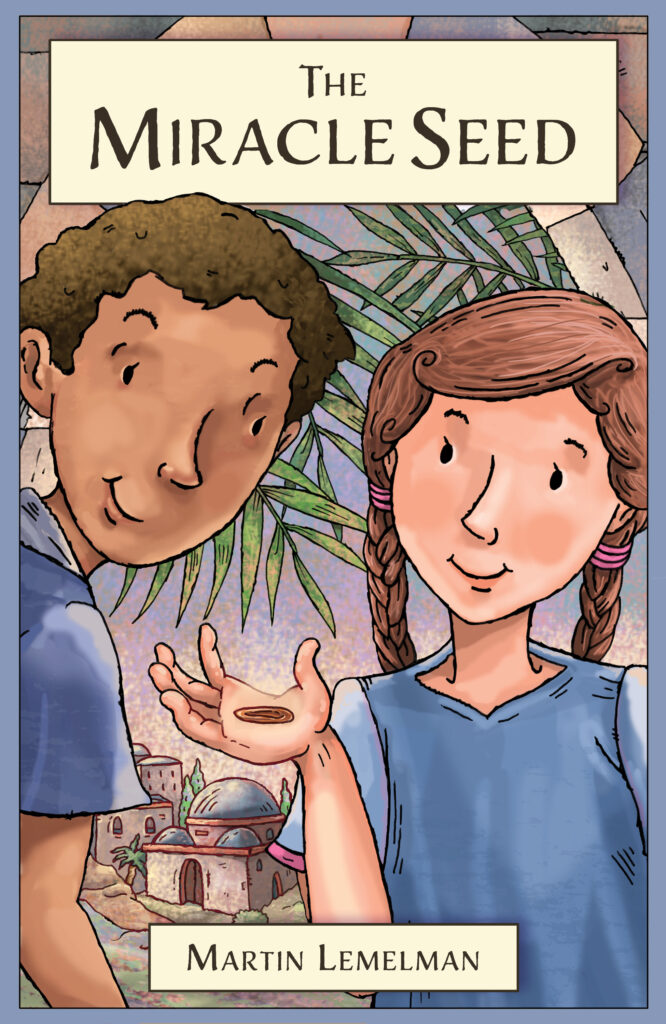 Were there interesting facts you discovered in the process of your research that didn't make it into the final book?
Part of the enjoyment of writing a book like The Miracle Seed is learning new things. I was amazed to discover that 6,000-year-old carbonized date seeds were found in Israel – in the Judean Desert, and near the city of Jericho. It was also surprising that the Judean dates were celebrated over 2,500 years ago! Famous Roman, Greek, and Jewish writers, including Herodotus, Pliny the Elder, and Josephus wrote about the date's wonderful sweetness, its large size, and nutritional and medicinal benefits.
What do you hope young readers take away from reading THE MIRACLE SEED?
My intention for creating The Miracle Seed was to instill a sense of wonder and excitement in the world around us! I hope young readers will see that the study of history and science can make our world a better place. The Miracle Seed is the true tale of two scientists who did the impossible. Perhaps this book will inspire a young reader to discover the next miracle!
Thank you, Martin!
Martin Lemelman has illustrated more than 30 children's books, and his work has been featured in publications ranging from the New York Times Book Review to Sesame Street Magazine.
His graphic memoir Mendel's Daughter (Free Press/Simon & Schuster), the true story of his mother's survival in the Holocaust, was ranked number eight in Entertainment Weekly's "10 Greatest Graphic Novels of All Time." Two Cents Plain: My Brooklyn Boyhood (Bloomsbury USA), Lemelman's memoir about growing up in the 1950s, was selected as one of the best memoirs of 2010 by Kirkus Reviews. His latest graphic novel, The Miracle Seed (Eerdmans), is the thrilling true story of an ancient plant, wonderfully reborn in the modern era through the hard work of two female scientists. It is a Junior Library Guild selection.
In addition, Lemelman recently finished the art for the animated short, "The Tattooed Torah," which is narrated by Ed Asner and sponsored by the USC Shoah Foundation.
Martin Lemelman lives in Florida, where he is a certified Florida Master Gardener. Visit his website at lemelmanart.com and follow him on Twitter @MartinLemelman.
*Congratulations to Janice Hechter, winner of the book giveaway for THE MIRACLE SEED!