In her new picture book biography from the Little Golden Books series titled IRIS APFEL: A LITTLE GOLDEN BOOK BIOGRAPHY (Golden Books, 2023) illustrated by Ellen Surrey, Deborah Blumenthal introduces readers to Iris Apfel, a beloved fashion icon, designer, and businesswoman known for her unique and colorful style. Iris's story will encourage youngsters to be bold, stand out, and follow their dreams. I am pleased to welcome back Deborah and learn more about the creation of this delightful book.
What inspired you to write a biography about Iris Apfel for young readers?
Actually Little Golden Books came to me to do the story.
Can you share a bit about your research process for this story?
I started out by reading Iris's delightful book, "Accidental Icon." I also watched the documentary from 2014, called Iris. Then I read everything I could from newspapers and magazines.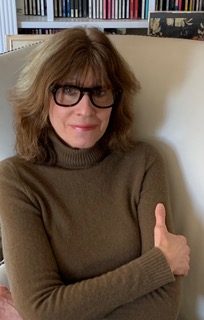 In the book, you describe how Iris's love of fashion and style emerged early in her life; she was particularly influenced by her fashionable mother and her grandmother's collection of fabric scraps. Do you think Iris's Jewish upbringing influenced her career and outlook on life?
You're right, from an early age Iris was very influenced by the strong fashion sense of her mother, and she loved playing with fabric scraps that her grandmother gave her when she visited. I think the strong bonds she felt toward family – so much a part of her Jewish upbringing – gave her the confidence and independence to do all the creative work she did throughout her life, starting with building Old World Weavers, the very successful textile company she ran with her husband, Carl, up until today, putting her name on a line of whimsical, washable rugs, called Ruggables.
What were your thoughts when you first saw Ellen Surrey's illustrations?
I was thrilled. I love Ellen's use of color and I think she captured the excitement and fun that Iris brings to dressing up.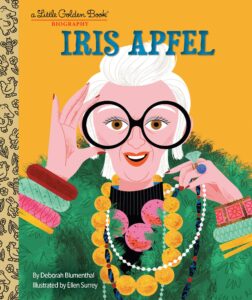 Were there any anecdotes or interesting stories you would've liked to include about Iris's life in the book?
If I had the space, I would have expanded upon Iris's belief that a fashion sense begins with knowing who you are, and prizing your individuality. You don't find yourself – or lose yourself, as some do – in fashion, you use fashion to show the world who you are.
Thanks, Deborah!
Deborah Blumenthal is an award-winning journalist and nutritionist, and the author of 27 books, most of them for children. She has been a regular contributor to The New York Times (including four years as the Sunday New York Times Magazine beauty columnist), and a home design columnist for Long Island Newsday. Her health, fitness, beauty, travel, and feature stories have appeared widely in many other newspapers and national magazines, including New York's Daily News, The Washington Post, The Los Angeles Times, Bazaar, Cosmopolitan, Woman's Day, Family Circle, Self, and Vogue.