In Tziporah Cohen's wordless picture book AFIKOMEN (Groundwood Books, 2023), readers will experience the history of Passover with detailed illustrations by Yaara Eshet. Wordless picture books are a fascinating art form that requires a clear story arc without text. AFIKOMEN is a beautiful example of the genre. Readers will be fully engaged while having the opportunity to put their own words to the scenes in the book. It's a lovely way for families, teachers, and librarians to introduce young readers to the story of Passover. I'm delighted to welcome Tziporah to learn more about AFIKOMEN.
AFIKOMEN is a beautiful, wordless picture book. Can you share a bit about the format for creating a manuscript for a wordless book?
Thank you! People always look at me funny when I tell them I'm the author of a wordless picture book. In lieu of text in the manuscript, I described the story, like this:
The family dog grabs the afikomen bag out of the youngest child's hand, and dashes under the table.
The children follow, running under the tablecloth…
… and tumble out the other side through tent flaps, into biblical Egypt.
In many ways, it was the easiest book I've ever written, because, while I made revisions to the story itself in various drafts, I didn't have to revise the text and find that perfect word.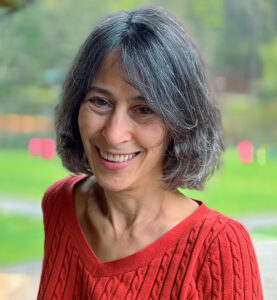 The book tells the story of Passover through the eyes of the children at the seder. There's some time travel, and a bit of magic, as the story takes us back to biblical times. Tell me a bit about what inspired your telling of the Passover story.
The book came out of an assignment, years ago during my MFA, to write a wordless picture book. It was March or April at the time, so Passover was on my mind. During the Passover seder, we are asked to imagine ourselves as if we, like our ancestors, were still enslaved in Egypt. We say, "This year we are slaves; next year we will be free." I thought, what if we really went back in time to experience biblical Egypt? I'm somewhat obsessed with time travel, both as a reader and a writer, and loved the idea of these children going back to biblical Egypt not just as observers, but as participants. They see Miriam and the basket containing baby Moses, and they know what's happening, because they know the history of Passover. They also know what's going to happen—what needs to happen—in order for them to exist thousands of years later. I wanted to make them real participants in their own history.
There are a lot of details in the illustrations. Did you need to do any research to help in the creation of the book?
No, that was all Yaara! She had the hard work of creating an accurate Passover seder as well as depicting all the scenes in ancient Egypt. I did some research for the author's note, in which I describe some different afikomen traditions, but Yaara did the heavy lifting when it came to the rest.
Did you collaborate with the illustrator, Yaara Eshet? What were your thoughts when you first saw Yaara's illustrations? Did they match your vision for the book?
I'd say there was a good deal more collaboration with Yaara than I've had with my other picture book illustrators, though it was all through our editor. I didn't have any direct contact with Yaara until just recently, in fact. But there was a good deal of back and forth to get the religious details correct, like making sure the Haggadah was on the right page when everyone would be eating the afikomen, for example. (Yaara was born in Israel, so thankfully the Hebrew lettering was not an issue for her!) That said, while my manuscript described the action in the story, it was very important to me to make room for the future illustrator to add their own details and interpretations.
I had hints of what was to come when I saw the initial pencil sketches Yaara had done, but was blown away when I saw the full color paintings. Because I am not in any way a visual artist, I had never really visualized in my head what the book might look like, but now I can't imagine it any other way. It's perfect.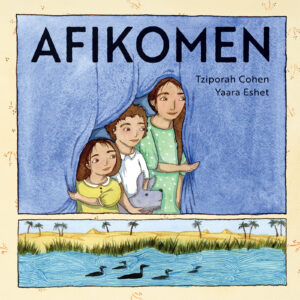 What do you hope your readers take away from AFIKOMEN?
I hope it provides the young reader some fun, quality time with the adult that reads it with them, puzzling out what is happening and noticing all the wonderful details in the illustrations. If they celebrate Passover, I hope it sparks discussion about their own seder traditions and experiences, and if Passover is new to them, I hope the book serves as a window into this Jewish holiday and some of its practices.
Thank you, Tziporah!
Tziporah Cohen was born and raised in New York, then spent eighteen years in Boston before landing in Toronto, where she lives with her husband, three kids, two cats, and one dog. She has an MD from Harvard Medical School and an MFA in Writing for Children and Young Adults from Vermont College of Fine Arts. Tziporah splits her time between working as a psychiatrist in oncology/palliative care and writing, interspersed with parenting, indoor rock climbing and lots of walking the dog. You can find her at her website: tziporahcohen.com or on Twitter: @tzippymfa