I'm so happy to welcome back my friend, author/illustrator Ann Koffsky to celebrate her new picture book UNDER-THE-SEA SEDER (Apples & Honey Press, 2023). Passover is such an important holiday for families and keeping it meaningful and engaging for kids is a priority. UNDER-THE-SEA SEDER is a perfect selection to share with young readers. In the book, a girl named Miri uses her imagination to travel underwater during her family's Passover seder. With the help of some sea creature pals, Miri has her own seder experience, introducing readers to Passover concepts in a creative way. I am thrilled to learn more about Ann's writing and illustrating process.
More good news – we are offering a giveaway! If you are interested in entering the giveaway to receive a copy of UNDER-THE-SEA SEDER, leave a comment by March 15, 2023. Please include your email address as the winner will be notified via email. The winner will be chosen at random.
In your book, Miri is having a hard time paying attention during her family's seder. She finds a fun way to stay engaged and imagines she is under the sea with her cat. How did you come up with this creative concept?
My kids. When they were younger, they would each take a turn at Shabbat meals, or seder meals, underneath the table. And when I thought about it more…I realized that I did as a kid, too! It made me realize that it might a universal refuge for kids everywhere!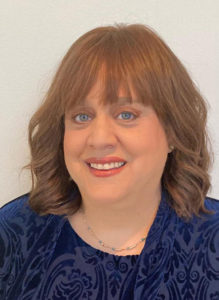 The art is bold and fun, and there are a lot of hidden treasures for young readers to discover. Can you tell me a bit about your process for creating the illustrations?
Thank you! The first challenge I had with making the illustrations for this book was figuring out: what DO sea monsters look like?!? So that piece involved lots of research of mythical creatures. I pulled out my daughter Adira's (A"H) Dungeon and Dragon books and consulted with her on possible monster types—she loved D&D and was a dungeon master, so this was certainly her area of expertise. And I also looked at a lot of natural creatures, like sea horses, chameleons, frogs, and mixed and matched pieces of them to come up what became three distinct, illustrated creatures.
What do you hope young readers (and parents) take away from UNDER THE SEA SEDER?
I was very fortunate that in my parent's house, seders were fun, and I looked forward to them as a kid. There were silly songs, afikomen games, and my Dad lead an engaging seder full of questions and ideas meant to engage all the kids at the table. Yet, I often hear that some people think of the seder as a chore, long, boring. So I guess my overarching message is that a seder can be whatever YOU make it. And that's what Miri figures out in the course of the book herself.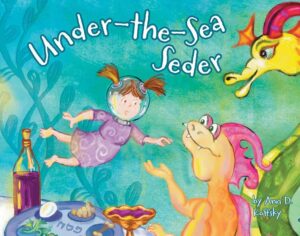 At the end of the book, you explain that kids are supposed to have fun during the seder. You also offer some activities families can try to help kids feel engaged during their seder. I think this will be a refreshing discovery for many parents.
Yes, and my suggestions are just the tippity-tip of the iceberg. Depending on your family and who is attending there are so many ways a seder can become a joy. Games, trivia questions, silly songs, activities…whatever works for your family. And, if you have this book—it can even include sea monsters, too.
Coloring page: https://annkoffsky.com/passover-coloring-3/
Thank you, Ann!
Ann D. Koffsky is the author/or illustrator of more than thirty books for children, including Judah Maccabee Goes to the Doctor, the Kayla and Kugel series, and Under-the-Sea Seder. She lives in West Hempstead, New York.
*Congratulations to Rachel Steinhardt, winner of the book giveaway for UNDER-THE-SEA SEDER!