Sandy Lanton's new picture book LILY BLUE RIDING HOOD: A PURIM STORY (Intergalactic Afikoman, 2023) illustrated by Kim Barnes, puts a modern, Jewish spin on the classic Little Red Riding Hood tale. LILY BLUE RIDING HOOD follows a skateboarding girl named Lily as she spends the Purim holiday with her grandmother in Florida. But when Lily encounters a wolf trickster, she must outsmart him to celebrate at the Purim party. It's a delightful romp – perfect for Purim! I am excited to learn more about Sandy and her fresh take on a traditional tale.
What inspired your retelling of a traditional fairytale with a Jewish twist?
I have always loved fairy tales but felt that they were too violent, especially the ones by the Brothers Grimm. I didn't like the idea of the wolf devouring Granny, even if the woodcutter saved her at the end. I wanted him to eat some food instead. Since my favorite holiday is Purim, and I love hamantaschen, it was almost a no-brainer.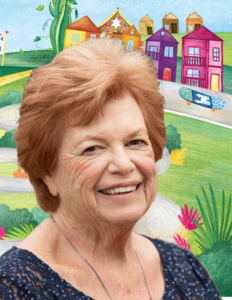 As a writer, was it challenging to maintain the traditional framework of LITTLE RED RIDING HOOD while making the setting (Florida!) and characters (Lily rides a skateboard) modern?
Actually, it was a very smooth process. I think this story has been brewing since my childhood. I wanted to modernize the story and make Granny's image more in line with today's active grandmothers. They don't live in cottages in the woods and sit in rocking chairs by the fire. They play sports like pickleball and golf.
In my mind, the setting was Puerto Rico, where I spend my winters, but in an earlier draft, I left it ambiguous whether it was Florida or the Caribbean. My editor, Brianna, decided it was Florida because she loved the idea of Lily skateboarding to Granny's Florida condo.
I love watching kids riding skateboards, so I decided that Lily should ride one. If there's ever a Lily doll, she should come with a skateboard.
What do you hope young readers take away from LILY BLUE?
I didn't intend this to be a message book. I just wanted kids to have fun with it. However, I hope kids will embrace their grandparents and enjoy them, but also be protective of them.
I also hope that they enjoy seeing Lily as a fun and mighty skateboarding Jewish girl.
And I hope they celebrate Purim by making Lily's adorable and delicious skateboarding hamentaschen!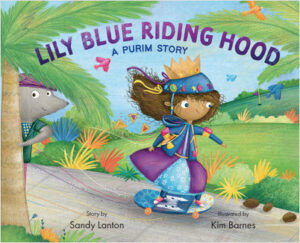 What were your thoughts when you saw the illustrations created by Kim Barnes? Did her illustrations match your vision for the story?
I was thrilled with Kim's illustrations! She brought the story to life with such fun, vibrant colors. And I love the movement she included on every spread. And the humor.
The surprise guests at the end were my editor's brainchild. There are a lot of advantages to having a published author as your editor/publisher. The two of us had a lot of fun collaborating together. I hope kids, parents and teachers have as much fun reading the book as I had writing it.
Thanks, Sandy, and Happy Purim!
Sandy Lanton is the author of many books including Lots of Latkes and The Littlest Levine. When she isn't writing or visiting schools, Sandy enjoys line dancing, crocheting, playing bridge & reading!