Welcome to this year's Hanukkah Book Roundup! Here is a selection of new Hanukkah books published in 2022. For more great Hanukkah reads, please check out last year's post. Wishing everyone a happy Hanukkah filled with light!
The Boston Chocolate Party by Tami Lehman-Wilzig and Rabbi Deborah R. Prinz, illustrated by Jomike Tejido (Apples & Honey Press)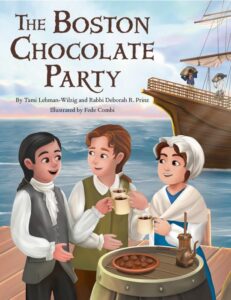 Set in 1773, Joshua's Papa imports chocolate to the American colonies and hopes that hot chocolate will be a welcome replacement for overly taxed tea. When Joshua visits his best friend Isaac in Boston during Hanukkah, he discovers that Isaac's family is struggling financially and suggests they open a chocolate shop to serve the community. A story of friendship, family, and a sweet sip of history.
A Donut in Time by Elana Rubinstein, illustrated by Jennifer Naalchigar (Apples & Honey Press)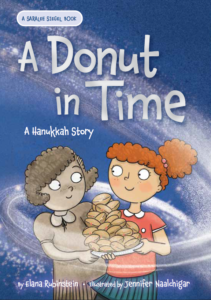 In the newest book in the Saralee Siegel chapter book series, Saralee uses her unusual superpower, an extraordinary sense of smell, to travel back in time to meet her great-grandmother during Hanukkah. I interviewed Elana about the book here.
Hershel and the Hanukkah Goblins (Gift Edition) by Eric A. Kimmel, illustrated by Trina Schart Hyman (Holiday House)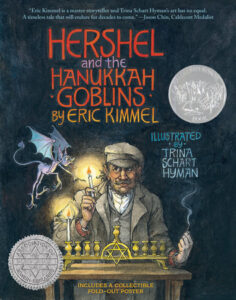 First published in 1989, the new gift edition of this Hanukkah classic includes a decorative slipcase, detailed afterward, and a poster. When Hershel of Ostropol travels into a village on the first night of Hanukkah, he discovers the townspeople are afraid to light their menorahs because goblins are haunting the synagogue. With wit and bravery, Hershel cleverly outsmarts the goblins and helps restore the village's Hanukkah celebrations.
Hanukkah in Hanukkah in Little Havana by Julie Anna Blank, illustrated by Carlos Vélez Aguilera (Kar-Ben)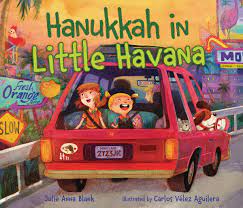 A child is delighted when she travels from her home in Maryland to visit her grandparents in Miami's Little Havana. In the sunny Floriday setting, the young protagonist loves partaking in the family's Hanukkah traditions, such as helping her grandmother make dishes like latkes and buñuelos.
Hanukkah Nights by Amalia Hoffman (Kar-Ben)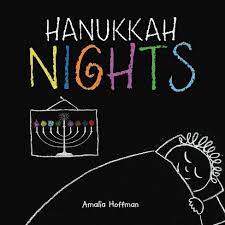 In this board book, line drawings and a black backdrop emphasize how different paint techniques, colors, textures, and styles are used to represent the lights of the eight nights of Hanukkah. Also included are instructions showing how young readers can join in on the painting fun.
Latkes and Applesauce: a Hanukkah Story by Fran Manushkin, illustrated by Kris Easler (Charlesbridge)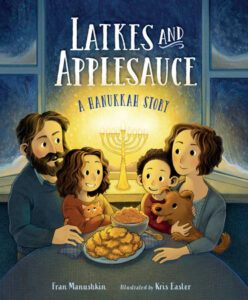 Originally published in 1989, this edition of a Hanukkah classic features new illustrations and updated text for 2022. Stuck in a blizzard, a family is unable to grow apples or potatoes for their Hanukkah latkes and applesauce. But as they celebrate the holiday, the arrival of two stray animals brings unexpected joy.
Mendel's Hanukkah Mess Up by Chana and Larry Stiefel, illustrated by Daphna Awadish (Kalaniot)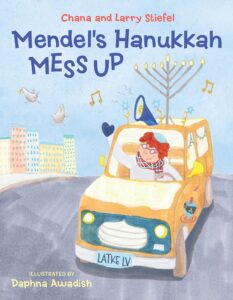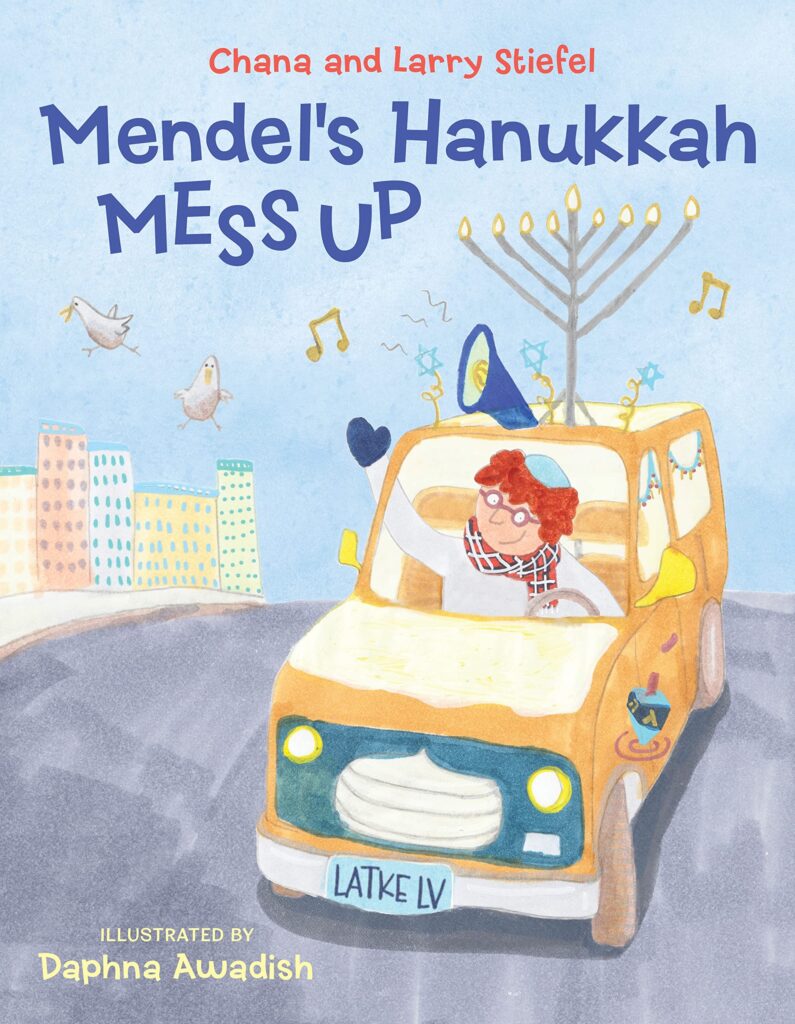 Despite his positive attitude and good intentions to invite passersby to the synagogue's Hanukkah bash, Mendel's journey driving the Mitzvah Mobile through New York's Lower East Side is fraught with chaos. However, an unexpected ending enables him to share the true meaning of Hanukkah with his community. I interviewed Chana about the book here.
Tizzy the Dizzy Dreidel by Allison and Wayne Marks, illustrated by Francesca Assirelli (Kar-Ben)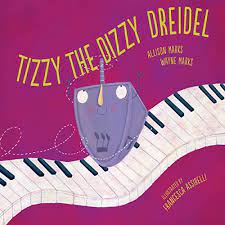 Although she is excited to participate in the dreidel game, a dreidel named Tizzy feels dizzy when she spins. With the help and encouragement of a new friend, Tizzy finesses her twirling technique, enabling her to spin successfully and rejoice in the Hanukkah celebration.