In Chana and Larry Stiefel's new picture book MENDEL'S HANUKKAH MESS UP (Kalaniot Books, 2022) illustrated by Daphna Awadish, Mendel is delighted when the rabbi asks him to drive the Mitzvah Mobile and invite passersby to the synagogue's Hanukkah bash. Despite Mendel's positive attitude and good intentions, his journey through the streets of New York's Lower East Side is fraught with chaos and mishaps. But an unexpected ending to his eventful day ultimately enables Mendel to share the true meaning of Hanukkah with his community. Featuring charming, bold illustrations of bustling city scenes, MENDEL'S HANUKKAH MESS UP is a heartwarming holiday read. I am thrilled to learn more about the story from Chana.
For readers who may not be familiar – can you explain what a "Mitzvah Mobile" is?
Sure! Mendel's Mitzvah Mobile is based on a Mitzvah Tank, a portable outreach and educational center (usually a truck or van, not a tank!) sent out by various Chabad/Lubavitch centers to teach about Jewish holidays and practices. (Chabad/Lubavitch is a sect of Hasidism.) For example, during the fall harvest festival of Sukkot, a flatbed Mitzvah Tank may carry a portable sukkah, a hut for eating outdoors. For the holiday of Hanukkah, the Mitzvah Tank (like Mendel's Mitzvah Mobile) is decked out with festive lights and a tall menorah on the roof, with holiday songs blaring from the speakers. Emissaries of Chabad invite fellow Jews to perform a "mitzvah" (a Jewish law or good deed) and light candles during the holiday. It's a way of spreading Jewish joy, religion, and culture, while bringing light into the world.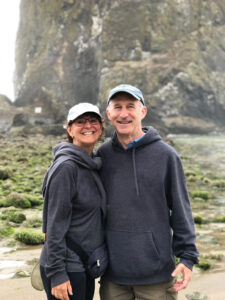 Mendel is super enthusiastic about celebrating Hanukkah, but of course, some mishaps ensue! Were any of Mendel's gaffes inspired by real-life events?
Mendel's mess ups are uniquely his own. But everybody makes mistakes sometimes, including us! One Hanukkah, our daughter Abby brought home a wooden menorah that she made in pre-school. After candle lighting, we went into the kitchen to eat latkes (fried potato pancakes that are a Hanukkah tradition). Luckily, Larry passed by Abby's menorah. It was on fire! We put it out quickly. Lessons learned: 1) Do not make or light flammable menorahs, and 2) Never leave candles unattended!
Can you tell me a bit about your co-writing process?
We could paint a lovely picture of the two of us sitting at separate desks, facing each other, sipping tea, and gleefully typing away. That would be fun, but totally fiction. In reality, Larry works full time as a pediatrician, while Chana writes children's books. The inspiration for MENDEL came from Larry's Jewish short story blog, themaggidofbergenfield.com, where for a few years he shared modern stories on the weekly Torah portion and Jewish holidays (written in between patients or late at night). Chana loved one of Larry's Hanukkah stories so much (original title: "Miracle on Route 287") that she suggested turning it into a picture book. The story came to life while we took a long walk together to visit an elderly friend at a nursing home. After several drafts and critiques, our agent Miranda Paul sent MENDEL out on submission and gratefully, we found a home at Kalaniot.
What were your thoughts when you first saw Daphna Awadish's illustrations? Did you choose the New York City setting or was that Daphna's artistic choice?
We LOVE Daphna's colorful illustrations. They really capture the joy of the holiday and the characters' full range of emotions. The idea of a 1970s Lower Manhattan vibe came up in conversations with our editor, Lilian Rosenstreich. We had a lot of fun sharing photos of retro street scenes, fashion, old buildings, cars, trucks, police cruisers, and more.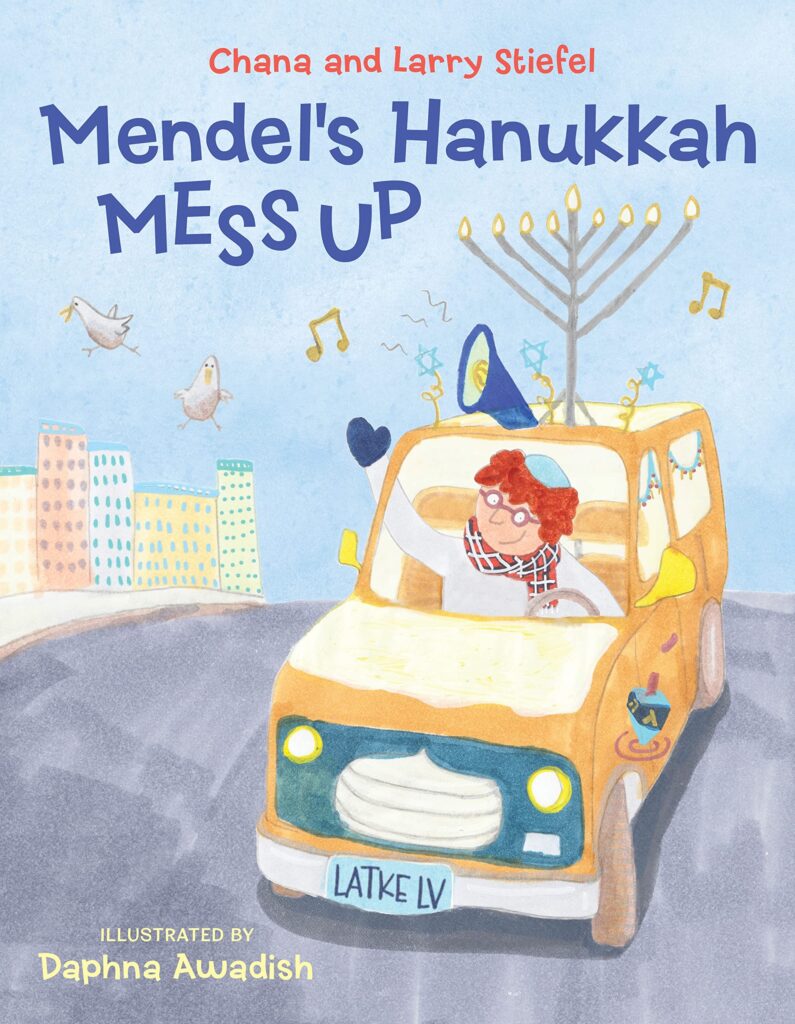 What do you hope your readers come away with reading MENDEL'S HANUKKAH MESS UP?
It's okay to have a #MendelMoment! It's fine to mess up. We all do, and hopefully we learn from our mistakes. We also hope that all children will come away with an appreciation of the holiday of Hanukkah. As Mendel says, "Hanukkah shows the power of each individual to make a difference…We each have a spark to light up the world!"
Thank you! Happy Hanukkah, Chana and Larry!
Chana Stiefel is the author of more than 25 books for children, both fiction and nonfiction. Chana loves visiting schools and libraries and sharing her passion for reading and writing with children. Larry Stiefel is a pediatrician and author of The Maggid of Bergenfield short story blog, from which this book was created. Chana and Larry are married and live in New Jersey.