I am delighted to welcome my friend, Deborah Lakritz, to chat about her newest picture book biography, A PLACE TO BELONG: DEBBIE FRIEDMAN SINGS HER WAY HOME (Apples & Honey Press, 2022), illustrated by Julia Castaño. Debbie Friedman's music is an integral part of Jewish life for so many. A PLACE TO BELONG celebrates Debbie's beloved music and iconic songs by exploring the ways that music helped and inspired her throughout her life. The book is beautifully crafted and the illustrations are bold, colorful, and engaging. I'm so pleased that Deborah has honored the memory of Debbie Friedman in such a meaningful way. Welcome, Deborah. I can't wait to learn more about this special book.
Debbie Friedman was a beloved and inspiring singer/songwriter/educator. What did her work mean to you?
Her music always made me feel something powerful: a connection to prayer, to God, to other Jews, to our history and traditions, to myself. I played her music for my children as they were growing up and have very sweet memories of one of my daughters, in particular, listening to her music every night as she fell asleep.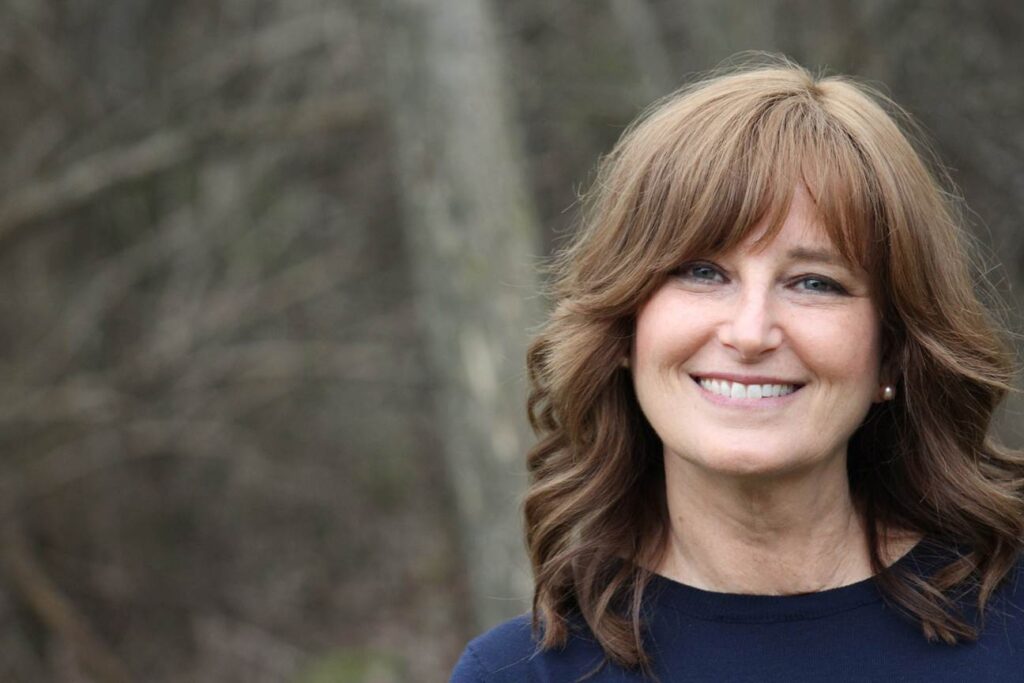 What inspired you to write Debbie's story as a picture book?
My main objective in writing Debbie's story for young children was to introduce the next generation to her in order to keep her music and her memory alive. I don't think Debbie Friedman will ever be forgotten; in fact, as time goes by since her passing, more and more people are discovering the wonder of her gifts, the beauty and power of her music, but there are so many things competing for our children's attention these days, and here was a young woman with a guitar, and joy at being Jewish who had an enormous impact on bringing Jews into a space where they felt like they belonged.
In the book, you share a lot about Debbie's growing years. Tell me a bit about the research you needed to do to tell her story.
I had complete cooperation, and even support and enthusiasm from Debbie's family. I spoke several times with her beloved late mother, Freda, who shared memories of Debbie's early childhood in Utica, New York, and in St. Paul. Debbie's sister, Cheryl has been my steady companion through this writing journey, providing details, sharing stories, sending pictures, introducing me to significant people in Debbie's life whom I was able to interview. Debbie's first cousin lives here in Milwaukee and brought a pile of family photos the first time we met. She's answered my numerous texts and messages for years already! Also of enormous help was Dr. Judah Cohen, a music professor at Indiana University who has researched Debbie's life and music and written about her extensively. He was my fact checker, timeline expert, and shared several documents that gave me great insight into Debbie's journey. In addition, Jeff Klepper generously spoke with me at length about first meeting Debbie in her early days of song leading. Many other friends, fellow song leaders, youth group members and leaders spoke to me as well. I even interviewed the former youth director at Debbie's St Paul synagogue who put her in charge of song leading the youth groups as a teen after she first learned to play the guitar!
Were there any interesting or fun facts you discovered about Debbie that you were not able to include in the book?
Several!
Debbie's maternal grandparents, former dairy farmers, shared the duplex with her family on Baker Avenue, in Utica, New York. Every morning Debbie climbed the steep stairs to their apartment. When they weren't home, she'd sit on the bottom step, bereft, until they returned.
Also-
When Debbie earned enough money for her own guitar, everyone came over to see it as if it was a new baby in the family!
And one more…
At summer camp in Wisconsin (OSRUI), where she was a song leader in the early 1970's, Debbie often composed songs on piano, instead of guitar. She had a system where she took people's phone numbers, assigned numbers to the piano keys, and then saw if that would create a melody for a song.
So one of the first songs that everybody learned and everybody loved was "Im Tirtzu" which was a counselor's phone number!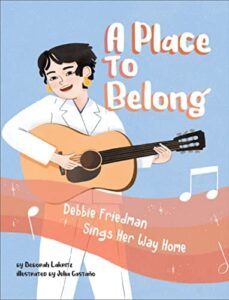 What were your thoughts when you saw Julia Castaño's illustrations?
First, I'm deeply grateful to Julia for putting so much heart, thought, research, and time into telling Debbie's story. I love how she captured the joy in Debbie's face, in particular, when she first connected singing together with others with a feeling of belonging. I love how the music itself is like a character with a journey, sailing through each page. And I love how she captured Debbie's emotional journey as she was growing up.
What do you hope readers take away from A PLACE TO BELONG?
First, I hope anyone who hasn't heard a Debbie Friedman song, or hasn't seen a video of her leading an audience in joyous singing, will go online and experience the wonder of her music, and maybe sing along!
I also hope they will search within themselves for all that makes them special and connects them to others.
And finally, I hope it will encourage readers to use their own gifts to share with others; to comfort, entertain, inspire, and validate others, especially those struggling to find a place to belong.
Thank you, Deborah!
Deborah Lakritz is the author of Say Hello, Lily, a Sydney Taylor Notable Book for Young Readers, Joey and the Giant Box, and forthcoming middle grade novel, Things That Shimmer. A former school social worker, she lives in Milwaukee, Wisconsin with her husband, where they raised five children.