A DONUT IN TIME: A Hanukkah Story is the newest chapter book in the Saralee Siegel series by Elana Rubinstein, with illustrations by Jennifer Naalchigar (Apples & Honey Press, 2022). It's a delightful series about a girl named Saralee Siegel and her unusual superpower – an extraordinary sense of smell. In the latest installment, Saralee learns more about her superpower when she travels back in time to meet her great-grandmother during Hanukkah. A DONUT IN TIME is a fun, engaging read. Saralee is a perfect chapter book heroine for young readers. It's a pleasure to welcome Elana!
A DONUT IN TIME is the third book in a series about Saralee Siegel, a young girl with a very special superpower. Can you tell me a bit about how you created the character?
About 7 years ago, I started writing stories about a girl named Saralee Siegel. In my original drafts, Saralee lived in a magical restaurant where she cooked kosher style food with her family. The restaurant would do all sorts of incredible things like set the tables and cook all by itself. Honestly, the stories weren't very good, and I had this nagging feeling that something wasn't right!
After months of frustration, I decided to take the magic powers away from the restaurant and give them to Saralee herself. I experimented with all sorts of ideas—but I eventually realized that Saralee should have a heightened sense of smell (aka a super-nose.) As soon as I made that change, Saralee's character exploded onto the page. I could immediately hear her voice inside my head. Even after 7 years, I still adore writing Saralee's unique perspective– every moment is infused with the magical world of scent and flavor. I wish I had a super-nose just like Saralee!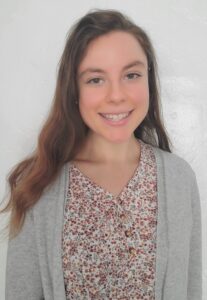 In the story, Saralee learns about a special connection she has with her great-grandmother. Why do you think intergenerational stories are important?
In A Donut in Time, Saralee learns that her super-nose is actually a family trait! Her great-grandmother had the exact same special ability. Saralee eventually travels back in time to meet her great-grandmother and they forge a sweet and unbreakable bond.
Intergenerational stories help us understand who we are in the context of the generations that came before us. Decisions our ancestors made affect us deeply, whether we know it or not! As a Jewish woman, I find so much meaning in intergenerational stories. Jewish people have faced so much persecution through history—but the decision of my ancestors to continue the tradition has provided me with a beautiful gift I am grateful for every day. I am who I am because of all the people who came before me.
Saralee realizes that the decisions her great-grandmother made greatly impacted her life. Saralee also learns how sexism limited opportunities for her great-grandmother. Was it challenging to address such deep topics in a kid-friendly way?
Funny enough, I didn't set out to write an early chapter book about intergenerational family connections and sexism. Early in the writing process, I struggled with finding a Hanukkah story that I wanted to tell. After many failed attempts at constructing a Saralee Hanukkah plot, I finally had an 'aha moment' where the entire story fell into place! The entire book just flowed out onto the page.
However, it's clear to me now that I was thinking about these heavier topics subconsciously for a long time. My paternal grandmother, who was born in the 1920s, wanted to be a scientist—but coming from a traditional family, she was discouraged from going to college. Despite her parents' disapproval, she eventually went to Hunter College in NY and became a chemist. Unfortunately, as soon as she got married to my grandfather and became pregnant with her first child, she was unable to continue working. My grandmother would have LOVED to step into my shoes today—where no one is holding me back from achieving my dreams. In fact, the demographic in my undergraduate university was 70% women to 30% men! Times have really changed—but it was people like Grandma Roz who paved the way and made all the privileges I experience today a reality.
What do you hope readers come away with after reading A DONUT IN TIME?
In this story, Saralee helps her great-grandmother feel confident about her super-nose and go after her dreams of opening a restaurant one day. I hope this Hanukkah book will inspire readers to feel proud of their unique attributes as well.
I have a sneaky suspicion that I actually wrote this book for my inner young self. When I was in elementary and middle school, I was extremely disorganized, unfocused, and overwhelmed. I couldn't seem to balance all the expectations my teachers had for me. I felt very down about myself, especially when I compared myself to other girls who seemed to "have it all together." It wasn't until I embraced that messy, chaotic side of myself and learned to use it to my advantage, that I became a more confident person.
I hope readers will feel encouraged to stop comparing themselves to others and let the light inside their hearts shine bright.
Did you know when you created the first book of the series that there would be more books to follow?
I've always been a big fan of early chapter book series. I grew up reading Boxcar Children and Nancy Drew notebook. During college, I found a whole new world of chapter books like Princess in Black, Princess Pulverizer, Jasmine Toguchi, Ivy and Bean, and Dori Fantasmagory. When I wrote Once Upon an Apple Cake, it was my biggest dream for Saralee Siegel to get her own book series just like all of my favorite chapter book characters. I am so incredibly happy and proud that my dream has materialized. Oh, and great news—Saralee Siegel book #4 comes out this February!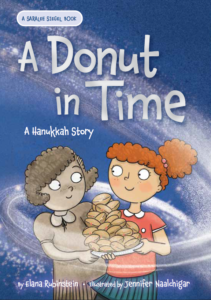 What were your thoughts when you first saw Jennifer Naalchigar's cover art and illustrations?
Jennifer Naalchigar is the perfect illustrator for the Saralee books. She makes the characters so expressive and lovable. I am obsessed with all of the little details she puts in the books and how each character has a unique collection of outfits and accessories! I am so lucky that she is part of the Saralee team. She is beyond talented!
Thanks, Elana!
Elana Rubinstein is the author of the Saralee Siegel books, an illustrated chapter book series for children ages 7-10. Her work includes Once Upon an Apple Cake, a 2019 National Jewish Book Awards Finalist. Elana recently completed her master's degree in early childhood education from American Jewish University. She lives in Los Angeles with her husband.