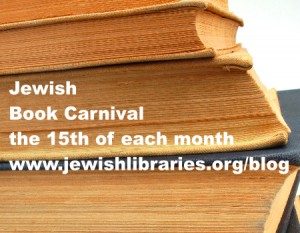 Shana Tova, Friends!
What better way to kick off the New Year than some terrific reading. Here are the links for this month's Jewish Book Carnival:
Over at The Book of Life podcast learn about the new picture book American Golem: the New Adventures of an Old World Mud Monster by Marc Lumer (Apples & Honey Press), an entertaining take on the immigrant experience. You can hear it here: https://jewishbooks.blogspot.com/2018/09/american-golem.html
Over on the My Machberet blog, Erika Dreifus posts weekly "Pre-Shabbat Jewish Literary Links." Here's one recent example, with an emphasis on new (and not-so-new) Jewish literature in English translation.
Deborah Kalb interviews a wide variety of authors on her book blog, Book Q&As with Deborah Kalb. Here's a recent interview she did with Tom Seigel about his new novel, The Astronaut's Son.
Barbara Krasner at The Whole Megillah | The Writer's Resource for Jewish Story interviews Anna Levine about her stunning new picture book, All Eyes on Alexandra (Kar-Ben, 2018). Author's Notebook | All Eyes on Alexandra by Anna Levine
Jill at Legal Legacy [http://legallegacy.wordpress.com] reviewed The Pity of It All by Amos Elon: A Portrait of the German Jewish Epoch 1743 – 1933 [https://legallegacy.wordpress.com/2018/08/30/book-review-of-the-pity-of-it-all-by-amos-elon/], an excellent, moving history of Jewry in the era in Germany immediately preceding the rise of Hitler.
Over at her other blog, Rhapsody in Books [http://rhapsodyinbooks.wordpress.com] she reviewed The Language of Angels: A Story About the Reinvention of Hebrew by Richard Michelson [https://rhapsodyinbooks.wordpress.com/2018/09/01/kid-lit-review-of-the-language-of-angels-a-story-about-the-reinvention-of-hebrew-by-richard-michelson/].  This book for young children tells the story of the creation of modern Hebrew in the new state of Israel.
Here on Jewish Books for Kids, I interview Chava Ben Zvi about her moving memoir, We Who Lived.
Wishing everyone a healthy, happy year filled with friends, family, and good books!