Welcome back, Leslie Kimmelman! In her picture book EVE AND ADAM AND THEIR VERY FIRST DAY (Apples & Honey Press, 2023) illustrated by Iri­na Avgusti­novich, Leslie writes a midrash about the very first day of life for biblical figures Eve and Adam. Writing from Eve's perspective, the book follows the characters as they explore the new world around them. The delightful illustrations provide a magical experience for young readers.
What inspired you to create a midrash about Eve and Adam?
I began thinking about this book in the early days of the COVID lockdown. It was a scary time; it was impossible to imagine what was going to happen even the next day so it seemed to me that one of the few available responses was holding on to the belief that somehow, at some point, things would begin to get better again.
I think fundamentally, my story is about faith, not only in God, but in yourself and in those you love. In my mind, Adam and Eve were faced with the same choices when the sun went down in the Garden of Eden for the first time: fear or faith.
Then once I began writing, it became clear that the other focus of the story needed to be Eve. She was long overdue for top billing. She's such a driver of the Genesis story (especially the ending), and yet it's always "Adam and Eve." (It's as hard to say "Eve and Adam" as it is to say "jelly and peanut butter!") Anyway, it was important to me to make Eve the prime mover, without in any way denigrating Adam. Some of the character traits I value most—curiosity and creativity, for example—are embodied in Eve…and yet she is always faulted for them in the creation story. I wanted to show these same traits in a positive light.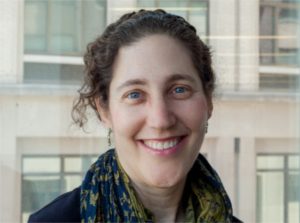 Did you need to do any research before writing EVE AND ADAM AND THEIR VERY FIRST DAY?
Well, I reread the story in Genesis, but that's all. I also was inspired by a Mark Twain story, "Eve's Diary," which I'd read and loved in my 20s. I waited to read it again until I was finished my own writing; some parts are definitely dated, but other parts are extremely moving. (Spoiler alert: The last line will slay you.)
Why do you think midrash is important for kids?
I think it's important for kids to understand that there are many ways to tell a story—there's no one right way—and I wanted to empower them to keep exploring and asking questions until they find a telling (or create one) that resonates. Asking questions is a time-honored Jewish tradition.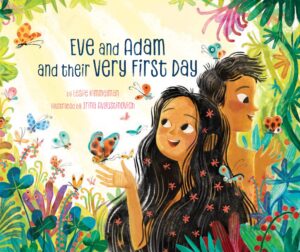 What were your thoughts when you first saw the illustrations by Iri­na Avgusti­novich? Did her art match how you envisioned the book? (I love her use of light!)
The illustrations are absolutely stunning. Irina has perfectly captured the wild, lushness of the garden, and the wonder and awe that Eve and Adam feel about their new world. Their faces are so expressive. Every spread is filled with fantastic detail and every spread is a revelation. But I think my favorite is the one of Eve and Adam sleeping; the colors are so rich and luminous. I can't imagine a more ideal illustrator for this story. (Special thanks to Aviva Gutnick, my editor, and to the whole team at Apples & Honey Press, who brought this story to such gorgeous fruition.)
What do you hope your readers come away with after reading EVE AND ADAM AND THEIR VERY FIRST DAY?
That the world around us is a spectacular place, waiting to be discovered. That we don't have all the answers, and sometimes we just have to take a deep breath and have faith that things will be okay in the end. That, in a way, the world starts new every day, offering the possibility of starting a new story every day.
Thank you, Leslie!
Leslie Kimmelman has written more than 50 children's books. She was a longtime children's book editor at various publishing houses, including more than 24 years at Sesame Workshop where she created Julia, the Muppet on the autism spectrum, for the book that first introduced her as a Sesame Street character. She lives in Ardsley, NY.