WISHES AND KNISHES written and illustrated by Yona Diamond Dansky is a story of family and food, and the relationships we share with our loved ones. In the story, Kaley hopes to learn how to make knishes, but she's always too busy to learn from her Bubby. When a new baby cousin is born and Bubby is no longer able to make knishes, Kaley comes up with a plan that brings the whole family together. The book also includes a recipe. I look forward to learning more about WISHES AND KNISHES.
Welcome, Yona!
What inspired you to create a book about making knishes as a way for family members to connect?
In 2018, I visited the Tenement Museum in NYC, and I envisioned my grandparents when they first came to the U.S., doing their work as tailors. I recalled my Bubby and the wonderful food she made. Around that same time, I received an invitation to my niece's wedding in California. Her Bubby, my mother, would always bring knishes to every family event, and people would immediately devour them. My niece, Kaley, and I were the only family members who had learned how to make the intricate recipe from my mother. Kaley's wedding would be the first one where my mother was no longer with us and so the knish baking would fall to me.
Several years prior, I learned about creating children's books while dealing with a family illness. When my daughter went through chemotherapy and radiation after a cancer diagnosis, I wasn't happy with the books for children (my grandson was three years old) about the topic and I was determined to write one that might benefit other children. When I finally had time, I attended conferences, joined critique groups and I learned a lot about creating children's picture books, and so my mind continued to think along those lines, constantly imagining how different situations would make a good picture book.
My grandparents' immigration story together with my niece's upcoming wedding brought up pleasant memories of our family's yummy-smelling potato with fried onion knishes. I was apprehensive about the challenge of making them for a large crowd, and it turned into a story.
WISHES AND KNISHES took many forms and revisions after the first draft. I first thought about including how my mother learned to cook…but that could be for another book.
As an author/illustrator, what comes first for you—the story or the images?
For many years I was a teacher of deaf students, and I used sign language every day and learned to think more visually. I have always done art work (mosaics, art quilts, photography, ceramics, painting) aside from my main career as an educator. Even so, the story came first, but the visual images came clearly in my mind as I wrote the words. The illustrations are done digitally, using Procreate on an iPad, and I enjoyed the challenge of learning this new-to-me medium that I am still learning.
Can you tell me a bit more about your creative process?
Oh, this is so hard to put into words! Once I have an idea, I add it to my list of story ideas. If I can keep thinking about that one idea, I can create a story, but of course that story gets revised many times, both in my mind and on paper. Too often I think it's finished but it really isn't, so I have learned to set it aside for days or even weeks or longer, and come back to it with a new perspective, again and again. I also work on page turns and page numbers. I'd love to see how a different illustrator would envision my story. I basically create the illustrations in case that is an opportunity to attract a publisher or agent. It's a challenge for me because illustrating is a long project, and it competes with other art or sewing projects I'd also like to work on.
I set up a large board with stickies/post-its, one for each page, and try to just make some quick sketches to see how it could work. A big challenge for me is making spreads, where one illustration spreads across the facing pages. Another challenge is shifting from working on one story to another, as I currently have four finished manuscripts waiting for illustrations.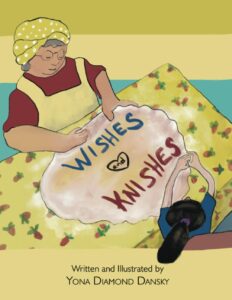 What do you hope readers take away from the story?
Learning to cook with a grandparent provides obvious opportunities for intergenerational bonding. And there are some ideas on my website, www.yonadiamonddansky.com for extending discussions in classrooms or at home to other topics, such as blindness and aging, priorities and decision-making.
But the most important take-away is something we share with people around the world. Every culture seems to have its own version of knishes. It's about family history, memories, carrying on memories and traditions of loved ones. I remember my own Bubby's cookies, made from leftover dough from hamantaschen, cut in circles with an overturned glass and sprinkled with cinnamon and sugar. Just the thought of them makes me happy, as I recall the love I felt from my Bubby—she would always cook things that made us kids happy and the trip to visit worthwhile. Knishes bring up those same feelings for members of my family—everyone now expects that even though my mother is gone, her beloved pastries will appear at the next big shared event.
I'm sure there are so many versions of filled pastries in most cultures that bring out family love and bonding, whether or not anyone cooks at home or buys them store-made. We remember better when we can associate our memories with something we can taste and smell…even if it's a funny food story about a person we loved who just happened to be the worst cook! It's a great way for love to live on.
Thanks, Yona!
An award-winning educator, Yona has a background as a teacher of deaf students and special education administrator and is experienced in a wide range of educational settings. As a lifelong artist she is passionate about telling and illustrating meaningful stories for children. Yona knows and loves the feel of stretching and pulling knish dough, skills she learned from her mother one snowy day.