Board books are so important for very young readers. They are sturdy enough for little hands to hold and explore with an adult or independently. This year, there are several terrific titles available that celebrate Jewish life. I am so pleased to share this roundup of Jewish board books published in 2023.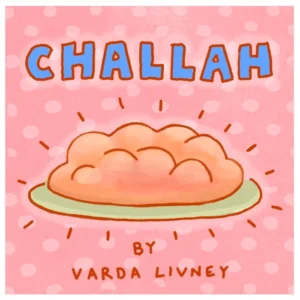 Challah! by Varda Livney (PJ Publishing, November 2023)
On Friday night, Louis says his first word ever: "Challah!", and all week long it seems as if it might be the only word he ever says, but (spoiler alert) it's not.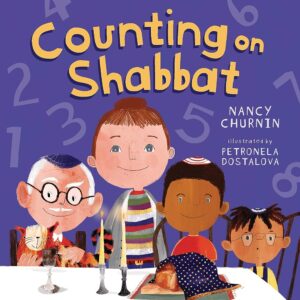 Counting on Shabbat by Nancy Churnin, illustrated by Petronela Dostalova (Kar-Ben Publishing, November 2023)
An elderly person prepares for Shabbat with 1 table, 2 candles, and 3 braids in challah bread in this counting book about counting, Shabbat and the kindness a family brings when they arrive with food and cheer.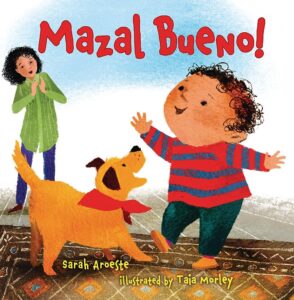 Mazal Bueno! by Sarah Aroeste, illustrated by Taia Morley (Kar-Ben Publishing, April 2023)
Parents celebrate baby's first grin to baby's first word, and all the milestones in between in this sweet book featuring Ladino words, the language of the Sephardic Jewish community. Mazal bueno! Go, baby. Go!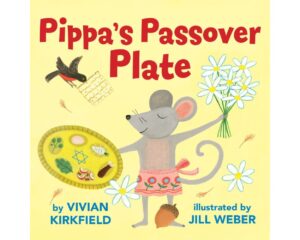 Pippa's Passover Plate by Vivian Kirkfield, illustrated by Jill Weber (Holiday House, February 2023)
It's almost time for the Passover holiday and kind Pippa Mouse can't find her Seder plate, so she gathers her courage, questions her neighbors, natural enemies, Cat, Snake and Owl, and uncovers, not only the special dish, but new friends and allies.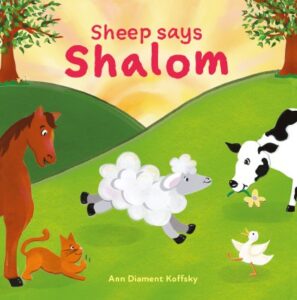 Sheep Says Shalom by Ann D. Koffsky (Green Bean Books, August 2023)
The word "shalom" means three different things: "hello", "goodbye", and "peace." In this sweet, simple tale, Sheep experiments with this triple meaning as she goes about her day on the farm.