In Gloria Koster's new picture book DANCE THE HORA, ISADORA (Apples & Honey Press, 2022) illustrated by Barbara Bongini, young Isadora struggles to find a special dance to share with her peers in dance class. But after participating in her cousin Rachel's Jewish wedding as a flower girl, Isadora finds inspiration from the traditional celebration and dancing the hora with loved ones, especially with the support of her grandmother. DANCE THE HORA, ISADORA integrates traditional Jewish practices and reminds readers of the importance of individuality. I am pleased to learn more about this charming story. Welcome, Gloria!
Isadora's grandmother helps her to find inspiration while teaching her to dance the hora at a family wedding. What inspired you to write about an intergenerational relationship?
I think it's a case of "write what you know." I'm a grandmother myself, and it's such a pleasure to share memories, family lore, favorite foods, and favorite books, as well as modeling the way to do certain things. My own grandchildren see me knitting all the time. While I haven't yet taught them the hora, I have done a similar step-by-step demonstration with small needles and a ball of yarn.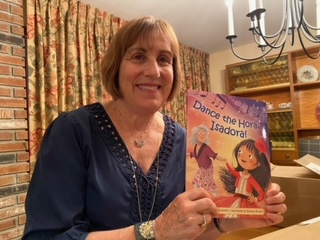 Isadora describes some traditional Jewish customs she sees at cousin Rachel's wedding, such as the chuppah, breaking the glass, and (of course) dancing the hora. How do Isadora's experiences from the wedding help her take pride in sharing the hora with her dance class?
Isadora is proud to be the flower girl. She calms Rachel's nerves and recognizes her own role on such an important day. Dancing the hora boosts her confidence even more, especially when she overhears a guest saying she wishes she could "move as gracefully as that girl." While Isadora was previously reluctant to share anything at her dance class, she has now experienced some beautiful Jewish traditions firsthand. The combination of this recent experience and her burst of self-confidence allow her to take the floor in front of Madame Delphine and her classmates.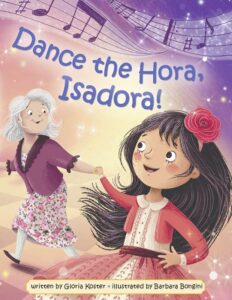 What were your thoughts when you first saw Barbara Bongini's illustrations?
I love the illustrations! Barbara Bongini perfectly captured the energy and joy so important for this story.
What do you hope young readers will come away with after reading the book?
I want Jewish kids to see this as a reflection of an experience they may have had at a Bar or Bat Mitzvah or at a wedding. But I want kids from all backgrounds to feel connected to the story. From the earliest drafts, the dance students were from a variety of cultures. Some readers will be learning about an unfamiliar tradition, but hopefully they'll get the message that they too are welcome to join in. I love the fact that at the end, everyone participates in the hora.
Thank you, Gloria!
A public and a school librarian, Gloria is a member of the Children's Book Committee of the Bank Street College of Education. She enjoys both city and country life, dividing her time between Manhattan and her longtime residence in the small town of Pound Ridge, NY. Gloria is the mother of three adult children and a bunch of energetic grand kids. Previous published books include Mitzi's Mitzvah (Kar-Ben) and Little Red Ruthie: A Hanukkah Tale (Albert Whitman). Both of these titles, along with Dance the Hora, Isadora! (Apples & Honey) are PJ Library selections. Gloria's is also the author of a new 6-book nutrition series (Capstone) and a new graphic format Irish folktale, The King with a Horse's Ears (Capstone).