Perfect for middle-grade readers who love humor with heart, BITE THE BAGEL (Simon & Schuster, 2022) the second installment of the illustrated middle-grade ALLEY & REX series by Joel Ross with illustrations by Nicole Miles, will engage readers with likable characters and fun-filled action.
Prankster Alley is dismayed to discover his school is discontinuing the free breakfast cart due to budget cuts. With the help of his bunny suit-wearing friend Rex, Alley conjures up some wacky and creative solutions to bring back the breakfast cart and help his hungry schoolmates, encountering endless mishaps, mayhem, and hijinks along the way. I am pleased to learn more about BITE THE BAGEL from Joel Ross.
Tell me about your inspiration for the friendship between Alley and Rex?
I initially based them on Jeeves & Wooster in PG Wodehouse's books before tweaking everything a great deal. Not just to make them younger, of course, but also to make them … more equal, I guess. Rex is a genius while Alley is, let's say, not. So there's no comparison intellectually. Rex is also younger and has trouble fitting in, while Alley is popular and socially successful. So they both have strengths, and each helps the other.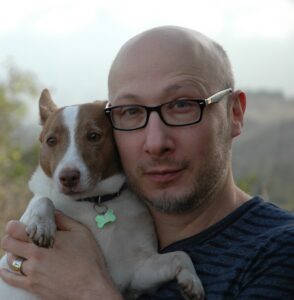 Alley is a bit of a dreamer, with some seriously ridiculous ideas, like turning donuts into bagels. How do you come up with the zany twists in your writing?
I reject the question. That's a great plan! Bagels are merely savory doughnuts. Doughnuts are simply sweet bagels by another name. (Which means, of course, that there is no such thing as that unholy excrescence, the 'cinnamon raisin bagel.' That is obviously a cinnamon raisin doughnut with an unfortunate texture.
Even though there are some silly antics in BITE THE BAGEL, the core of the story is about social justice – Alley truly wants to save the school breakfast cart so kids won't go hungry. As a writer, how do you balance these elements?
I sat down to write a purely funny story with a Jewish kid protagonist who wasn't an earnest nebbish or a sensitive victim. I wanted him to be completely comfortable in his skin without getting anywhere near the 'model minority' stereotype. I think I succeeded in that … but I simply couldn't write a Jewish story without a Jewish heart. Which to me means social justice. The balance came easily, as the book is told in Alley's voice, and for him, these questions are simple. He's not interested in (or equipped to think about!) the philosophical issues: he simply prefers kindness.
Alley's grandmother plays a significant role in the story, imparting Jewish wisdom (even when she's a bit goofy) to help her grandson. Why was she an important character for you to create?
Both of Alley's grandmothers–the sweet, zany one, and the strict, scary one–were based on my mother! She died not long after reading the first book in the series, and I fondly remember laughing with her about the range of grandmotherly characterization being based on her alone. Our tradition encompasses so much, from silliness to solemnity, celebration to grief, flexibility to rigidity, and I wanted to write characters who reflected that … at least as much as is appropriate in a goofy book.
What do you hope young readers come away with after reading ALLEY AND REX?
A smile.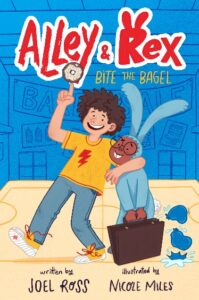 What were your first thoughts when you saw Nicole Miles' art for the book? Did her vision match yours for Alley and Rex?
Nicole's vision didn't so much 'match' mine as 'supercharge' it. I'm not the most visual writer in the world, so seeing her art blew my mind. The details she added, or inferred, were beyond anything I'd expected. As was her ability to bring whimsy and action to life. Plus, her ability to illustrate any ridiculous string of words I wrote down amazed me. If I typed "picture of an interstellar giraffe battling a robotic butt," she would simply … make it happen! One of the great pleasures of this book, for me, was seeing her art for the first time.
Thanks, Joel!
Joel Ross is the author of The Fog Diver, Beast & Crown, and Alley & Rex series. He's never worn a school uniform, but he did try a spoonful of calves' foot jelly once. The taste lingers. Visit him at TheJoelJoel.com.