In her new picture book THE PROMISE OF SHABBAT: YOGA POSES FOR HAPPY KIDS illustrated by Jacqui Gerber, author Lisa Schrieber shares how yoga can be used to foster a happy, healthy life while also relating the practice to Jewish rituals. As a yoga teacher, Lisa has unique insights. In the book, youngsters practice yoga which helps them handle difficult moments, cultivate mindfulness, and connect to Shabbat. I am happy to learn more about Lisa's creative process and the inspirations behind the book. Welcome, Lisa!
How did you come up with the idea for THE PROMISE OF SHABBAT?
The idea to write a book came when a friend who, at the time, was the PJ Library Director in Orlando, told me there were no Jewish books for kids that contained yoga poses. A lightbulb instantly came on and I knew I wanted to focus on Shabbat as there are many Shabbat-related yoga poses that provide beautiful imagery for the story. From there, the story developed organically.
In the book, practicing yoga is connected to concepts of Judaism, specifically Shabbat rituals. Were any of these scenarios inspired by real life?
The practice of lighting candles on Shabbat has always been magical to me. The bright flame, the warm glow of the candles burning in a row provides hope that everything is going to be okay. I remember lighting Shabbat candles at the beginning of the pandemic when there was so much unknown and the flames brightened up those dark days.
I get the same type of reassurance when I practice yoga. In the book, I combined the two practices to produce a visual representation of the way they make me feel, both physically and emotionally.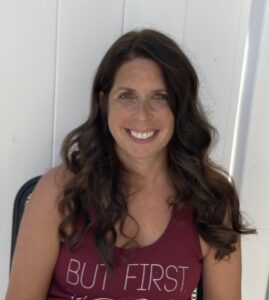 What do you hope readers come away with after reading THE PROMISE OF SHABBAT?
My hope is that families are inspired to read and practice the poses together. My hope is also that families learn a little about the meaning of Shabbat and even try some of the rituals. Even more than that, though, is my wish for families to utilize this story to help manage stress in their lives. This is the perfect time to teach children that it is normal to get upset and have big emotions but it is also really important to teach them how to regulate these negative thoughts and emotions. The more we focus on positive thoughts, the more habitual and automatic these positive thoughts and emotions become.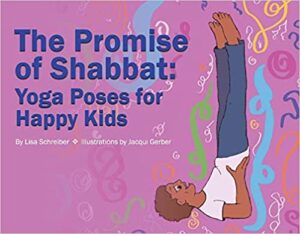 What were your thoughts when you first saw Jacqui Gerber's illustrations?
I think the first illustration Jacqui showed me was the children in Downward Dog pose. I was blown away!! She perfectly captured the shape and detail of the pose. I loved how she detailed the illustrations with adorable and appropriate images such as the Lost Doggie sign on the tree!
Thanks, Lisa!
Lisa Schreiber blended her love of yoga with her Jewish heritage to create The Promise of Shabbat, Yoga Poses for Happy Kids. She is a Registered Yoga Teacher and Certified Kids Yoga Instructor and credits the transformational training and support provided by Kidding Around Yoga for her passion for teaching "Kids Yoga with a Jewish Twist." She has had the pleasure of teaching yogis of all ages at various schools, studios and events throughout the Central Florida area. She is an active member of her Jewish community in Orlando, Florida. Lisa was born and raised in Cherry Hill, NJ, but considers herself a Floridian as she has been a resident since 2003. She lives with her loving husband, Rick, and her two happy boys, Adam and Evan.