Tami Lehman-Wilzig is an award-winning children's book author. Her newest book, SOOSIE: THE HORSE THAT SAVED SHABBAT (Kalaniot Books) is beautifully illustrated by Menahem Halberstadt.
SOOSIE: THE HORSE THAT SAVED SHABBAT is a delightful tale about a horse who saves the day when the baker is unable to deliver challahs to the community. Tami provides lovely back matter about the Jewish values of caring for animals. It's a perfect Shabbat folktale!
Welcome, Tami!
Tell me about the true story that inspired SOOSIE: THE HORSE THAT SAVED SHABBAT.
Actually, I wouldn't call it a true story; rather a true sentence. I think it's an example of how inspiration strikes but can sit and brew for a long time. I'm a retired English advertising copywriter and for decades I ran a fast-paced, deadline-driven business in Israel. Around ten years ago I read an article about Angel Bakery – Israel's leading commercial bakery – that provided a history of the company which goes back to 1927. The article noted that it began as a flour distributor using a horse and wagon for deliveries. One day the driver was sick and didn't come in. What could have been an Oy Vey situation turned into an out-of-the-box solution. The owner came up with a brilliant idea: The horse knew the way and could make the deliveries on its own! I read that sentence and said to myself: "that's a children's story." But I had a deadline, and another deadline, and another… So, I clipped the article and filed it. Deadlines came and went but I never forgot that line. Ten years later, I finally sat down and wrote an original folktale inspired by that one sentence.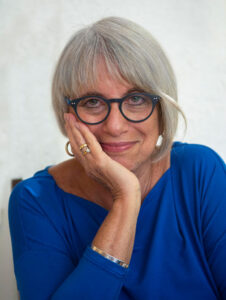 What were your thoughts when you saw Menahem Halberstadt's illustrations? Do you have a favorite illustration?
As an author, it's a WOW moment to see characters come alive during the illustration process. Menahem is the perfect illustrator for Soosie and I understand why Lili, my publisher at Kalaniot, fell in love with his work when she saw it at a past Bologna Children's Book Fair. She told me she was waiting for the perfect book for him. I am so happy it was Soosie and that she made this Shidduch. As an Israeli, Menahem lives and breathes the country's past and present. The atmosphere is so Jerusalem. The people are such a part of Israel. The melting pot comes through loud and clear. It's hard to pick a favorite illustration. I love the slanted double spread of Jerusalem waking up as Soosie and Jacob make their deliveries, and equally love the scene of the people reading the note about Jacob's illness and paying for the challah as Soosie looks on.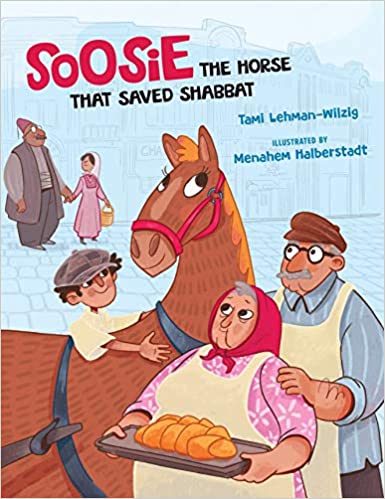 What kind of research did you do in the process of writing SOOSIE?
Since this is an original folktale, it didn't require historical research, but I searched for pictures of Jerusalem during this period to get a feel for its village-like atmosphere and the look of the people. I constantly referred to these photos while writing in order to maintain the muse.
What do you hope young readers come away with after reading SOOSIE's story?
The concept of a day of rest for all, humans and animals alike, is one of the greatest gifts that the Jewish tradition has given mankind. Soosie brings that message across in a fun and memorable way, through repeated clip-clops, cling-clangs and rousing calls of Shabbat Shalom. My hope is that Soosie's readers will fall in love with Soosie and Shabbat so much, that when they become parents it will be their go to book for bringing the beauty of Shabbat into their homes.
Have you ever had a horse or is Soosie your first?
Personally, I've never owned a horse, but I have been an eyewitness as to how horses can help people emotionally. One of our sons was super hyperactive when he was a child. That was more than thirty years ago, and I am proud to say that Israel was way ahead of the pack in encouraging horse therapy. First, we sent our son to a one-week summer camp. It was so successful that he took riding lessons all year round for several years, as well as learned how to groom and care for horses. Soosie is a very gentle and caring animal. I had all of those horses in mind when I created her and wrote the story.
Thanks, Tami!
Visit Tami at https://www.tlwkidsbooks.com/