My friend April Halprin Wayland has a beautiful new book out – just in time for Passover. More Than Enough (Dial Books) is a sweet celebration of appreciation and a perfect read-aloud for all ages. I was lucky enough to read this treasure before publication and I am so thrilled that it's available for families to enjoy during this Passover and for years to come!
What was your inspiration for More Than Enough? 
A hike in Kauai with my family! It all began in 2009, as I was hiking with my family in Kauai, Hawaii. There were a lot of steep hills. But the leaves were glistening from the morning rain, the soil was a rich red, and I was with the ones I love most. I thought of my favorite Passover song, Dayenu. 
Dayenu means "it would have been enough." We sing about being grateful even if we'd only been freed from slavery; grateful even if we'd only been led out of Egypt, etc.
To me, it's what all great religions and philosophies teach: be aware of and grateful for the blessings of the moment.
(As shared on April's Blog, Teaching Authors)
What do you hope readers take away from More Than Enough?
"My fondest wish"* is that children and their grown-ups will pause during their day to be present and aware of the blessings in each moment.
This is what my favorite Passover song, "Dayenu," is about. Dayenu means "it would have been sufficient." It helps me see that if all I have is this moment to talk with you, Barbara, this is enough. This is more than enough.
*(this is quote from a fabulous picture book, I Remember Miss Perry by Pat Brisson: http://www.publishersweekly.com/978-0-8037-2981-0)
How did you feel when you first saw the illustrations by Katie Kath?
I swooned at the color palette. I loved how they seem almost to glow. Katie's pictures, beginning with the cover, attract readers—the dream of every author.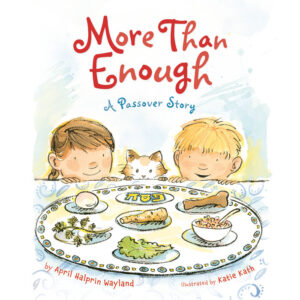 You have written about Tashlich and Rosh Hashanah in New Year at the Pier, and Passover in More Than Enough. What is your favorite holiday?
Passover! I love that we pass on our beliefs, history, culture and spirituality through a ritual meal. I love that each family member has a role.
There is a lightness during Passover, and a reverence, too. We play games. We give thanks. We think of others. And what's not to like about the delish foods we smell in the kitchen and which never seem to come out of the kitchen fast enough?
Okay, now you've got me hungry for matzo ball soup. (Am I the only one who can smell it right now?)
As an author of poetry and prose, picture books and novels, does your process differ with each genre?
Hmm. Let me think. I've written a poem a day for six years. When I'm writing my poem, I sink down, listen to sounds, try to paint a concrete picture with as few words as possible…and reach for details that resonate with readers. My fondest wish is to come up with metaphors and details that are fresh, on target, and surprising.
I do this (at least in the first draft) when I am writing poems, picture books and novels.
Thanks for joining me, April. Reading your new book would have been more than enough – sharing the journey with you has been a blessing!
To learn more about April and her books, please visit April's website.