Welcome back, Liza Wiemer! In Liza's new picture book OUT AND ABOUT: A TALE OF GIVING (Kalaniot Books, 2023) illustrated by Margeaux Lucas, Daniel wonders where his parents are going with boxes. Their response, "out and about," sparks Daniel's imagination and ultimately leads him to discover the mitzvah of giving to others anonymously. This is a layered concept, but the story is so accessible it will likely spark young readers to explore meaningful ways they can give to others. OUT AND ABOUT is a lovely picture book for the whole family. I look forward to learning more Liza's inspiration for OUT AND ABOUT.
I love that your own family story inspired your new picture book, OUT AND ABOUT. Can you share a bit about that?
Thank you so much, Barbara, for this opportunity to share this book that is near and dear to my heart!
My grandfather was a phenomenal storyteller and when I was a little girl, he shared many tales from when he was a little boy. One that really had an impact on me was when he shared how his father went "out and about." One day, he saw his father leaving the house, pulling a basket on a sled. My grandpa decided to follow his father and that's when he discovered that his Pa was leaving a basket of coal for those in need would so that they would able to heat their homes. It was done anonymously. I took this tale and created a modern-day story of giving.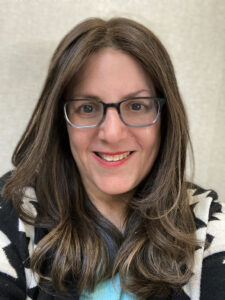 In your end notes, you share a bit about the MAIMONIDES' EIGHT LEVELS OF TZEDAKAH and how they relate to the story. What challenges did you face, as a writer, creating a story that was age-appropriate while emphasizing the importance of giving in the most meaningful ways possible?
Thank you so much for this question. There are quite a few important picture books about putting money into a tzedukah box. For this book, I wanted to share a different way of giving tzedukah, focusing on helping others anonymously. This definitely was a challenge, but one I was determined to meet. The idea of giving to others anonymously requires higher level thinking, so conveying this message for children meant making this relatable. It took many drafts and tweaks to make Daniel, my main character figures it out what it means to go "out and about" and, in turn, is motivated to give, too.
As a multi-genre writer, how is your creative process different for novels versus picture books?
Such a great question. I love doing both. There is a lot more flexibility to writing a novel. So many more pages to share a topic and to make the story come alive. However, I recently submitted a picture book biography to my agent and the research I did was just as extensive as the work I did for my novel, The Assignment. So from that perspective, there isn't much of a difference. The immense challenge for both came in taking all that material, deciding what was absolutely critical to share. But with the picture book, it brought this to a whole new level. I had to decide how to take the thousands of pages I read and the hours of interviews I listened to and condense it to a meaningful story of less than 1,000 words.
What were your thoughts when you saw the illustrations by Margeaux Lucas?
I love them SO MUCH! I could not be more pleased with the illustrations. Margeaux's details are exceptional. She nailed it.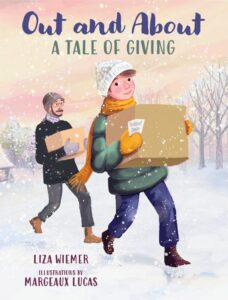 What do you hope young readers take away from the story?
I hope they see the joy that comes from giving and receiving, and how it can make a positive difference in this world. Going through Maimonides Eight Levels of Tzedakah also provides an excellent opportunity to think about different ways of giving. I would love for this picture book to inspire young readers to participate in activities that focus on helping others.
Thank you, Liza!
LIZA WIEMER is an award-winning educator with over twenty years of teaching experience. Her second young adult novel, The Assignment, was published by Delacorte Press and has received numerous honors, including being named a 2021 Sydney Taylor Notable Book. To date, The Assignment has also been published in Russian, Polish, Italian, and Korean. Liza has had two adult nonfiction books published and several short stories included in the New York Times bestselling Small Miracles series. A graduate of UW-Madison, Liza has two married sons and lives in Milwaukee, Wisconsin with her husband, Jim.