In celebration of Hanukkah, I am pleased to announce a book giveaway courtesy of Holiday House for the new Gift Edition (including a collectible poster) of HERSHEL AND THE HANUKKAH GOBLINS by Eric Kimmel, illustrated by Trina Schart Hyman.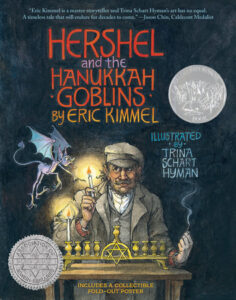 If you would like to enter the giveaway, please leave a comment on this post before Thursday, December 22, 2022. Don't forget to include your name and email address. The winner will be selected at random and will be notified by email.
If you are interested in receiving notifications from Jewish Books for Kids…and More! with updates, author interviews, giveaways, and more, please enter your email address to subscribe below.
Thanks for participating. Happy Hanukkah!
*Congratulations to Cynthia Hurtado, winner of the book giveaway for HERSHEL AND THE HANUKKAH GOBLINS!