Jonathan Sandler's graphic novel, THE ENGLISH GI illustrated by Brian Bicknell, is based on the memoir of his beloved grandfather, Bernard Sandler. Bernard was a Jewish British teenager who was stranded in New York City in 1939 when the war broke out and eventually served in the US military. Jonathan's passion for the story comes through in the text. He features historical details about his grandfather, as well as other family members. The graphic novel format, meant for YA readers, truly brings Bernard's story to life. Welcome, Jonathan.
Tell me a bit about your decision to create a graphic novel, THE ENGLISH GI, about your grandfather.
My grandfather had written his wartime memoir in the mid-1990s for close family and friends. A couple of years ago I re-read his story and recalled his dramatic war story and thought it could be a film or a play. I then had a more viable idea that I would recreate the story as a graphic novel. I had always been a fan of comics and graphic novels and I wanted the story to be accessible to a wider audience so I thought a visual frame-by-frame account was the best way to retell his whole experience: from naive schoolboy alone in the vast metropolis of New York – through to his eventual call-up to the US Army, including him being sent back to Europe, serving in the brutal conditions under Patton's Third Army.
You also include a lot of research and family history. How did you balance the forms in your writing/creating process?
I am one of those people, whenever I watch a historical film I always want to do some further research on Wikipedia to find out more. As this was my book, I wanted to ensure that nothing was left out in case the reader was curious to find out more. The book includes information on my grandfather's post war life, the fate of Latvian Jews during WW2 and further information on the US army at the time including a section on Jews in the Army.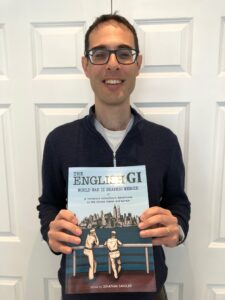 How did you determine the style of Brian Bricknell's art?
My brief to Brian Bicknell was that I wanted the art to be realistic. I also wanted him to capture the magic of New York from the 1940s, the detail of its buildings, the signage, the way people dressed, and the period's general atmosphere.
Your grandfather's story is unique in many ways – born in England yet proudly fought for America during WWII. How does his story impact you and your family?
We were all aware of the story growing up. Thankfully, my grandfather was able to lead a happy and fulfilled life including a successful marriage, lifelong friends, a prosperous career, and many interests beyond work. His major passion was theater and that was inspired from his time attending Broadway shows in 1940s New York, as depicted in The English GI.
I appreciate now that this wasn't necessarily the case for everyone who suffered the trauma of battle.
As for my family, well, I ended up marrying an American, too, so history repeats itself. My kids are all US Citizens!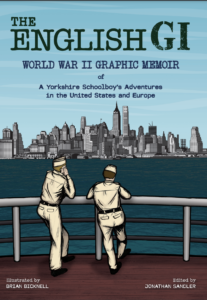 How did your grandfather's Jewish identity impact his decision-making?
My grandfather came from a close-knit traditional Jewish home, typical of British Jewish families from that era. When he arrived in the US, he stayed with family friends who were Jewish but not practicing. While my grandfather was not religious, I think it surprised him, given his upbringing to meet Jewish people with different perspectives. On his first Rosh Hashana (in September 1939) he felt a need to go to a synagogue on his own in a strange land. (It turned out not to be a great experience!). During his time in the US, his two closest friends in the Army were Jewish, and of course he married my grandma at Temple Emanu-el in Manhattan at the end of the war. In the book, his Jewish identity is very much part of the story.
Your intended audience is YA. What do you hope your readers take away from THE ENGLISH GI?
I think the book gives a true and realistic account of how life was during the entire war period, not just the battles. There are many ups and downs that have occurred. He was a normal schoolboy and faced an extraordinary set of circumstances and he had to make the most of things. In today's world we are saturated with communication. My grandfather did not speak to his parents for nearly 6 years. It is hard to imagine! It is a true coming-of-age story that gives hope and perspective.
Thank you, Jonathan.
Jonathan Sandler studied Politics at Leicester University and has spent a large part of his career working in the software industry leading and managing complex projects. Jonathan, a keen sketcher, has always been passionate about World War Two History and Graphic Novels. In 2020, he combined these dual interests and commenced work on The English GI which was published by graphicmemoir.co.uk in 2022.
Jonathan lives in North West London with his wife and three children. Jonathan and his family are regular attendees at Golders Green Synagogue.