It's so lovely to welcome back author/illustrator Ann Koffsky! In Ann's new picture book, WHAT'S IN TULI'S BOX? (Apples & Honey Press, 2022), a kitten named Tuli finds a box full of coins. After learning that the box isn't a toy but a Tzedakah box, Tuli discovers the meaning of Tzedakah and the importance of helping those in need. Featuring delightful illustrations, this charming story will engage young readers.
What inspired Tuli's character? Do you have a cat?
I don't have a cat myself, but my son just got married to a lovely girl ( who the book is dedicated to, BTW) and SHE came with two cats, Sunny and Spottie. They definitely served as excellent models for Tuli as I drew the book.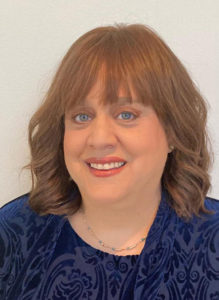 Along with the concept of tzedakah and a tzedakah box, you introduce concepts like shapes, and weight (empty/full, heavy/light). Was it challenging to include so much with such spare text?
I will answer with spare text: YES!
As an author and illustrator, what comes to you first – images or story?
Oh it's different for every project I work on. Sometimes words come first, sometimes pictures. For this book I think they came simultaneously, because as I thought of the concept of, say, EMPTY, I totally visualized the kitten inside the EMPTY box. Which actually makes it a FULL bos, come to think of it…a box full of Tuli…but you know what I mean!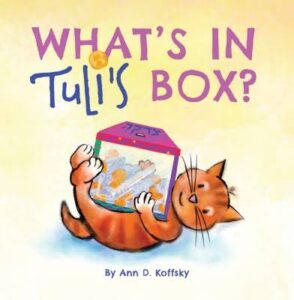 What do you hope your young readers experience with Tuli?
FUN! Warmth. Meaning. I want both young readers, and the grown ups who read with them, to have a cozy, cheerful experience that also helps them find meaning in the Jewish value of Tzedakah.
Thank you, Ann!
Ann D. Koffsky is the author/or illustrator of more than thirty books for children, including Judah Maccabee Goes to the Doctor, the Kayla and Kugel series, and the forthcoming Under-the-Sea Seder. She lives in West Hempstead, New York.