Bonnie Lindauer's picture book biography HANNAH G. SOLOMON DARED TO MAKE A DIFFERENCE (Kar-Ben, 2021) illustrated by Sofia Moore tells the life story of National Council of Jewish Women founder Hannah G. Solomon. Hannah spent her life working to make the world a better place and advocating for people in need. Emphasizing Hannah's important actions and worthy contributions, HANNAH G. SOLOMON DARED TO MAKE A DIFFERENCE is an insightful story of an important Jewish figure. Welcome, Bonnie!
How did you first learn about Hannah G. Solomon and her work?
As a member of the San Francisco section of the National Council of Jewish Women (NCJW), I've attended over several years the awards luncheon and listened to the accomplishments recited for each year's winner of the Hannah G. Solomon award. Since I didn't know much about our founder, my curiosity inspired me to learn more about Hannah.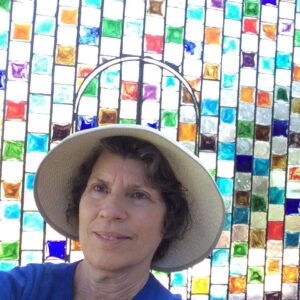 Can you share a bit about your research process for this story?
I was fortunate to find on the web Hannah's autobiography, "The Fabric of My Life," and other useful resources from the Jewish Women's Archive. But I didn't know anything about the time period of 1860 – early 20th century in Chicago, so I immersed myself in reading histories of Chicago at that time period, as well as information about Jewish immigrants to Chicago in the late 1880s and early 20th century. When I discovered that Hannah was good friends with Jane Addams, I researched more about her and the Hull House. Of course, the role of the illustrator of picture books is as important as the author, and Sofia Moore did a lot of research to capture so beautifully the clothing, architecture and interior decor of the time period.
Were there any interesting facts or anecdotes about Hannah G. Solomon that you came across in your research that didn't make it into the book?
There were many; the hardest part was deciding what to include that would be of particular interest to kids aged 6 to 9. A couple of examples:
Hannah's suggestion to support the movement by some Reform Jews to change the Shabbat from Saturday to Sunday was voted down by the NCJW women.
When Hannah was a young child in Chicago, she recalls seeing native Americans walking along the street in their native dress.
There's an elementary school in Chicago named after her and New Jersey celebrates her birthday each year on January 14th as Hannah G. Solomon day.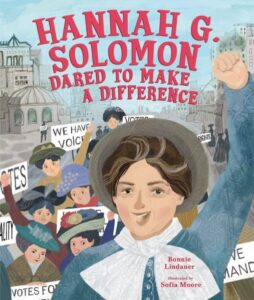 What were your thoughts when you first saw Sofia Moore's illustrations?
I was enthralled by them, especially the one showing the interior of the Hull House. There's so much detail. They truly convey the time period.
What do you hope young readers come away with after reading about Hannah Solomon?
That everyone can make a positive difference in their community, no matter how big or small. Another message to take away is that the plight and needs of immigrants and refugees continue, not just in other countries, but also here in the U.S.
Thank you, Bonnie.
A former high school teacher and college librarian, Bonnie Lindauer loves reading children's books as much as she loves her favorite vanilla ice cream. She plays piano and cello, and loves to sing. She lives near San Francisco with her husband and senior rescue dog, Archie. This is her first children's book.