Author/illustrator Amalia Hoffman's new board book, MY HANDS MAKE THE WORLD (PJ Publishing, 2022), offers a delightful take on the story of creation. The illustrations include engaging, bright colors and fun painted illustrations featuring artistic elements and techniques like paint sprays, splashes, and even fingerprints and hand painting. I am excited to learn more about this creative book. Welcome back, Amalia!
What was your inspiration for integrating a child's handprints into the creation story?
Working with young children, I find out that I often come up with solutions by observing them. Over the years, I did finger paints painting with little kids. Finger painting is probably the way that most kids start creating art. What attracts them most is the fact that they themselves control the media, without any adult help. All they have to do is smear their hands in the slushy paint and then, make marks on the paper. Just watch a child doodling in fingerpaint and you'll see this liberating expression on their faces.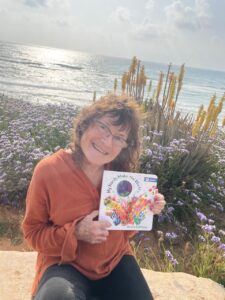 As an author/illustrator what comes first to you– the story or the visual art?
It depends on the project I'm working on. In My Hands Make the World, it was very clear that the thinking part and the idea had to be done in a simulant way.
I worked on both at the same time.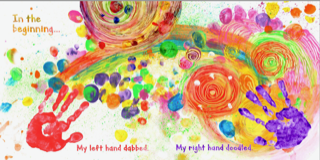 The handprint illustrations are very engaging. Can you share a bit about how you created them?
I created the visuals in the same way kids do. First I doodled and got my hands messy. I had to get enough paint on the palm of my hands to get a handprint on the paper. Then; I dropped the white background in Photoshop so I can place the handprint where I wanted. To create the details, I mostly used my fingers dipped in paint. Sometimes, I added spritz by dipping a toothbrush in paint and spritzing with it.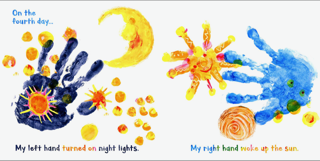 Which spread is your personal favorite?
I think the first spread that starts with the words, "In the beginning…"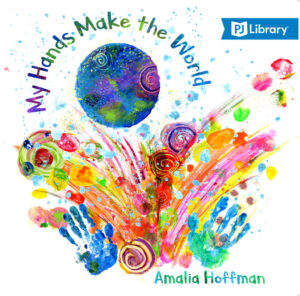 What do you hope young readers come away with?
I hope that young readers can create their own world and contribute to the community because the creation now is not in the hand of God, but rather in the hands of the creative young child.
Thank you, Amalia!
Amalia Hoffman is an author, illustrator and storyteller. My Hands Make the World (PJ Library Publishing, 2022) is a PJ Library board book and received the PJ Library Author Incentive Award. Hanukkah Nights (Kar Ben Publishing, 2022) is a PJ Library board book and received the PJ Library Author Incentive Award. Masha Munching (Yeehoo Press, 2022) was chosen as a Children's Book Council book for books about animals and earth. My Monsterpiece (Yeehoo Press, 2021) is the winner in the 2021 Next Generation Indie Book Award Picture book (Ages 0-5). The Brave Cyclist (Capstone Publishing, 2019, illustrated by Chiara Fedele) is a Junior Library Guild Gold Selection and also a Bank Street College Selection Book. All Colors (Schiffer Publishing, 2019) is one of School Library Journal's best board books, 2019. Dreidel Day (Kar-Ben Publishing Group, 2018) is a PJ Library book and received the PJ Library Author Incentive Award. Amalia is also author/illustrator of Astro Pea (Schiffer Publishing, 2019) and other books.