I am pleased to welcome award-winning author, David Shawn Klein, to chat about his first children's book, SHERLOCK MENDELSON AND THE MISSING AFIKOMEN (Black Rose Writing, 2022) illustrated by Bridget Starr Taylor. Sherwood Mendelson, a young detective, refers to himself as Sherlock and works alongside his trusty sidekick Watson, an adorable Basset hound. Set against the backdrop of Passover, the detective team gets to work when the afikomen goes missing. A colorfully illustrated picture book with lots of fun details, SHERLOCK MENDELSON AND THE MISSING AFIKOMEN is a perfect introduction to Passover.
 
Welcome, David!
Tell me how you came to you to write a Jewish story featuring a young Sherlock Holmes-inspired detective character?
My oldest son was a serious Sherlock Holmes aficionado, to the extent that at seven he got into trouble for "smoking" a Sherlock Holmes pipe in class. I grew up with a big, loving extended family, and it somehow popped into my head to honor the joy of all our Seders by telling the story of a young, Jewish Sherlock Holmes tasked with finding the missing afikomen.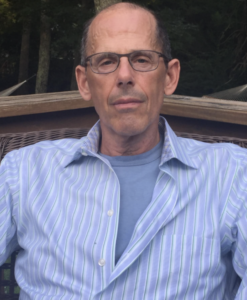 In the book, Sherwood and his family are shown celebrating a traditional Passover Seder, with a lot of humorous details. What were your thoughts when you first saw Bridget Starr Taylor's illustrations?
Bridget perfectly captures both the humor and the warmth of Sherwood's extraordinary, ordinary family.

You have a lot of experience writing for adult readers. How is the process different from writing a children's book?
I barely noticed the difference. A children's book requires a greater economy of words than one for adults, but since I'm always striving for the greatest possible economy, it was, for the most part, business as usual.
What is next for SHERLOCK MENDELSON?
When a Hannukah turns out to be missing a night, Sherlock goes into action to find it. After that, he investigates a Purim haunted by ghosts.
Thank you, David!
David Shawn Klein's debut novel, The Money, was named 2021 Book of the Year by Best Thrillers. Critics have compared it to Walter Mosely, Raymond Chandler, and James Patterson. Short pieces have appeared in The Hudson Review; Film Comment; Columbia, New York Stories; the Lowestoft Chronicle, among others. Short stories were nominated for two Pushcart Prizes and Best American Mystery Stories 2020.