I'd like to welcome Mari Lowe, author of AVIVA VS THE DYBBUK (Levine Querido, 2022). The story follows a lonely girl named Aviva who is mourning the loss of her beloved father. As she grapples with her grief, Aviva also experiences difficulties at school and at home. However, her biggest challenge is a dybbuk that's creating chaos. Featuring a slice of Jewish folklore and a dash of mystery, this deeply moving story of love and loss is a wonderful middle-grade read. Mari offers a window into Aviva's life in an observant community, and readers of all backgrounds will relate to her heartfelt experiences. I was so excited to read this book and it met and surpassed all my expectations! I am pleased to share my interview with Mari. 
What inspired you to write about a dybbuk?
I've always had a soft spot for magical realism, that place where contemporary fiction intersects with fantasy! When I was a kid, I was fascinated by old Jewish stories of demons, and I thought that a dybbuk would be the perfect one for this story. Aviva and her mother live in a kind of stasis after losing Aviva's father, and a dybbuk is a manifestation of that– a spirit that exists in the in-between of life and death, where Aviva still lingers.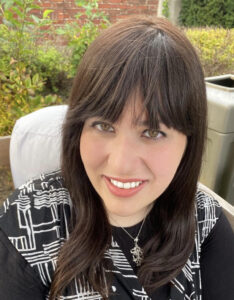 Was it difficult to weave challenging elements of Aviva's character while portraying her religious life with authenticity?
I didn't find it difficult at all! I've written many stories over the years, but this was the easiest one to put down on paper– because it's so deeply my world, and the one that I know best. Aviva's religious life is a part of the fabric that makes up her life, as much as school and sports and family. To me, the greatest challenge was to find a balance where the story would still ring true while also appealing to readers from outside my culture! I wanted to give readers an insider's perspective without them feeling alienated and confused. But at its core, AVIVA VS THE DYBBUK is about grief and community, and I hope that it's a story that resonates regardless of the reader's background.
Aviva is a multi-layered character whose loss and longing shape her interactions. What do you want readers to understand about her?
I hope that readers will find themselves in her! Middle school is that time when children become individuals, when they begin to figure out who they are emotionally and socially. Every flaw is magnified, and there is sometimes cruelty– but at the same time, there is so much kindness. I wanted to find nuance in Aviva's behavior and make sure that she would be that beautiful mess of contradictions! It was very important to me that Aviva would feel protective over her mother and not resentful. But that generosity of spirit also comes with an emotional toll, and I didn't want to gloss over that, either. Aviva is desperate for connection, but she pushes it away. She isn't always a good friend, but she is quick to forgive when there's a chance for reconciliation. Her losses have shaped so much of her life, but they don't define her– at her core, she is, like many other middle schoolers, just trying to figure out where she belongs.
What do you hope readers might learn about life in an observant community?
I hope that they'll understand that we're just ordinary people, living very similar lives to them! When I see Orthodox Jews portrayed in the media, they rarely feel familiar to me– they're often exaggerated stereotypes or written inaccurately. I specifically set out to write middle grade because that feels like the age at which these preconceptions are first formed. I didn't want to write a story about religion or a story about why someone might love or hate their life in the community. Instead, I wanted to write a book in which the culture is a backdrop but not the point, and the story is the girl and not Orthodox Judaism. And at the same time, I hope that readers will learn a little more about the world where I come from– one in which the community is more like an extended family, and chessed (giving to others) is a guiding principle.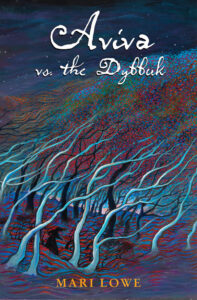 Finally – without giving spoilers, the Jell-O storyline feels so real. I am wondering if you have a related, personal experience?
Without spoilers, I'll say that the concept itself is one that I built from a longstanding obsession with escape rooms and scavenger hunts! My sister and I spent one summer years ago constructing a massive neighborhood scavenger hunt for my parents' twenty-fifth anniversary. (We told my father to pencil in an hour. Four hours later, they finally made it home to a candlelit dinner that we'd planned as lunch.) I did something similar recently for my son's tenth birthday, too, though I might have overestimated the patience that most ten-year-old boys have for riddles. For this one, I imagined the ultimate version that I'd have loved at twelve (and yes, okay, at thirty, too) and let Aviva make it happen. Wish I could've been there!
Thank you, Mari!
Mari Lowe has too little free time and spends it all on writing and escape rooms. As the daughter of a rabbi and a middle school teacher at an Orthodox Jewish school, she looks forward to sharing little glimpses into her community with her books. She lives in New York with her family, menagerie of pets, and robotic vacuum.