I am delighted to welcome award-winning illustrator and author Naama Benziman. Naama's new picture book LENNY AND BENNY (Green Bean Books) is an adorably illustrated, contemporary midrash tale. Rabbits Lenny and Benny are best friends who struggle with conflict and miscommunication. Inspired by the midrash story of Kamtza and Bar Kamtza, Naama has created a beautiful book about friendship. Both the text and the illustrations have a simplicity that makes the story accessible and a depth that makes it meaningful.
Welcome, Naama!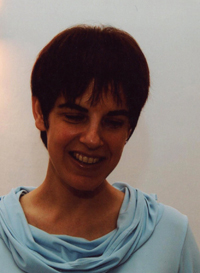 LENNY AND BENNY is a story inspired by the midrash about Kamtza and Bar Kamtza. How did you come up with the idea to make this particular Midrash accessible to young readers?
The Midrash about Kamtza and Bar Kamtza deals with baseless hatred. It might seem far off, but it is actually something we all experience. In English we use the expressions "to be angry" or "to be mad"- as if anger is a form of being, that might even make us lose control. We often hear about bullying among children, violence, humiliation or violations of human rights. These are different forms of anger and hate that blind us from seeing others. I was trying to look at this issue without judgment, in order to express both sides of the conflict and their journeys for peace and forgiveness.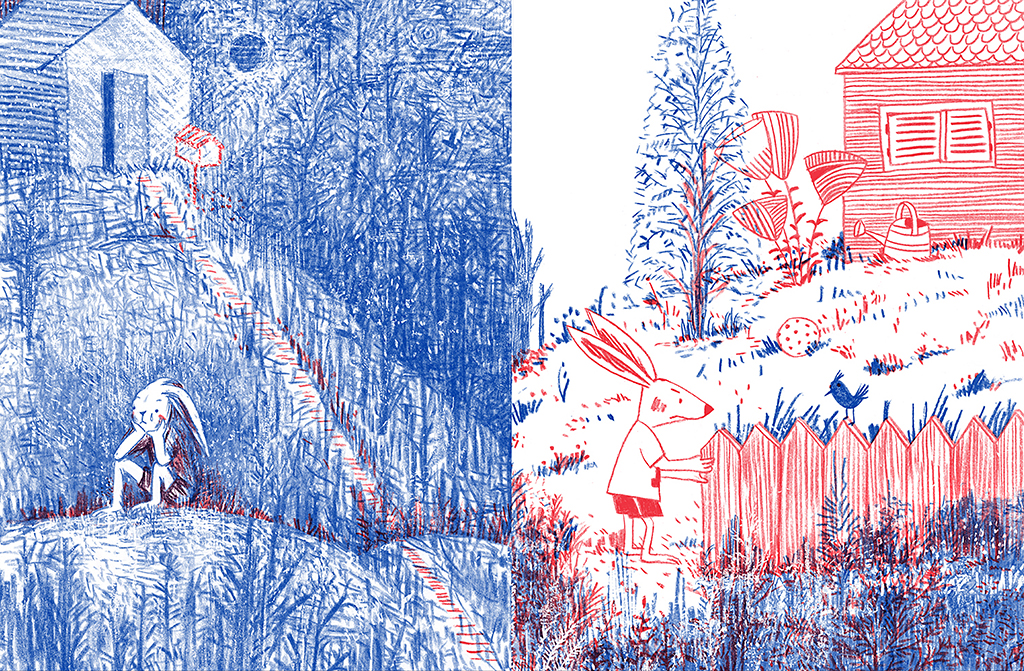 Can you tell me a bit about your creative process? What comes first for you – the art or the story?
I work simultaneously. I try to feel the rhythm of the book and figure out the best way to tell the story: Can I communicate it with images alone? What should I express in words? What might be the role of the typography? Since I am the one who makes these decisions and then carry them out, I sometimes go back and forth. It sure takes a while. ☺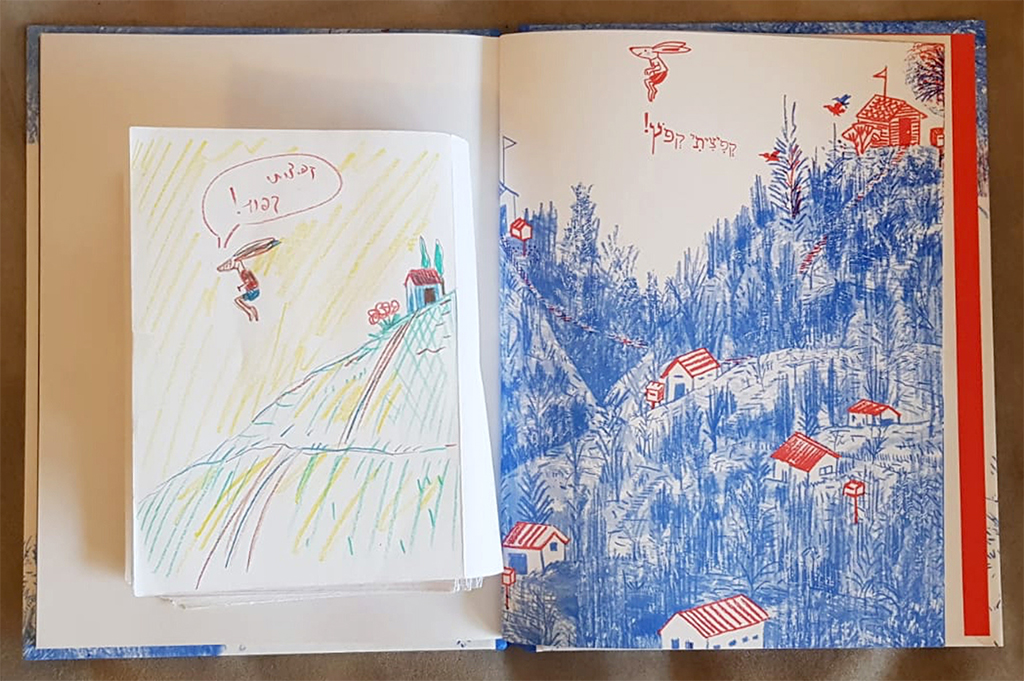 What art medium did you use for LENNY AND BENNY?
The book was printed using 2 Pantone Colours. I drew the illustrations with two coloured pencils, red and blue, and used Adobe Photoshop for corrections and adjustments.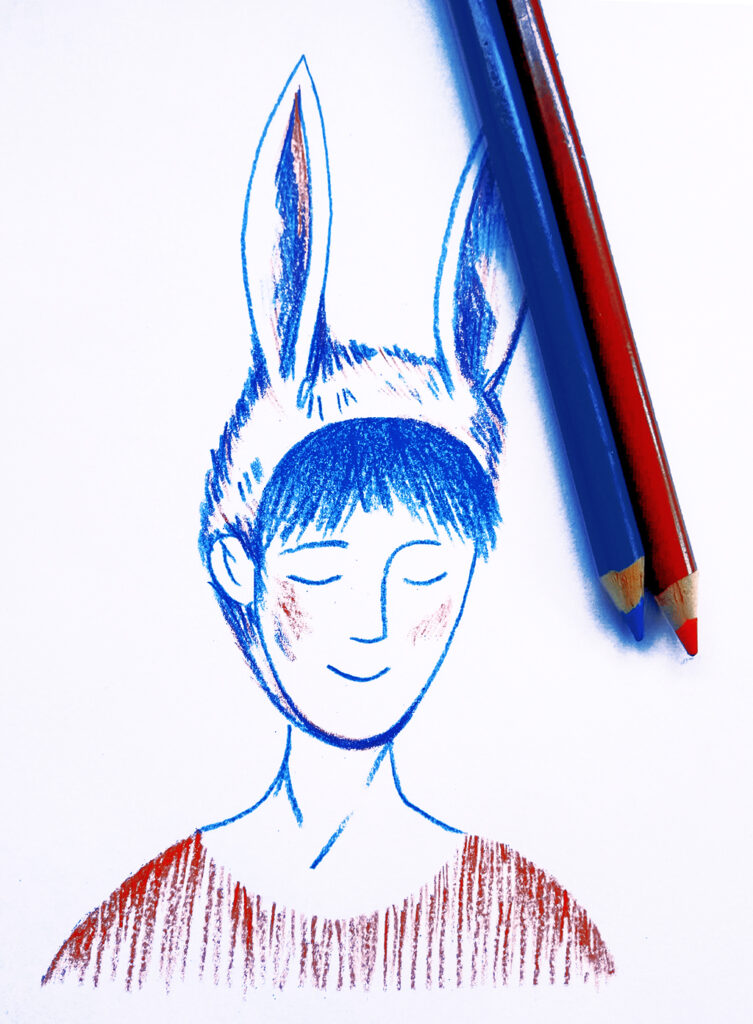 The characters of Lenny and Benny are adorable rabbits. How did you make the decision for the characters to take this form?
I thought that the conflict in the story may grow through a jumping competition. It is visual, dynamic and dramatic. Since the story is full of emotions, I searched for animal characters that would create some distance from the reader and ease the experience. The rabbits just seemed to fit: they are soft, loveable, innocent and known for their jumps.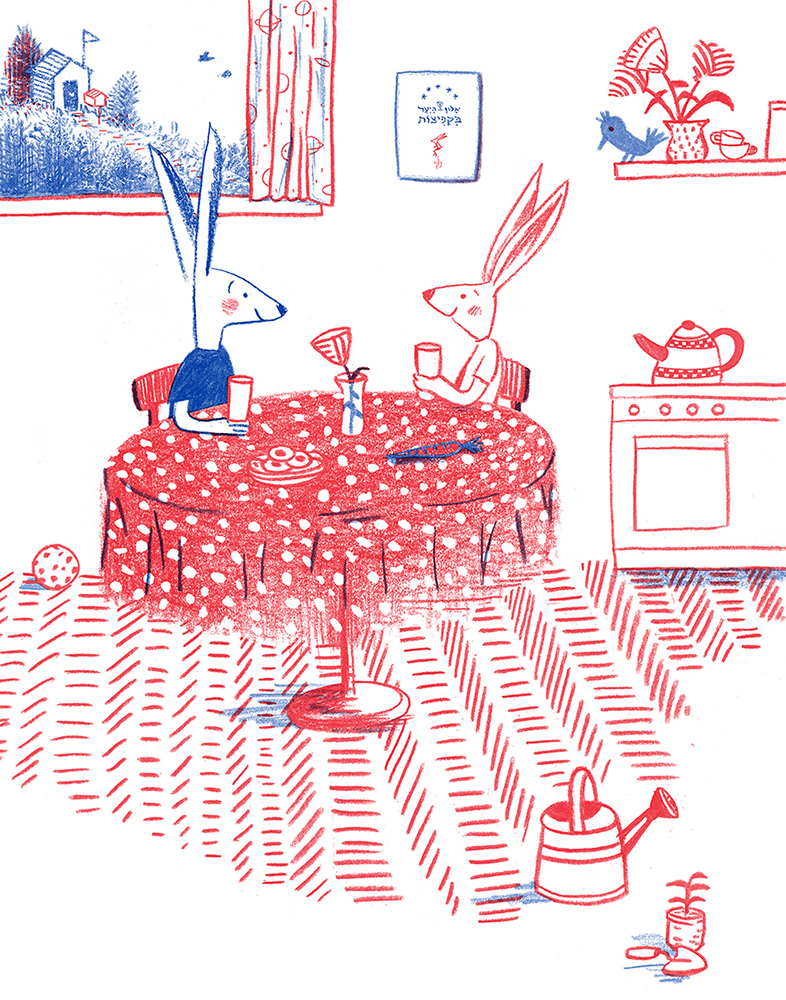 Are there any differences in the English/Hebrew versions of LENNY AND BENNY?
In the Hebrew version, the characters' names are Noni and Noni-Yoter ("Yoter" means "more"). These names indicate the similarity and the strong connection between the two bunnies, as well as the competition and conflict between them. I like to use hand lettering in my books. The text of the English edition is about 30% longer than the original text in Hebrew. It was challenging to transform the ideas and movement I created for the Hebrew typography to the drawn typography of the English edition.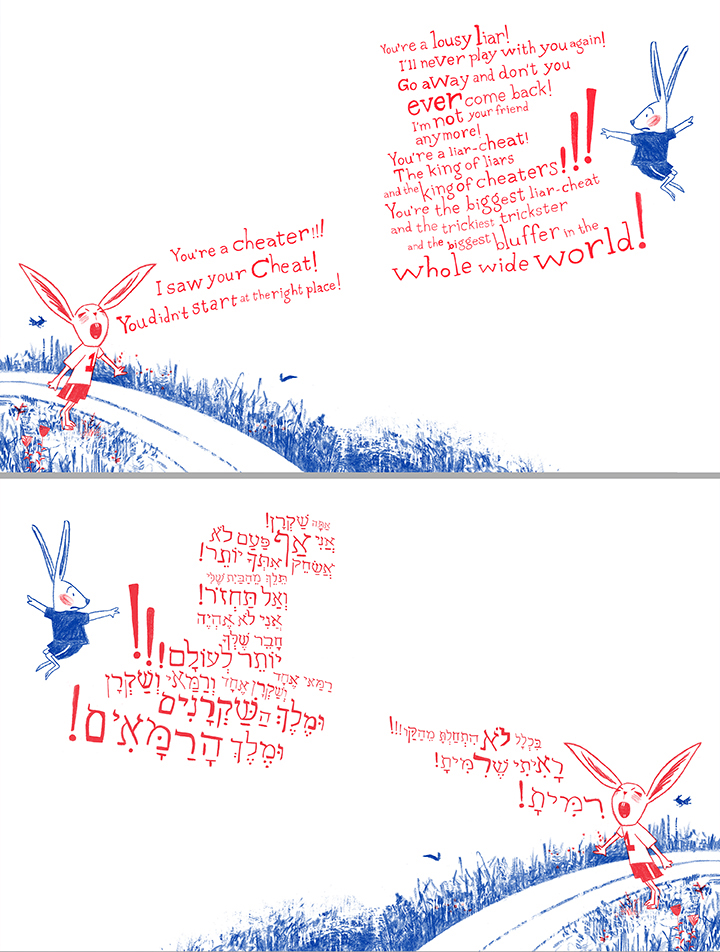 Thank you, Naama!
Naama Benziman is an award-winning Israeli artist, illustrator, curator, editor and author. She exhibits internationally and lectures on Illustration and Visual Literacy at Israel's top visual arts academies. Her previous books for children are Emilia and Albert's Tall Hat, both published in Hebrew by Am Oved. Born in Jerusalem, she now lives in Tel Aviv.