I met Joy Nelkin Wieder when we were both attendees at the TENT Workshop at The Yiddish Book Center. We had chatted about her winning manuscript and I was delighted when I learned The Passover Mouse had been published. What a charming tale with a truly satisfying ending! I couldn't wait to learn more about Joy's writing process. Mini spoiler! Just like The Passover Mouse, this interview has a very sweet ending. Be sure to read about Joy's volunteer work training puppies.
Welcome, Joy!
Tell me a bit about your unusual road to publication with THE PASSOVER MOUSE.
It has been an unusual (and long) road to publication! In fact, it took 18 years between concept and publication, which I think is fitting since 18 stands for "chai" which means "life!" I wrote the first draft back in 2002. I was researching another book that I was writing at the time when I came across a passage in Talmud that inspired the story. Then my manuscript won Best Picture Book Text in a Jewish children's book writing contest in 2004 and was considered for publication by two Jewish publishers and two mainstream publishers. When they all turned it down, I was crushed. I put the files away in a plastic bin in the basement where it stayed for many years. It wasn't until the story won honorable mention for the SCBWI/PJ Library Jewish Stories in 2018 that it got interest from industry professionals, and it finally became a published book by Doubleday Books for Young Readers on Jan. 28, 2020!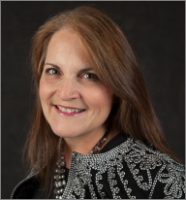 The story was inspired by a very serious Talmudic discussion. Was it challenging to create a lighthearted story about a serious religious topic?
When I read the rabbis' discussion about the possibility of a mouse bringing bread into a house that had already been searched for chometz in which they speculated about several scenarios, such as a mouse going into a house and another mouse coming out of the house, or a mouse going into the house and a cat coming out of the house, I immediately imagined a troublesome mouse running amok through a Jewish village in the midst of Passover preparations. I was also astounded when I came to the end of the passage and the rabbis stated that the question was not decided. I knew I had to come up with an answer!
While the original discussion might have been serious, there is certainly a long-standing penchant for humor in the Jewish religion, so I think the story fits with that tradition.
Did you need to do a lot of research when you wrote the story?
Yes, I did quite a bit of research for the story. There was the initial research that lead me to the Talmudic question, but once I got into the story, I had to be sure that all the halacha (Jewish laws) for Passover were correctly portrayed – such as the final search for chometz with a feather and candle; the last time you can eat chometz prior to Passover; the proper time to burn chometz before the start of Passover; etc. It's a complicated set of laws surrounding chometz, and I wanted to get it right! The final step was to ask my rabbi to read the proof of the book before going to press, and he gave it the halachic thumbs up.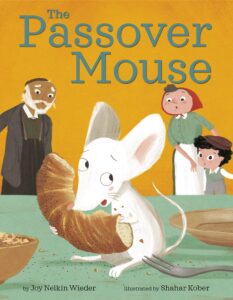 What was your first thought when you saw the illustrations by Shahar Kober?
I was excited to see all the characters in the village come to life, especially the Passover Mouse! The cover is charming, and I hope it will be attractive to book sellers and book buyers. Originally, I was hoping to illustrate the book myself, but my editor wanted to go in a different direction. It was hard to give up my vision for the book, but Shahar did a great job.
There is a little bit of a surprise ending. Have you ever had a pet mouse? Other pets?
What a great question! Yes, I had two white mice as pets growing up. Their names were Daisy and Bedelia. They were named after two of the horses that lived at the ranch where I took horse-back riding lessons as a child. Now I have a cat named Cleo who is 15 years old.
We also help train service dogs through the Prison PUP Program with an organization called NEADS. We are currently working with a five-month-old Black Lab named Dessie who is doing well with her training. The NEADS dogs live with inmates in prisons during the week but get weekend furloughs! Volunteer weekend puppy raisers, like my husband and myself, take the puppies out of prison each weekend for about a year to work on house manners, socialization, and training. These weekends furloughs help the dogs get the socialization they need, such as visits to the grocery store, nursing homes, the mall, restaurants, and exposure to typical household activities.
Readers can connect with Joy online:
Author website: www.jnwieder.com
Book website: www.thepassovermouse.com
Perfect2020PBs: https://perfect2020pbs.weebly.com
Twitter: https://twitter.com/JoyWieder
Facebook: fb.me/joynelkinwieder
Instagram: https://www.instagram.com/jnwieder/
Goodreads: https://www.goodreads.com/author/show/4272106.Joy_Nelkin_Wieder