My friend Susan Lynn Meyer (previously interviewed for her novel Black Radishes) has a new picture book just in time for Passover! MATZAH BELOWSTAIRS (Kar-Ben) is a delightful story about a charming little mouse family whose lives Belowstairs. They are eager to celebrate Passover, just like the Winkler family who lives Abovestairs. But Miriam Mouse is struggling to forage for matzah. What will she do? MATZAH BELOWSTAIRS is a perfect selection for young readers. It's engaging and fun, and the illustrations showing the two levels of homes are adorable and super kid-friendly.
Welcome back, Susan!
Tell me a bit about your new book and what inspired the creation of a mouse family that wants to celebrate Passover?
I used to sit at the seder table and wonder about the hidden piece of matzah—the afikomen. What if a child hid it and went to bed before it was found? How would you end the seder then? Or what if everybody forgot where it was, and you found it again months later? Or what if a MOUSE found it before everybody else did? That idea combined in my head with the observation that during Passover, because matzah is so crumbly, we tend to have crumbs all over the floor—and the story of the usually messy Winklers and Miriam Mouse finding the afikomen was born! (Secret fact: my husband's surname is Winkler!)
I love idea of Abovestairs and Belowstairs – which (I think) creates a folktale feel to your story.
Thank you! I was thinking too of British servants—and that the Mouse family is dignifying their job by thinking of themselves as cleaning up after the Winkler family!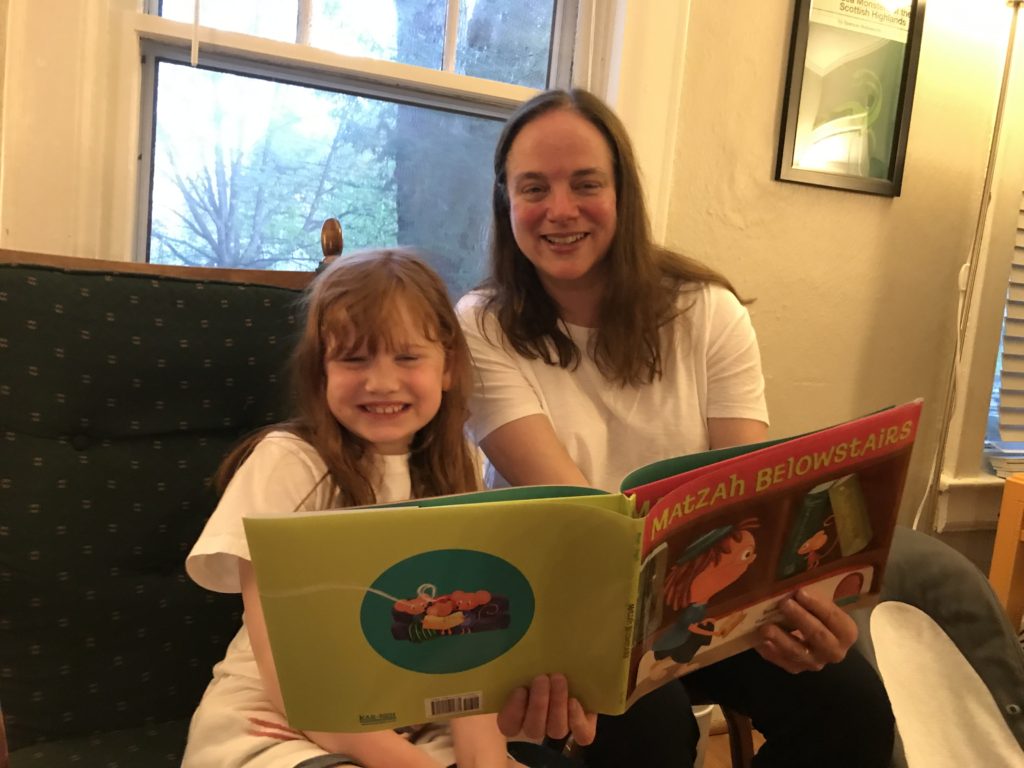 What were your thoughts when you first saw the illustrations by Mette Engell?
Illustrations are never quite what the writer envisions, of course—they are another creator's way of visualizing your story. I had imagined something more along the lines of a Jewish Beatrix Potter. (Originally, the father in the story had given Eli Beatrix Potter The Tale of Two Bad Mice as a gift for finding the afikomen, but the editor wanted to shorten the story a bit.) But once I adjusted to the new vision presented by Mette, I loved it, particularly, the division of the page so that we can see the Mouse family below and the Winkler family above, the warm friendliness of the world, and Eli's glasses! (I was a glasses-wearing child and so were my first two brothers, and you don't see enough glasses in children's books!)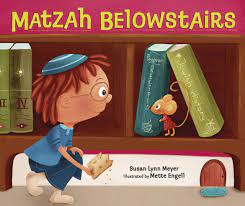 Do you have any unique family traditions on Passover?
We follow the feminist and LGBTQ-friendly tradition, started by Susannah Heschel, of the orange on the seder plate. I wonder how many families around the world do that now. It would be interesting to know. (https://www.myjewishlearning.com/article/an-orange-on-the-seder-plate/)
I also tend to engage in an unsuccessful annual attempt to replicate the almond macaroons (no coconut) that I remember from childhood. My grandmother, who was born in Alsace and lived in New York, used to mail my dad a Passover box, wrapped in brown paper and tied with string, containing her homemade French almond flour Passover cake and delicious macaroons she bought from a bakery. I assume they were from somewhere in Manhattan. I've tried with many recipes to replicate those macaroons, but they never come out quite as soft, chewy, and delicious. Do any New Yorkers out there know what bakery my grandmother might have purchased her macaroons from? I'll mail-order them if I can find out! I so want that taste of childhood back!
One last question: How is this book different from all your other books?
Ah, good question! This is my fifth book for children, and for the first time one of my books is being described as "funny." I wasn't aiming for that—I would describe it as whimsical, playful, and magical. But I'm glad to have it called "funny"! To me, it also seems more joyous and free than my earlier books. My child, when small, was very imaginative and magic-loving and used to envy Christian holidays associated with magical creatures, namely Santa and the Easter Bunny. I hope MATZAH BELOWSTAIRS will make such children happy—Eli Winkler has a magical, talking mouse living just below his apartment who celebrates Passover!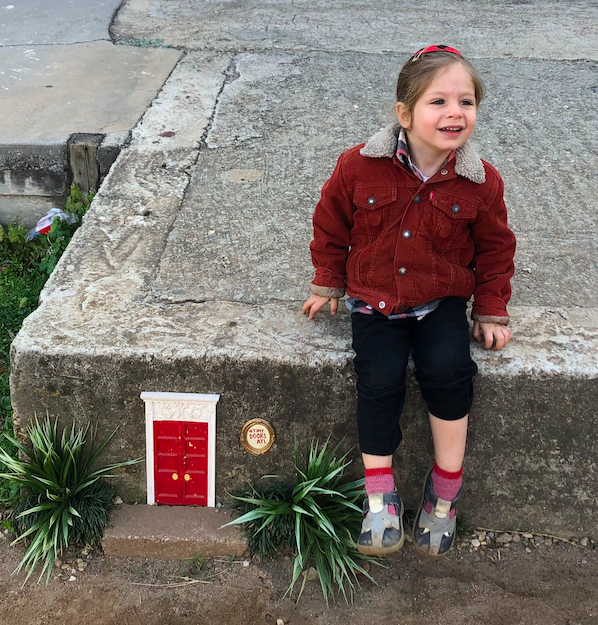 A few days ago, a mom from Atlanta emailed me this wonderful photo of her little one, Manu. She had read Manu MATZAH BELOWSTAIRS in preparation for Passover. Then last week Manu discovered this tiny door, part of the Tiny Doors Atlanta art project, in the Beltline, Atlanta's reclaimed railway park. Manu proceeded to tell his mom a long story about this door being the entrance to Belowstairs, where Miriam Mouse lives. He explained that he was passing bits of matzah through the tiny door to Miriam's family, so that they could celebrate Passover.
Getting email like that is one of the reasons why I love writing for children!
To learn more about Susan and her books please visit her web site https://susanlynnmeyer.com/