I am delighted to welcome Linda Silver to my blog. Linda is a specialist in Jewish children's literature. A retired librarian, Linda has worked in school and public libraries as well as in synagogue and Jewish educational libraries.
Her professional activities include leadership positions in the Association of Library Service to Children (ALSC/ALA) and in the Association of Jewish Libraries (AJL). She has been a member of the Newbery-Caldecott Committee, an ALSC board member, president of the School, Synagogue, and Center Division of AJL, president of the Cleveland AJL chapter, and chair of the Sydney Taylor Book Award Committee. In 2004, Linda received the AJL's Fanny Goldstein Merit Award in recognition of her contributions to the Association and to the profession of Judaic librarianship. She teaches workshops and gives talks on Jewish children's literature and writes about it extensively as a reviewer and co-editor of children's book reviews for the AJL Newsletter and as editor of the online Jewish Valuesfinder: www.ajljewishvalues.org.
Linda's most recent publication is a book published in 2008 by Neal-Schuman titled The Jewish Values Finder: A Guide to Values in Jewish Children's Literature. Past publications include Jewish Classics for Kids (AJL, 2006), Excellence in Jewish Children's Literature: A Guide for Book Selectors, Reviewers and Award Judges (AJL, 2003), and Developing a Judaic Children's Collection (AJL, 2001) as well as many magazines, journal, and newspaper articles. Her current writing project is a guide to Jewish children's literature for the Jewish Publication Society. Linda lives with her husband in Cleveland, Ohio.
Linda's contribution to children's literature is inspiring. I'm honored that she was able to spend some time sharing her knowledge and experience.
Tell me a little bit about the history of Jewish Values Finder and how parents, educators and librarians can access the information.
The predecessor of the Jewish Valuesfinder was Marcia Posner's Juvenile Judaica, a print publication that listed books of Jewish content, briefly described them, and gave their subjects and themes. After the first edition, which was published in 1985 and sold by AJL, several supplements were issued. Publication was suspended around 1995. In 2002, Marcia asked me to create a new publication that would continue her work in some form. She contributed the funds needed to develop the online guide, which was launched in 2003 and is accessible to anyone with a computer at www.ajljewishvalues.org. The publishing director at Neal-Schuman read an article about the Jewish Valuesfinder and contacted me, asking if I would write a book.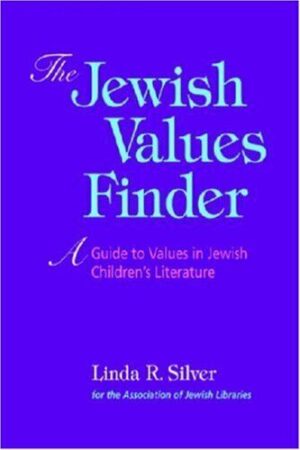 What drew you to create such a database?
Although more and more books of Jewish content for kids were being published, there was very little written about them. Individual reviews and short bibliographies existed but nothing that compiled all of that burgeoning literature on a continuous basis or evaluated it or identified it by the Jewish values embodied in it. As a Judaic librarian in synagogues and a bureau of Jewish education, I was very aware of how often parents and teachers looked for literature that was rich in Jewish values and how there were no guides to help find it.
This month the Jewish Values Finder was published in book form. How does the book differ from the website? Will there be updated versions available every year?
The book contains information that the online does not, including a history of Jewish children's literature in America, selection criteria for books of Jewish content, collection development guidelines, and a list of Jewish publishers. While the online guide identifies books by more than 100 separate values, The Jewish Values Finder book organizes books by eighteen different values – each one conceptualized rather broadly. The chapter on mitzvot, for example, includes books that would be identified by many different mitzvot in the online guide. The book is portable; the online guide is not. The book is finite in the number of titles it contains whereas new titles are always being added to the online guide, which already contains books published in 2008. As for updates, I don't know what the publisher's plans are and suppose they depend on how well this book does.

If an author or publisher wants a book considered for inclusion in the Jewish Values Finder is there a submission process?
Anyone who wants a book for children or teens considered for the Valuesfinder can send me a copy for review. First, they should read about the criteria for selecting titles for inclusion in the Valuesfinder by going to www.ajljewishvalues.org. They can also email me at [email protected].
Do you see any significant trends in Jewish literature for children?
There's more Jewish "chicklit" being written and more novels for teens in general. Overall, they make me cringe: "chicklit" celebrates the very traits which sexist adult novels have always associated with women, traits that brand women as petty, materialistic, narcissistic, concerned mainly with their looks and how much money they can spend. The focus in most books for teens is on the self – on the main character and her or his personal, often narrow, concerns. There is very little sense of peoplehood or of being a part of the nation of Israel. In this sense, they are anti-Jewish.
Are there any books "missing" from the genre that you would like to see published?
The art of the picture book is one of the highest achievements in modern children's literature but there's little evidence of that among picture books of Jewish content, whose illustrations are usually banal or at best, pretty. I'm also struck by how conservative, how safe most books of Jewish content are. By this, I don't mean I yearn for the vulgarity that is so commercially successful in secular books for kids but I do wish there was more off-beat or experimental writing, more mischief, more fantasy. For this to happen, reviewers are going to have to be more welcoming of the off-beat and publishers less risk-averse.
Linda, thank you for your commitment to children's literature!