In Laurie Wallmark's new picture book RIVKA'S PRESENTS (Random House Studio, 2023) illustrated by Adelina Lirius, a young Jewish girl named Rivka living with her family on the Lower East Side is eager to start school. But when her father falls ill during the 1918 flu pandemic and her mother must return to working in a factory, Rivka is unable to enroll as she must tend to her little sister. However, Rivka finds her own ways to expand her knowledge. In exchange for helping others, Rivka receives all sorts of lessons from her neighbors and local shopkeepers. This engaging, beautifully illustrated book encourages learning and fostering community.
Welcome back, Laurie!
What inspired you to depict the experience of a young girl against the backdrop of the flu pandemic in 1918 on New York's Lower East Side?
I took a tour of the Tenement Museum on the Lower East Side many years ago. At the time I thought there must be a story here, but I had no idea what it was. I later took the tour again and had the same thought. But I still didn't have a story. I thought about what it must have been like for my mother growing up on the Lower East Side during that time period. What were her dreams? What were her challenges? What was her daily life like, both at home and out in the community? Eventually, all these thoughts coalesced into the story of a little girl, like my mother, who couldn't wait to start school.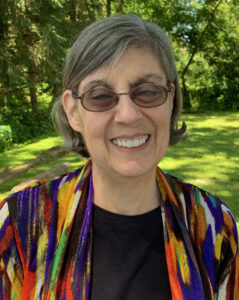 Although RIVKA'S PRESENTS is a work of fiction, many of the things that Rivka, her family, and her community experience were common for Jewish families that lived on the Lower East Side in the early 1900s. Can you share a bit about your research process for this book?
One of the joys of writing historical fiction is the necessity of doing research. The Tenement Museum was an invaluable source of information about immigrant life during the time period of Rivka's Presents. I read books on Jewish immigration, life on the Lower East Side, and of course the impact of the 1918 pandemic. And I watched visual history videos of people who had lived on the Lower East Side.
Rivka is passionate about learning. Can you share a bit about why it was important to create a character who valued education?
Jewish people greatly value education, and I wanted to create a story that exemplified this. But kids don't want to read a book that's didactic in saying they should like school. If anything, that might make a kid choose to dislike school. Instead, children want a main character whose life is relatable. All children have something they really want to do. Often, for one reason or another, they can't do it. For Rivka, this was starting school.
What do you hope young readers will take away from the story?
Some children might not realize how much of a gift it is that they get to attend school. In fact, they might not appreciate it at all. By reading about Rivka's strong desire to learn, they may come to treasure this opportunity. Not to mention that learning is a worthwhile ambition.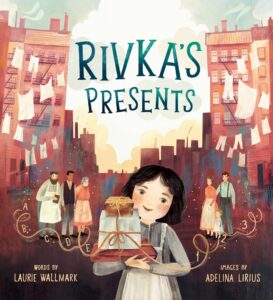 What were your thoughts when you saw Adelina Lirius's illustrations?
Adelina's illustrations are breathtaking. I love the color palette she chose. And the expressions on Rivka's face are priceless.
Thank you, Laurie.
Award-winning author Laurie Wallmark writes picture book biographies of women in STEM. Her titles include Code Breaker, Spy Hunter: How Elizebeth Friedman Changed the Course of Two World Wars; Ada Byron Lovelace and the Thinking Machine, which received four starred reviews and a Cook Prize Honor; Grace Hopper: Queen of Computer Code; Hedy Lamarr's Double Life, a Crystal Kite Winner and Cook Prize Honor recipient; and others. Laurie has an MFA in Writing from VCFA and is a former software engineer and computer science professor. You can find Laurie online at www.lauriewallmark.com.
On Twitter: @lauriewallmark
Facebook: @lauriewallmarkauthor
Instagram: @lauriewallmark