THE GHOSTS OF ROSE HILL by R.M. Romero (Peachtree Teen, 2022) is a beautiful novel in verse about a teenager, Ilana, who visits her aunt in Prague. She discovers a cemetery and befriends a ghost boy named Benjamin. But befriending a ghost is not as simple as it may seem, and loving one is even more complicated. As their relationship develops, Ilana learns more about herself, her family, and the choices she makes in her life. Ilana must learn to find the personal strength to fight for what she knows is right. R.M. Romero creates a fascinating dream-like world, and Ilana's story is woven with history, folklore, and a little bit of magic.
I'm so happy to welcome R. M. Romero to learn more about THE GHOSTS OF ROSE HILL.
In the story, Ilana travels from her home in Florida to visit her aunt in Prague, where she "meets" a ghost, Benjamin, and their connection changes her. The magical world Ilana discovers has some unique elements. What traditional folktales and fairytales inspired the world you created for Ilana?
I was mainly inspired by Prague's own wealth of folklore. In The Ghosts of Rose Hill, the city's mythical founding by a princess with a prophetic gift, the golem who protected the Jewish community, the alchemists who turned lead to gold deep underground, and a malevolent river spirit all exist alongside 21st century concerns. Prague feels like a legend that has come to life and I wanted to draw the reader into that using its stories. I also pulled from Western European fairy tales, like Hans Christian Andersen's The Red Shoes (a tale of magic devouring a girl) and Hansel and the Gretel by the Brothers Grimm (a tale of a child eating monster).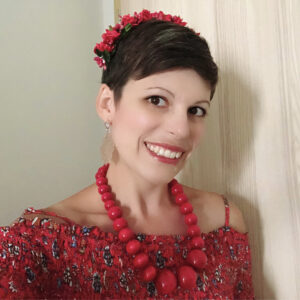 While researching/writing THE GHOSTS OF ROSE HILL did you discover anything surprising or unexpected that may not have made it into the final book?
There was, in fact, a Jewish cemetery on a hill on the very outskirts of Prague. A TV tower was built over it during the communist era. I thought about having Ilana visit this place, but decided to have her confront that aspect of Prague's past in the main square instead, where matzevot fragments were used as replacement cobblestones.
Ilana's aunt tries to warn Ilana about developing a relationship with Benjamin and Rudolph Wasserman. In writing the book, did you have a backstory for Aunt Zofie that gave her insight into this world?
As someone growing up in the 20th century, I imagined that Zofie's life bridged the modern world where science is used to explain various phenomena and the old world of superstitions, magic, and monsters. As an artist with an open mind, I thought she probably believed in the value (and reality) of both recent discoveries and warnings given to her by older families who had seen Prague's shadows for themselves.
There are two symbols that run through the novel: music (specifically the violin) and the river. Can you share a bit about the significance of these symbols in Ilana's journey?
Ilana is a child of water—and of exiles. Her mother came from the island of Cuba and now she and her family live on Miami Beach, another island. I wanted Ilana to confront these facets of her identity—water and exile—in different, more antagonist forms: in a river that stole the life of a ghost boy she comes to care about and in a creature who was cast out of his homeland because of his crimes.
Ilana draws strength from her music because she understands what I've always found to be true: music is magic. It can give hope, it can change a person's mood, it can speak to our hearts when words can't. As someone who has difficulty expressing herself to many of the people in her life, Ilana's music gives her a voice. And she in turn gives the voices back to the ghosts, who were previously silenced by history and by the creature holding them hostage.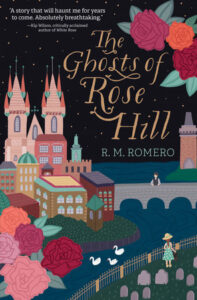 Like Ilana, you have experience maintaining cemeteries. Have you had any magical connections that might have inspired Ilana's story?
Most of the magic that I've found in the cemeteries is somewhat grim. Or maybe Grimm would be more appropriate. For instance, the idea of the roses that grow from the ghosts came from my experience in the Jewish cemetery of Wąwolnica. An enormous wall of thorns that not even a chainsaw could cut through barred the forensic archeologist I was working with from investigating a war-era grave there. "It feels like the thorns are protecting the people buried here," she commented. I started to think about that wall of thorns and how it felt like something out of Sleeping Beauty. And then I started to think about what the dead might need protection from.
Thank you, R. M.!
R. M. Romero is a Jewish Latina and author of fairy tales for children and adults. She lives in Miami Beach with her cat, Henry VIII, and spends her summers helping to maintain Jewish cemeteries in Poland. The Ghosts of Rose Hill was inspired by these experiences. You can visit her online at RMRomero.com or on Instagram @RMRomeroAuthor.