It's the season for holiday books and I'm so delighted to share a truly special picture book – THE CHRISTMAS MITZVAH (Creston Books, 2021) by Jeff Gottesfeld. Young readers will be inspired by the story of Al Rosen, who helped others in his community by taking on their jobs on Christmas so they could celebrate with their families. It is a heartwarming story of faith, friendship, and community. The playful, detailed illustrations by Michelle Laurentia Agatha adds charm to the text. THE CHRISTMAS MITZVAH is a perfect selection for any holiday celebration. I was excited to learn more about the creation of this joyful book. Welcome, Jeff!
Can you tell me how you learned about Al Rosen and his Christmas Mitzvah?
I am going to guess that it was in 1997 or so, when I was in Milwaukee WI on a theater project at First Stage Milwaukee, the children's theater there. It must have been the time of year, because I have a recollection of reading something about Al Rosen in a newspaper, describing what he did. Of course, it has been more than two decades since then, so I may be concocting the whole thing. Still, I avow that I read his story in a newspaper article, back in the last century. Some ideas just take a long time to come to fruition.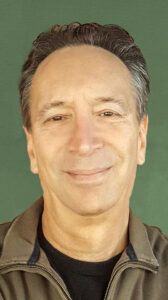 Did you need to do any research to tell this story?
For the first time in a long time in a book, NO. The book is inspired by Al, but not based on his life. I didn't make contact with Al's real-life son Jeff (who is my age) until after the book was published. (BTW, Jeff Rosen is a big fan of it). More research was done actually into the artwork, because we wanted to make this book as diverse and multicultural in that artwork as any big city is in reality, so there were many sensitivity readers and commenters along the way. Aliza Werner deserves a special shout-out. Her notes on both text and art were special, and she was just about always right. And I'm going to guess that Michelle Agatha learned a lot about Chanukah as she did her drawings.
I love the humor you infused in the story – and that sometimes Al didn't do jobs very well. Are there any details you can share that didn't make it into the book?
I'd like to say that Al was a bouncer at a club on a Christmas Eve, but that just didn't happen. I do know that real-life Al tended bar on that first Christmas mitzvah night, and that he got the idea after he had stopped for gas, with a Christian attendant coming out who was unable to work on Christmas Eve. Later, Jeff Rosen shared some stuff with me about his dad. He was just a 100% good person. Real life Al would speak at Federal prisons to share his message of brotherhood.
What were your thoughts when you first saw Michelle Laurentia Agatha's lively illustrations?
Here's what I thought: "Marissa Moss, publisher at Creston, you are a genius for finding this young woman. She is funny." Marissa wanted an artist with a great sense of whimsy, and Michelle just nailed it.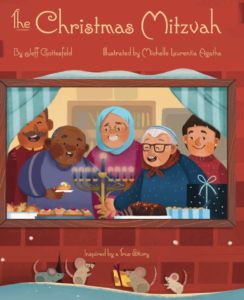 What do you hope your readers will come away with after reading THE CHRISTMAS MITZVAH?
A couple of big things. One, Al shows us that a person can be of one faith and not just be tolerant of other faiths, but actually love them in a way where the word "love" is a verb and can be made holy through mitzvot. He did. Second, that goodness is one crucial human quality that all of us can have, in equal measure. My favorite line in the book is that Al did the mitzvot for "all the folks easy to dismiss in a world that mistakes wealth for worth." Ain't that true. All of us do not have equal measures of talent, intelligence, athleticism, artistic ability, wealth, or even luck. But all of us can be good. Al is a spectacular example. May his memory continue to be a blessing.
Thank you, Jeff!
Jeff writes for page, stage, and screen. He has won awards from the American Library Association, the Association of Jewish Libraries, the Writer's Guild of America, the National Council for the Social Studies, and the American Alliance for Theater and Education. His current focus is picture book texts for children. His other picture books are The Tree in the Courtyard (Knopf, 2016), illustrated by Peter McCarty, No Steps Behind (Creston, 2020), illustrated by Shiella Witanto, and Twenty-One Steps: Guarding the Tomb of the Unknown Soldier (Candlewick Press, 2021), illustrated by Matt Tavares, a Kirkus and School Library Journal 2021 "Best Book." Born in Manhattan and raised in Teaneck, New Jersey, he currently lives in Los Angeles. Visit him at www.jeffgottesfeldwriter.com