I love celebrating new books with friends! I am excited to announce a wonderful new book:
A Crowded Farmhouse Folktale
by Karen Rostoker-Gruber
illustrated by Kristina Swarner
(Albert Whitman & Company)
Farmer Earl has had enough—his home is too crowded!
So, he visits the wise woman in town for help. She tells him to bring all his ducks in the house. And then all his horses. And all his goats too! How will there be more room with all these animals? This updated folktale uses humor to explore what it takes to gain a new perspective.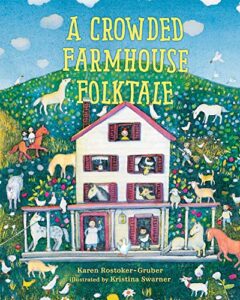 (This book is based on a Yiddish folktale and available on October 1st!)