Karen Rostoker-Gruber is an award-winning children's book author, ventriloquist, and humorist. Karen is a dynamo! Her awards, accolades, and activities are impressive and too numerous to list (visit her website listed below for details). Karen's delightful book (authored with Rabbi Ron Isaacs, illustrated by CB Decker), FARMER KOBI'S HANUKKAH MATCH (Apples and Honey Press) is a heart-warming story of Farmer Kobi's search for love and the family of animals that love and protect him. Karen has a gift for playful language that makes this selection a fun read-aloud. Although the animals are charmingly anthropomorphized, their behaviors are true to form. Both kids and adults will enjoy the humor and the tenderness beautifully woven throughout the story. FARMER KOBI'S HANUKKAH MATCH is a perfect Hanukkah story to share with the whole family. I'm delighted to share my interview with Karen. Be sure to check out the photos of her unique pets!
Tell me what inspired FARMER KOBI'S HANUKKAH MATCH?
Farmer Kobi's Hanukkah Match was originally written as a sequel for my book, Rooster Can't Cock-a-Doodle-Doo. It was called Farmer Ted's Dinner Date, back in 2005. But, my editor at Dial Books had left. And, even though that book sold 250,000 copies (Wowsa!), the new editor wasn't "sold" on the sequel. So, I put it away for a while. Then, for some reason, in and around 2014, I took it out again. I went to see Ron Isaacs (my Rabbi at the time) and I asked him to look over some of my older stories to see if there were any that had Jewish values, as that was what Behrman House was looking for. Ron Isaacs told me that there were Jewish values in Farmer Ted's Dinner Date: Compassion for Animals and Welcoming Guests. So, I went home, rewrote the story to take place during Hanukkah, and I set the story on a moshav (because I have cousins that live on the Nahalal Moshav in Israel).
Farmer Kobi's Hanukkah Match became a National Jewish Book Award finalist, was named a National Jewish Book Award Finalist, was awarded the 2016 Outstanding Children's Literature Award from the Church and Synagogue Library Association, and mentioned on a lot of holiday lists. The most recent list named Farmer Kobi's Hanukkah Match on their "Best Holiday Books to Read with Little Kids" list by Parenting Magazine and Parenting.com. Hee-haw-yahoo!
I had also changed the name of the Farmer and the animals. In Rooster Can't Cock-a-Doodle-Doo, Farmer Ted had Rooster, cows, sheep, pigs, and chickens, but since they don't have pigs on moshavs in Israel, Farmer Kobi had Donkey, goats, geese, and sheep. I had Ron write "A Note for Families" about the two Jewish values that he told me he could include, and we sent it off to Behrman House.
At that time Behrman House was launching their new imprint Apples and Honey Press! Who knew! They launched with three books that first season: Farmer Kobi's Hanukkah Match, a book by David Adler called, "Hanukkah Cookies with Sprinkles," and "Kayla and Kugel" by Ann Koffsky.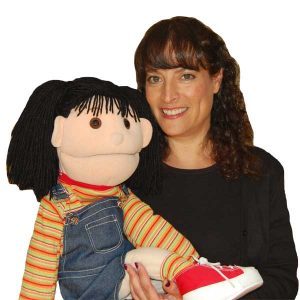 I love your creative wordplay with the animal's dialogue. It's a great way to appeal to the young readers as well as the adults who might be reading aloud. Is this something that comes naturally to you?
I work really hard at making it look easy. I write about animals because of their puns And animals puns are fun! I usually sit with a dictionary for days to get the perfect pun that doesn't feel forced. I write out the dialog first and put the perfect puns in later. The dialog can't feel forced or it ruins everything. In my book, Farmer Kobi's Hanukkah Match, there are a lot of animal puns.
But, my favorite joke in Farmer Kobi's Hanukkah Match was that I had named Farmer Kobi's date Polly Ester (for polyester) on purpose. It was the joke of the book–especially when I have the goats say, "She was definitely NOT Farmer Kobi's perfect maaatch." And then the sheep say, "Her name was Polly Ester. She was a faaake." I don't know if anyone "got that," some did, but I knew it was there. (I write for children, of course, but I also need to entertain the adults who have to read the book over and over and over again.)
Overall, Farmer Kobi's story is about family; and Farmer Kobi's animals ARE his family. When Polly Ester rejects the animals, the animals know that she isn't right for Farmer Kobi. But, when Ruthie comes along, the animals know right away that she is the perfect maaatch because of the "family" that she has in her truck. I'm not going to spoil the surprise.
Some of the other puns that I like in some of my other books are: from Bandit "Mews to me" and "I'm a claw-abiding citizen." From my book, Bandit's Surprise, I like, "Go away, Kitty Litter." And, "You never yelled at me before Tattle Tail came along."
In Ferret Fun my favorite line, although it's not a pun, but a get-into-the-head-of-the-cat sentence is: "Milk would go great with two side orders of rat. Don't go anywhere. I'll be back soon for my double-rat snack-pack." For my book, Ferret Fun in the Sun, there's a snake. I had tons of fun with those puns, but my favorite line is this: "A two-for-one sssuper sssupper ssspecial."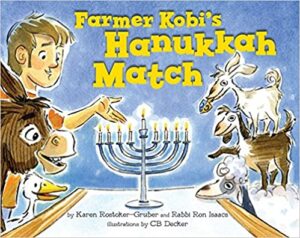 Readers don't always realize that fiction requires research. Can you share a bit about the research that you did for FARMER KOBI?
I do a lot of research for all of my animal books–interviewing people with cats, hanging out at the local vets office watching his cat, going to the local farms and watching goats, cows, chickens, roosters, pigs, and sheep. But, for Farmer Kobi's Hanukkah Match, not only did I have to interview vets and watch animals, but since I set the book on the Nahalal moshav in Israel, I had to interview my Israeli cousins as well. In addition, our editors Ann Koffsky and Dena Neusner also wanted photos of life on the moshav because the illustrator needed to make sure that it didn't look like a regular farm over here in the US. And, there's a lot of Hebrew sprinkled into the book–on the barns, around Farmer Kobi's bedroom, in the kitchen, and on Ruthie's license plate.
Funny story: When I was researching/writing my book, Rooster Can't Cock-a-Doodle-Doo, My text had read something like this: "Rooster felt like his tongue was twisted up inside of his beak." (This line was later removed) But, when the line was in there, my editor wanted to know if roosters had tongues. I had no idea, so I had to call several vets, farms, and zoos to get the answer. Most of them hung up on me as soon as I asked, "Do roosters have tongues?" I finally had to go into a vets office in person to get the answer. I think they thought that I was making crank phone calls.
Do you have animals in your family?
I grew up with a dog named Licorice.  But, over here, my daughter had a lot of different animals. Here is a photo of our guinea pig (Lyle) and of our ferret (Bandit). We also had a rabbit (Butterscotch) and two other guinea pigs (Fluffy and Penelope).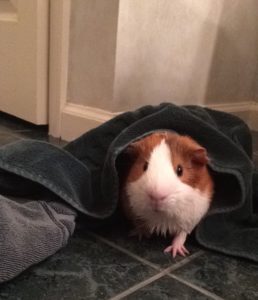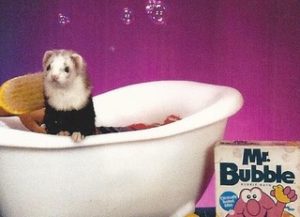 I'm always working on animal books and puns to go with the animals in those books.  The two new books that I have coming out in 2020 don't have puns, but they are rhythmic and/or lyrical, which is another thing that I love to do. One book is coming out in October 2020 from Albert Whitman called, A Crowded Farmhouse Folktale, which is loosely based on the public domain folktale from Poland, It Could Always Be Worse. And, I have a board book coming out in November of 2020 from KarBen called, Happy Birthday to the Trees.
Thanks, Karen!
You can learn more about Karen at http://www.karenrostoker-gruber.com.