Esty Schachter is a writer, clinical social worker, book reviewer, and assistant librarian. Her newest book is a middle-grade novel, PICKLED WATERMELON (Kar-Ben). In the story, eleven-year-old Molly visits her family in Israel for the first time. Readers will experience the uniqueness of Israel as Molly explores the country's history and her own family's connection to the land. Molly's personal journey is heartfelt and relatable for kids with family members who live far away. PICKLED WATERMELON is also a perfect selection for a family planning a trip to Israel.
Welcome, Esty! Tell me what inspired you to write PICKLED WATERMELON?
When I was growing up, my maternal grandparents lived in Naharya, Israel. We visited for several weeks at a time about six or seven summers during my childhood, an example of how quality really does matter more than quantity. Unlike Molly, I do speak some Hebrew, but communicating could still be tricky. PICKLED WATERMELON is my way of saving my precious memories of my grandparents. Saba and Savta are written as I remember them (fish tank and all), though the rest of the book is fictional.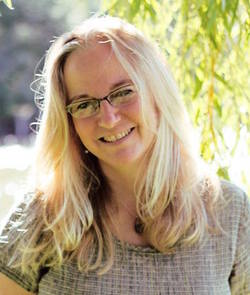 In the book, Molly's hesitation to visit family in Israel is relatable for so many kids. Is this based on personal experience?
Molly's caution and shyness are based on my personal experience, but so is her growth in confidence. I was very touched by a reader review on the PJ Our Way website, which said that the "book is about a brave girl who does things she does not want to do." There are many different kinds of brave, and I do see Molly as brave in her own way.
You feature many historic places that Molly and her family visit many places during their trip to Israel. Did you need to do a lot of research to make sure all your information was accurate?
Yes, I did research and shared the book with a variety of readers to check information.
Molly's mom and aunt have some political disagreements. Was it difficult to present these issues while keeping the story appropriate for middle-grade readers?
I gave a lot of thought as to how to present the disagreements in a way that would show people having different points of view, and acknowledge that there are different narratives. Ultimately, my feeling is that talking and listening are key to a better future.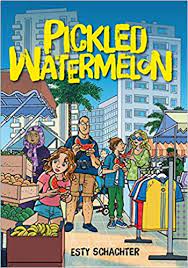 What was the biggest challenge you faced in writing PICKLED WATERMELON?
My biggest challenge was not giving up on the book! I wrote an early version of PICKLED WATERMELON more than 25 years ago, rewrote it about ten years later in the first person, and can't express the delight I feel holding the book in my hands today!
Have you ever made pickled watermelon? Do you like it?
I absolutely love pickled watermelon! My efforts at making it have unfortunately never been quite as tasty as the pickled watermelon my grandmother made. We have a problem in our family with writing down favorite recipes. Recently though, I gave a book talk at Temple Beth El in Ithaca, NY, and a temple member helped all the kids make their own jars of pickled watermelon to take home. They made me one too, and it was delicious!
Visit Esty's website to learn more about her work.