The 2017 Sydney Taylor Book Award Silver Winner for Readers is A Hat for Mrs. Goldman – A Story About Knitting and Love (Schwartz & Wade). Mrs. Goldman knits hats for others and explains to her young neighbor Sophia, that "Keeping keppies warm is our mitzvah." Sophia helps by making pom-poms. But Sophia worries about Mrs. Goldman. Who will make her a hat? Sophia takes on the task. Readers will be charmed by Sophia's act of kindness, in spite of her challenges with knitting. The relationship between Mrs. Goldman and Sophia is heartwarming and sure to strike a chord with readers of all ages!
I am honored to have the opportunity to interview author Michelle Edwards and illustrator Brian Karas.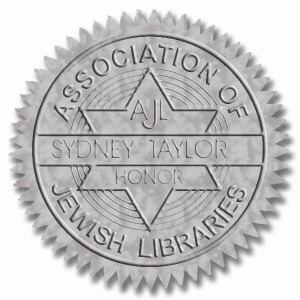 Michelle, I love the act of knitting as a bond that connects Mrs. Goldman and Sophia. As a knitter yourself, have you experienced situations where knitting creates communities? Is this what inspired the story?
When I mixed knitting into my professional creative life, writing monthly stories for the Lion Brand Yarn Company Newsletter, and later, my book, A KNITTER'S HOME COMPANION, I experienced many forms of community with knitters, both locally and globally. I got to know more about those who knit for others, a unique kind of wooly Tikkun Olam. Their work deeply influenced my writing and knitting.
Before I entered the knitting world as a writer, I had been fiddling for many years on a picture book story about a knitter. Like A HAT FOR MRS. GOLDMAN, the story involved a knitter and a neighbor friend, a young girl. As much as I tried, the story still lacked heart. It was only after I began writing about charitable knitters, about their efforts to share warmth, that I realized I might have a different knitter story to tell. One day, while on a skiing vacation in northern Minnesota, the beginning of that story came to me, a gift, really.
The fictional Mrs. Goldman is a little like many knitters I have met and known. One of those knitters is also a Mrs. Goldman, my friend, Mrs. Katherine Goldman, of St. Paul Minnesota. Katherine has taught many children to knit. She also knits for others, hats, mainly.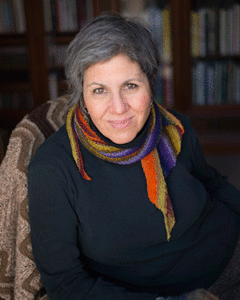 Brian, what were your thoughts when you first read Michelle's story?
Well, I have to say, right off the bat I wasn't too keen on the idea of working on a knitting book because I knew it would mean learning how to knit, which I didn't want to do. I had ruled out Michele's lovely story before even getting past the subtitle! But by the last line I was all in. There was no way I wasn't going to illustrate it, even if it meant learning how to knit. Which I eventually did, and enjoyed.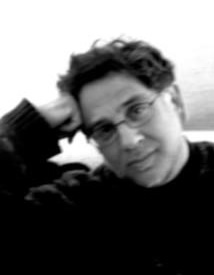 Your art is such a perfect pairing for Michelle's text. Can you tell me about your technique?
I think pairing an artist and writer is an art in itself. My technique was a more or less straightforward combination of digital art and traditional media. I often like to experiment with different media that works in harmony with the text, but A Hat for Mrs. Goldman required nothing complicated or fancy. The spare text is filled with genuine love from beginning to end and it needed artwork to support, not distract from, that strong message.
Michelle, what were your thoughts when you first saw Brian's illustrations?
My first thought when I saw Brian's work was that his illustrations had soul. That Brian had caught my story in unexpected ways. I was surprised and pleased by the timelessness of how he depicted Mrs. Goldman and the gentleness of his touch with Sophia. I adored how he drew them and Fifi. I loved the scenes he created where they were all together. I loved his use of vignettes to focus on key points in the text, like when Sophia smells Mrs. Goldman's knitting or when she hugs Mrs. Goldman after giving her the hat. I especially loved the trace of the handmade, the autographic feel to his illustrations, and the way they complement the larger theme of knitting.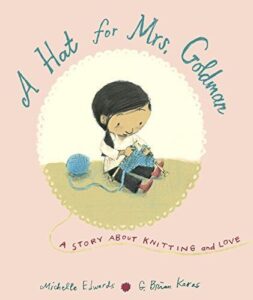 Michelle and Brian: How does it feel to be awarded the silver medal for The Sydney Taylor Book Award?
M: I feel honored and grateful. I am grateful for Lori Kilkelly, my agent who got my story to Anne Schwartz, for Anne Schwartz who helped me make my story stronger, and then, picked the perfect illustrator, and for Brian Karas whose art completed the book, and for the Sydney Taylor Award Committee who work to find books with meaning and value and selected ours to be honored.
B: It's a thrill and an honor to be selected for the Sydney Taylor Award, which selects books that authentically portray the Jewish experience. Mrs. Goldman teaches Sophia how to knit, and about the virtues of mitzvahs. She shows Sophia how good deeds have no culture, age or language barrier — acts of kindness have universal appeal.
Thank you, Michelle and Brian! Mazel tov!
Learn more about the Sydney Taylor Book Award and the Association of Jewish Libraries here