This interview with Richard Ungar was recently published in the Association of Jewish Libraries Newsletter. I am delighted to share it on Jewish Books for Kids. Happy Hanukkah!
Richard Ungar is an award-winning author illustrator, and practicing lawyer. He creates picture books and also writes middle-grade fiction. His recent release, YITZI AND THE GIANT MENORAH is a delightful tale of Hanukkah in Chelm, described as "A celebration of community, thoughtfulness and the magic of Hanukkah." Richard took time out of his very busy life to share a bit about his new book and his creative process.
Folktales are so important in Jewish tradition. What drew you toward Yitzi and the Giant Menorah?
I love the tradition of folktales and have always been drawn to them and in particular, the tales of the people of Chelm. Also, for a long time I wanted to write a story that took place during Hanukkah. I had already written stories that take place during Passover (Rachel's Gift) and Rosh Hashanah (Even Higher) so in some ways Hanukkah was "on my list". There are some wonderful Hanukkah stories and picture books out there (one of my all-time favorites is Hershel and the Hanukkah Goblins by Eric Kimmel (author) and Trina Schart Hyman (illustrator) – a perfect marriage of art and text!) and I knew that one day I would write (and illustrate) a Hanukkah story.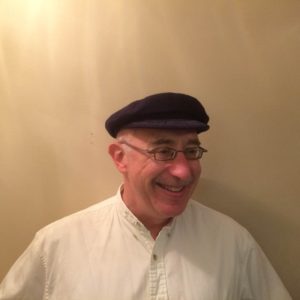 The stories of Chelm had been delighting children and their parents for generations. What do you think is the timeless magic of stories like Yitzi and the Giant Menorah?
I always enjoyed the stories of Chelm growing up and enjoy them even more as an adult. On one hand the people of Chelm seem very silly to me but I think what intrigued me then (and continues to intrigue me now) is that there is also a kind of wisdom in the silliness. And that to themselves, they are not silly at all. And also the sense that any problem can be solved if one puts one's mind to it…. like capturing the moon in a rain barrel so as to be able to gaze on it night and day. The people of Chelm may be quirky but they get things done!
What I also find attractive is the spirit of cooperation among the Chelmites (if there is a problem, the entire village often gets into the act to try to solve it) and that they are not at all mean spirited.
Can you share a bit about your illustrations and how they were created?
I wanted to challenge myself with creating the art for this book. As it happens, shortly before the manuscript was accepted I went on an art retreat – I took an intensive week long course on how to create watercolour monoprints. In a nutshell, monoprinting is a printmaking technique where you paint on glass and then, using a printing press, transfer the image to paper (in this case watercolour paper) during the printing phase. The paper is soaked in water prior to printing to facilitate the image transfer.
The effects can be dazzling – and results in all sorts of interesting patterns that cannot be achieved through direct painting on paper. There is also a surprise and unpredictable element to the process (which definitely adds to the fun but also to the stress level!) because when you peel the print off the press you can never really be sure how it will turn out.
When I came home from the art retreat I was hooked – and for the next couple of weeks, I went through what I call my "Monoprint Madness" period where I spent a lot of time in my basement studio churning out monoprint after monoprint. (Since I don't own a printing press, I used a simpler method to do the image transfer – rubbing the back of the image with a wooden spoon). After some experimentation, I found that to achieve the necessary degree of "readability" of the images for the purposes of children's book illustration, I needed to add fine details and also to rework the images after they had been printed.
I also did some spot drawings on the pages opposite the full colour illustrations to add balance. For these I use a compressed charcoal stick and drew them close to the sizes they appear in the book. My full colour illustrations by comparison are quite large: 20 inches by 30 inches.
What do you "picture" first – the story or the art? In other words, how is your inspiration sparked?
Most times I find that the story comes first and then I plot out the art and what scenes I will depict. Having said that, even though I write the story first, because I am a very visual person sometimes the inspiration for a story can come from a picture or an image. Because I wrote Yitzi and the Giant Menorah some years ago (it sat on my computer while I was busy writing the Time Snatchers series), I can't recall the specific inspiration for the story but it might well have been surfing the net and seeing a photo of a giant menorah. I do remember that my middle grade novel Time Snatchers was definitely inspired by a single image – from Chris Van Allsburg's picture book, The Mysteries of Harris Burdick (Houghton Mifflin, 1984). The image, a drawing called "Another Place, Another Time," shows children riding a sail-propelled handcar along a railway track that seems to go on forever.
You write both middle grade fiction and picture books. How different is the creative process?
That is an excellent question. For me (and I realize the process may be entirely different for others), a picture book has to come to me almost in its entirety before I sit down to write it. I need to know upfront the problem/source of tension/obstacle to be overcome for the beginning of the book and I also need to know the solution at the end. What I sometimes don't need to know immediately and will work out during the writing phase are what are the ways in which the protagonist and/or other characters try to solve the problem before they ultimately succeed.
As an example, when the idea for Yitzi and the Giant Menorah came to me I knew immediately that the problem would be how to thank the Mayor of Lublin for the gift of the Giant Menorah. I also knew that the child (Yitzi) would solve the problem on the very last day of Hanukkah and how he would solve it. Finally, I knew that there would be three (failed) attempts to solve the problem before Yitzi succeeded – What I didn't know (until I sat down to write the story) was that the failed attempts would involve latkes, a dreidel and special Chelm snow!
For a novel, the process for me is a bit different. I have tried in the past working from an outline but I found that too constraining. Generally, I know how the novel will end but getting there is definitely a challenge and one that I now solve only during the writing phase. Characters in a novel are an unruly mob, and sometimes want to take the novel in totally different directions from what I intended – not all of them good directions! It's a good thing that I enjoy writing for writing's sake because there were many chapters that never made it into my finished novels as a result of one character or another going off on a tangent…
Finally, as a practicing lawyer how to you find the time for writing and illustrating?
It's not easy! First I have a very supportive and understanding family. Also, I do most of my art or writing on weekends or late at night (I'm a bit of a night owl and may sometimes go down to my studio at 10 p.m. and work until midnight). I also try to fit my writing time in whenever I can… sometimes early morning before work or if I am travelling on trains or on long car drives (I have been known to sit in the back seat with my laptop while my wife drives to the cottage).
Also, to reduce the pressure, where possible I try to negotiate ahead of time with the publisher a longer deadline for delivering the final art for a picture book to allow for busy periods at my 'day job' (e.g. Yitzi and the Giant Menorah was created over a two-year period).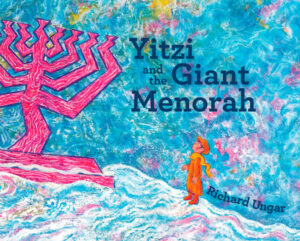 Is there any other information that you'd like to share?
Yes, thanks for asking! I'm involved in an exciting project with PJ Library connected with Yitzi and the Giant Menorah. With technical help from my son, I videotaped many of my drawing, painting and printing sessions and, working together with the creative folks at PJ Library, have produced a series of short video clips showing my creative process. We are in the final editing phase and the series will appear on the PJ Library on-line blog. It has been a really fun project!
Thanks, Richard!
Learn more about Richard Ungar and his books at Richard-ungar.com