April Halprin Wayland is part of the amazing community of children's writers in Southern California. I was delighted to discover April had written a book about Tashlich, a wonderful ritual that occurs during Rosh Hashanah. According to Jewish tradition, the community journeys together to a body of water and cast bead crumbs that represent regretful deeds committed during the year. Before Yom Kippur, the Day of Atonement, apologies must be made to those we have hurt. NEW YEAR AT THE PIER is a thoughtful, tender story that beautifully represents Tashlich. The book received a starred review in Publishers Weekly.
April Halprin Wayland is a farmer turned folk musician turned author. Her novel in poems, picture books, and poetry have garnered numerous awards including the Lee Bennett Hopkins Honor Award for Children's Poetry, the Myra Cohn Livingston Award for Poetry, and MommyCare's Book of the Year. Her work has been called "dazzling", "honest, heartfelt, poignant", and "utterly fresh and winning". She's been an instructor in UCLA Extension's Writers Program for over a decade and teaches workshops in schools all over the world. She lives near the beach in Southern California where she tosses bread off a pier each New Year.
I'm excited to welcome April and learn about the creation of NEW YEAR AT THE PIER.
NEW YEAR AT THE PIER is clearly inspired by your own celebration of Tashlich. Did you have an "aha" moment when you had the idea of turning the experience into a book?
One of my editors asked me if I had any Jewish stories in me. When I thought about what Jewish story I wanted to tell, Tashlich popped up because it's my favorite Jewish celebration. I've dragged many friends to the pier so they could taste the poetry of this ritual. I wanted them to feel the wind, hear the gulls, experience the relief of tossing each piece of bread. How could I not share this in a picture book?
Was it a challenge to find a home for a book about a lesser-known Jewish holiday?
Yes and no. The editor who originally coaxed me to write it rejected the manuscript. *Sigh*…all in the life of an author! But when I called my other editor and asked if she'd be interested, she just happened to have come out of a meeting in which they asked the editors to look for Jewish-themed picture books. It was amazing synchronicity—or luck. Or the universe really wanted this book out! I like the saying, "Coincidence is a long way of spelling God."
What was your response when you first saw the illustrations?
From the first time I saw the cover, I was smitten. It didn't surprise me to learn that Stéphane grew up on the water. I can feel the roll of the waves in his pictures—they're that real. I also love the fact that some of his Jewish characters appear to be Asian. I haven't asked him if this was intentional, but it's a true snapshot of many congregations today.
The best thing about his illustrations is the amount of emotion with which he imbues each character. I fell in love with him for his illustrations of Pat Brisson's I REMEMBER MISS PERRY, the story of a beloved elementary school teacher who dies mid-year. His ability to show the full range of emotions in this book is stunning.
I didn't know that Stéphane had received the highest award for a children's illustrator in Canada (Governor General's Literary Award winner)—four times. He also received the 2008 TD Canadian Children's Literature Award for the most distinguished French-language book of the year, which includes one of the largest cash prizes for children's literature. Heavens – my book has been illustrated by royalty!
Stéphane's a very nice guy.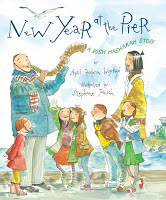 What did you learn from writing NEW YEAR AT THE PIER?
How much an illustrator can add to the emotional heft of a story.
How to sincerely apologize without expecting anything in return.
More about Tashlich…and my own spirituality.
How exciting it is to be swimming in this stream of Jewish books. It makes me want to write more!
One more thing I've learned: About Mazon http://www.mazon.org/ , the Jewish response to hunger, to which I'm donating a portion of the profits of this book. What a wonderful organization!

Will you be at the pier this year?
You betcha.
What are some fun facts about you?
1) We have a cat named Snot.
2) Although writing is my solace and gives me a natural high, sometimes writing terrifies me. Can anyone relate to this?
3) When I was six-years-old I learned to drive. I was so small you couldn't see me, so it looked as if the truck was bumping down the farm road by itself.
4) One day I'm going to build a trout stream in our backyard.
5) I admire: my husband, people who take a stand, people who tell jokes well, Christopher Reeve, folk singers, songwriters, my friend "singer—songfighter" Ross Altman http://www.rossaltman.net/, anyone who can plot a story, world peacemakers, local troublemakers, and people whose hair always looks nice (can someone please teach me how?)
6) All of my favorite people are generous—they truly work to repair the world. They are also kind. And funny.
7) My best friend (besides my husband) is author Bruce Balan http://www.brucebalan.com/ who lives on a boat, sailing around the world.
8) When life really gets you down, get a kitten. Works every time. See # 1, above.

April, thank you for sharing your thought so generously. NEW YEAR AT THE PIER is destined to be a classic in Jewish communities everywhere! To learn more about April and her books, please visit http://www.aprilwayland.com/