Malka Drucker is an award-winning author of 20 books, including GRANDMA'S LATKES, and her highly acclaimed JEWISH HOLIDAY Series which won the Southern California Council on Literature for Children Prize series. She belongs to many literary organizations, including The Society of Children's Book Writers and Illustrators, The Southern California Council on Literature for Young People, the Association of Jewish Librarians, The Authors Guild, and PEN. Malka was ordained in 1998 from the Academy for Jewish Religion, a transdenominational seminary. She is also the founding rabbi of HaMakom: The Place for Passionate and Progressive Judaism, in Santa Fe, New Mexico.
I am delighted to share my interview with Malka about her newest book, Portraits of Jewish American Heroes (Penguin, 2008) a collection of short biographies, beautifully illustrated by Elizabeth Rosen.
What inspired you to write Portraits of Jewish American Heroes?
I wrote Portraits of Jewish American Heroes because I was asked to. The publisher had published a book about African American Heroes that did very well, and they decided to publish a series of other ethnic groups by writers of that group. That being said, I said yes immediately because I love to read and write biographies and always have. Second, Jewish and non-Jewish children need to know about Jews who have enriched America more than ever. Names like Madoff get far too much attention. All children, perhaps adults as well, live in a world where celebrity and charisma trump character, and those whom the world calls heroes are merely famous. A hero is one who is a pioneer, who sets examples for others, and whose effort is for the benefit of more than oneself.
How did you choose which heroes to write about?
That was a great challenge! The format of the book was for 20 heroes and I agonized over not including many heroes. These were my considerations: gender equality, a 350 year span of American Jews, and representatives from diverse fields of accomplishments. I've been asked many times how I could exclude Sandy Koufax. I chose Hank Greenberg because he had the honor and struggle of being the first Jew to play major league baseball in a city known for Henry Ford's antisemitism. What was the most interesting part of the process?I learned so much from researching this project! When people ask me what age group the book is aimed at, I say all ages. Besides the individual contributions—child labor laws, social work, jeans—there is a collective picture. From Chaim Solomon who came to America to escape antisemitism to Daniel Pearl who died because he was an American Jew, they all loved this country for its promise of freedom. I saw how Jewish values strengthened the lives of these heroes and how they made America a better country.
How do you balance being a writer with your work as a Rabbi?
A rabbi does a lot of writing, so I never get out of practice between books. The problem is finding the time to write the books! When I'm working on a book, I try to do nothing else for a month at a time. I also have a community that is very understanding and takes responsibility for itself 75 percent of the time.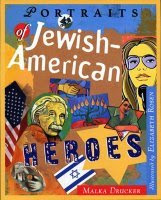 Are you working on any other books for young readers?
I'm playing with the idea of a Mary Poppins-like rabbi who has a small dog with uncanny ability to solve difficult problems. Together they time travel with a bunch of religious school dropouts into adventures throughout Jewish history. Along the way, they get to ride in an ark and get to see the first rainbow, help David defeat Goliath, and discover the excitement of our history.
What is a fun fact about you?
I love gummy bears and goldfish.
Malka, thanks for visiting. I can't wait to read your time travel story!
To learn more about Malka and her work, please visit her website at http://www.malkadrucker.com/