Esme Raji Codell is an author and "certified readiologist." I first learned about Esme, a young urban teacher with big dreams in her acclaimed memoir, EDUCATING ESME. Years later, I began reading her children's books and was delighted when an advance reader copy of VIVE LE PARIS arrived in my mailbox for review. I was immediately pulled into the story, promptly took off my reviewer hat, curled up in a chair, and savored every page. When I learned the book was awarded the Sydney Taylor Honor Award for "outstanding contribution to Jewish Literature," I was not surprised!
Esme is passionate about books, literacy, and children. I am thrilled beyond measure that she was willing to share her thoughts and insights on my blog.
VIVE LA PARIS is about the relationship of an urban African American girl, and her piano teacher, a holocaust survivor. What was the inspiration for writing a story about the connecting of diverse cultures?
When I was teaching the fifth grade in Chicago to an inner-city classroom of about thirty five kids, I read aloud a book called Number the Stars by Lois Lowry, about children and the Danish resistance during WWII. It was very indirect as to the particulars of the Nazi threat, and none of these children were Jewish or had any prior knowledge of the Holocaust. I was happy to skirt around the atrocities. When the book inspired more probing questions, I answered with the academic equivalent to "Go ask your father," which is, "go to the library."
Well, one day, I saw one of my students writing and crying so hard that tears were falling on the page. When I went to see, she was making a word search with words like NAZI AND CREMATORIUM. It turned out that she DID go to the library, and making this word search was her was of processing this information that she had found. I realized that I had chickened out, but I needed something to help me, as a teacher. I needed a book that spoke to all children, especially inner-city children who fight their own wars and injustices every day. I wanted a book that spoke to children now, who are so inundated with media, with images of Rwanda and 9/11 and the Asian tsunami and images from Katrina. So I wrote VIVE LA PARIS specifically from a diverse cultural point of view because I hoped it would be useful in reaching kids from all kinds of backgrounds as a springboard for a larger discussion: how do we deal with the bullies of the world? And, how does history repeat itself, in big ways and in small ways? These questions belong to all cultures. The book can be looked at in this context, but lots of kids also enjoy the straightforward tension of the plot; the idea of a fifth grade girl bullying an eighth grade boy is a big problem, and Paris, the boy's sister, just gets madder and madder and madder. I think a lot of kids can relate to the idea of an escalating situation, and the desire to solve things peacefully…and just how hard that can be.
VIVE LA PARIS is a companion novel for another book I wrote, SAHARA SPECIAL. Characters appear in both books, so kids who enjoyed SAHARA can see their old friends again, but I was very careful to make sure each book stands on its own. You don't have to read one to enjoy the other.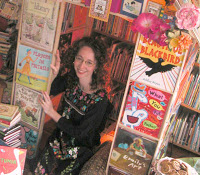 Paris, the main character in the book, had no previous knowledge of the Holocaust. Do you think today's children are lacking exposure to the struggles of previous generations?
I think there's a fine line between teaching kids the struggles of past generations and discouraging them with the incredible inhumane episodes that recur again and again in the world invented by grown-ups. But in answer to your question, yes, I think generally children could afford to know more about what previous generations have contributed to the present, but then again, I think everyone could afford to know more. I hope history would be approached with a sense of gratitude for what has been sacrificed and endured to arrive at this moment, and with some optimism about the future. Since most history is traditionally taught within a contextual timeline of war, this requires some conscientious effort.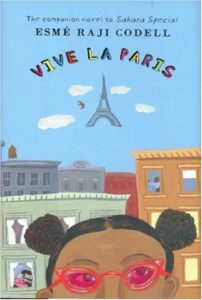 Did you do a lot of research or is VIVE LA PARIS based on personal knowledge and experiences?
I was already well versed in the events of the Holocaust, though lots of facts were checked and re-checked. I did read up a lot on the entertainer Josephine Baker who is referenced in the novel. She really did lead an incredible life, working for the Resistance and dedicating so much of her personal life to the celebration of diversity. But most of VIVE LA PARIS is inspired by my own family, neighbors, children I have taught. There's no fiction that isn't born out of a seed of truth.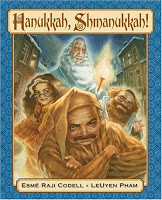 In HANUKKAH SHMANUKKAH! (Hyperion, 2005), a Jewish version of A CHRISTMAS CAROL, you explore a different historical aspect of the Jewish experience, including the use of humor and Yiddish words. Like Vive La Paris, this story also seems to bridge gaps between generations and communities. Do you see this as a significant theme in your writing?
Gosh, good questions, Barbara! I guess everything about me goes into my books. I grew up in a diverse multicultural neighborhood, and a lot of colloquial Yiddish was used in my home. I had a strong identification as an American, and felt like all American history was my history, including African-American history, which I learned a lot about at home and at school. I was surprised as an adult with the idea that history could belong to one group and not another. Since all the cultures in America, in my mind, should come together in a sense of belonging here, I suppose that shows through in my work.
You began your career as a teacher. Did you always want to write books?
I wanted to be a baseball umpire growing up, and then I wanted to be a scientist, but through it all I always wrote books, diaries. Short stories, articles, poems…sometimes to publish, sometimes not. I have been writing since I was able. It has always been part of who I am, not who I ever wanted to become. I always remind children that being a writer means writing, whether or not you get published, and whatever age you are.
Did your experiences as a teacher inspire your stories?
Oh, yes. Absolutely. Virtually all of my books have something to do with school, and all of my books start with something I want to share with children. I am always conscious of how my book might be used in a classroom, and I always try to write things that are fun to read aloud, since that is the most beneficial classroom approach.
I think I'm obsessed with school because it's such an ephemeral time. Every school story is also a ghost story, because children change out of their former selves into adults. When I teach, I feel so lucky, I get to experience people during this precious, fleeting time, to know them so early in their own experience of living…and here they are, in this strange place, together: a school. It's the stuff of great literature!
You have written many books in a variety of genres. Do you have a favorite genre?
I like writing non-fiction best, because I like observing better than having make things up. Inventing a whole fictional universe is exhausting, and requires more choices than a Libra like me can handle. Though I do try.
What are you working on now?
I have three picture books from Greenwillow on the horizon. I am also planning on launching a podcast soon that celebrates the joys of reading and the wonderful work of other authors and illustrators.
What do you like to read?
I like to read children's books, because they are fast-paced and usually funnier than literature for adults. Realistic fiction and picture books are my favorite genre, though I'll give anything a go for a few chapters. When I was a child, comic books were my favorite thing to read.
What is your favorite holiday?
Halloween, Johnny Appleseed's birthday (September 26th) and my son's birthday.
Do you have hobbies besides writing?
Well, my husband says eating is not a hobby, but I do love everything to do with food: cooking, reading food magazines, trying new restaurants. I love to spend my time listening to music, dancing and singing (usually in the privacy of my own apartment). I am also a rabid collector (I like robots, old Fisher Price toys, anything to do with fairy tales, Halloween collectibles and of course, children's books and videos), a sloppy but bountiful urban gardener, and I like to plan parties, make puppet shows, blog about my favorite books at www.planetesme.blogspot.com and read aloud. My very favorite thing to do is spend time with friends and family, and make sure they know I love them.
Do you have any pets?
We have two sugar gliders named Amelia and Philippe. They are very old and fat marsupials with a lot of personality. Definitely part of the family.
Can you share a few fun facts about you?
One of my first things I ever had published was a movie review in a newspaper when I was seven years old.
When I was a teenager, I had 200 penpals and often skipped school to write letters to them.
I worked as a doughnut finisher for Dunkin' Doughnuts. I like their French Cruller and Strawberry Frosted best.
I secretly would like to run a museum, or have a radio show.
Esme, it had been a delight! Thanks for stopping by!
To learn more about Esme, check out her web site at www.PlanetEsme.com
Be a part of the PlanetEsme Plan! www.planetesme.blogpot.com