Melissa Schorr began her writing career as a journalist. Her first book, GOY CRAZY (Hyperion, 2006), is a thought-provoking young adult novel that explores a delicate topic for many families – interfaith dating. In the book, Rachel Lowenstein tests her own beliefs and the traditions of her family. Teens and adults are falling in love with Rachel in this warm and funny debut novel. I was excited to have the opportunity to interview Melissa, and to share the story behind her story.
Your book, GOY CRAZY, deals with the issues of interfaith dating. Why were you drawn to write about this topic?
Big surprise: like many first-time novelists, Goy Crazy really mirrors my own life story. Like Rachel, I had parents who weren't too happy at my talent for dating non-Jewish boys in high school. And a lot of my friends and family members did end up in interfaith relationships. The great irony is, in my own life, I somehow did end up marrying the nice Jewish boy of my parents' dreams. Go figure. But what I love is that this is a universal story many teens can relate to – dating someone your parents don't approve of, for whatever reason.
Did you consider this a controversial topic?
Yes, but unfortunately, not controversial enough to, say, land me on the front page of the New York Times! As a novelist, I tried to be pretty clear that I really wasn't advocating for or against interfaith dating, just telling one girl's story, and I think most readers got that. I do think this is a powerfully important issue, and one that is affecting a lot of people today from all backgrounds.
Unfortunately, what I tell teens who ask what I believe is that there is no easy answer – this is a struggle between wanting to see your faith perpetuated, and wanting to make the best decision for your own life, and it will be up to you to someday make that choice.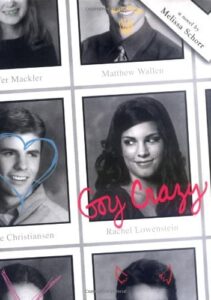 What has been the most interesting response to Goy Crazy?
Actually, the only thing that has been controversial has been the use of the word "Goy" (which simply means Gentile, or not Jewish) in the title. Most people have had a sense of humor about it, but some think that word has a negative connotation and shouldn't be used. We actually applied for a trademark, and at first, the government turned us down, saying the word was salacious and offensive. We appealed, and got that overturned! As a writer, I believe that you have to consider the context of the word, and realize it's being used here in a fun, affectionate way.
As a Jewish author, were you inspired to write about a Jewish issue?
It was a lot of fun to be able to reflect on — and poke fun of — my own upbringing and experiences in the book, from bat mitzvahs to the High Holidays. But ultimately, I don't see myself as solely a "Jewish author," although I'm sure my background will always affect my writing.
Will we see Rachel, the main character, in any future books?
I'm not sure. At this point, there are no plans for a sequel, but who knows? Right now, I like the idea that the religion of the person Rachel ends up marrying someday is left unresolved.
Why did you start writing children's books?
Sadly, probably because I'm still mentally a teenager. Seriously, I was an obsessive reader all throughout my childhood and teens, so actually writing one of my own was a secret dream come true. Also, I didn't think there were too many books out there dealing with interfaith dating from a teen's perspective – especially in a funny way.
What are you working on now?
I am working on another YA novel, but something completely different than GOY CRAZY. The best I can describe it is as a doomsday, chick-lit romantic-comedy set in the near future, if that makes any sense.
What is the best thing about being a children's writer?
Getting enthused emails from teen girls, having to do "research," like poking around YouTube and Facebook and Seventeen Magazine. One highlight was getting to go back to my own high school, Bronx Science in New York City, and reassure them that I was a nerd, too, back in my day, and look! I turned out fine. Sort of…
What is the hardest part about being a writer?
Motivating and being a perfectionist.
What do you like to read?
Really good YA fiction. It makes me insanely jealous and then helps me get motivated.
What is your favorite question you have been asked by a reader?
"Will you please write another book?"
What is your favorite holiday?
A non-existent one: "Chrismukkah." Last year, for my book launch, we held a "Chrismukkah" holiday party – it was the best of both worlds: eggnog and Manischewitz wine, chocolate gelt and candy canes, latkes and mistletoe.
Do you have hobbies besides writing?
Seeing Broadway musicals, playing volleyball, walking Bailey, my Westie, and mostly, running after my toddler.
What are some fun facts about you?
In my previous life, I was a reporter in Las Vegas. I got to write about everything — brothels, boxing matches, high-profile murder cases, casino openings and celebrity weddings. The craziest thing I ever did for a story? Visit a nudist colony.
Melissa, thanks for stopping by to share your thoughts. It's been great visiting with you!
GOY CRAZY will be available in paperback in the Spring of 2008. To learn more about Melissa, visit her web site at www.melissaschorr.com