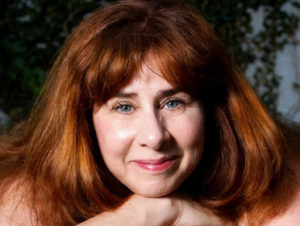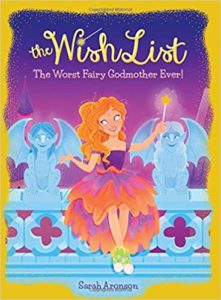 I am thrilled to welcome my friend, Sarah Aronson to chat about the first book in her new series,THE WISH LIST – The Worst Fairy Godmother Ever.  Sarah is a writer, teacher, and mentor. She is candid and open-hearted about her writer's journey and her generous spirit translates into relatable, meaningful stories. 
In THE WISH LIST – The Worst Fairy Godmother Ever ! Isabelle is an unlikely prospect for Fairy Godmother Training. Her intentions are always good but things don't always go her way, which makes Isabelle very relatable for most readers, including me. What inspired you to create such a perfectly imperfect character?
Thank you so much for appreciating Isabelle's big heart! The truth is: I am my protagonist! When I was young, I was a terrible student. I had a hard time paying attention. I worked hard, but I never tested well! When the idea of fairy godmother training came to me, I thought about all the ways school didn't work for me—and all the mistakes I made trying to figure it out.
Like Isabelle, I am not a big fan of hard and fast rules! (Even now, as an adult, I am constantly trying to break them.) When I started writing, I knew this was going to be a family story—and I wanted to play with all the tension that comes when siblings (that are different) want the same thing. That's why I gave Isabelle an older, smarter, annoying sister. (Also: I have a younger sister who was always really good at following rules.) I knew that Isabelle's story would be more meaningful if the reader could follow Isabelle's inner journey—to measure up—and fit in—especially if she was surrounded by others who were also feeling the pressure (but maybe coping in different ways). Isabelle wants to be a great fairy godmother. Not the worst! But she can't help challenging the status quo! I hope it's both funny and meaningful to readers.
Isabelle is assigned to be the Fairy Godmother for a "regular" girl, Nora Silverstein, instead of a princess. But Nora is special in her own way, just like Isabelle. She cares a lot about the world around her. Is this a nod to the concept of Tikkun Olam, repairing the world? You bet it is! In real life, I am all about tikkun olam! I have organized mitzvah days. I march! Even as a writing teacher, my main goal is to bring people together! These days, I help out in my synagogue's soup kitchen. I believe this world is FULL of Nora's. It's what gives me hope!
But Nora is NOT a typical princess by story standards! She doesn't care about clothes. Or going to a fancy party. She's too young for love. She wants to make the world better and stronger and more fair! She is essentially why fairy godmothers MUST go to training—because she will not be satisfied by the things storybook godmothers could give their princesses. But is that all there is to happiness? When Isabelle figures out what Nora needs, she grows, too.
Isabelle bumbles and stumbles her way through Fairy Godmother training. With all her mishaps, she discovers the real power of friendship. With several more books in the series, can you give me a sneak peek into some of Isabelle's future antics? Let's just say: friendship and family are important themes! And Angelica, Minerva, Clotilda, and Mom are going to have important roles.
As Isabelle continues in her training, she will confront many obstacles. She will have to be kind, determined, and full of gusto! I just finished Book Four and I hope that readers will need a few tissues to get through it! As a writer, this series has taught me to trust myself! To trust the characters!
 The cover art is amazing! What were your thoughts when you first saw it?Maximum sparkles! I love it! I interviewed Heather Burns on my blog.
 In your acknowledgement, you refer to this story as your "peach sorbet," a story that you worked on as a sweet treat to yourself, without any expectations for publication. Yet, here you are with a "peach sorbet" series! Can you share a bit about the story behind the series? I have written a lot about my peach sorbet and how it became a series. A LOT. But I never mind talking about it. Because the experience showed me the power of play!
My story starts in Sept 2014. I was teaching the Whole Novel Workshop at the Highlights Foundation, working with four amazing novelists on their work. This is the best work I do. I love reading works in progress, then analyzing them, and then talking to the writer about how to take the seeds from their manuscript and nurture them into authentic characters and stories. I admire the writers who work with me. They share their hearts, their dreams, their fears…they are completely honest. In our sessions, I am honest, too. I talk about my evolving process, my evolving interests, and what I have discovered about writing. Through reading. Through writing. Through putting the pen down and looking for inspiration. I told them about a dark novel I was working on—one that had come close a couple of times—and the "peach sorbet" I wrote for myself when my "real writing" was over. This story was silly. Just for me. To cheer me up before the family came home.
Later in the week, as luck would have it, that tough manuscript came close again. And was rejected. As I walked around the farms near the Highlights Foundation, my agent and I made a decision. It was time to shelve the novel. To move on.
That is a hard conversation to have. It is even harder to say goodbye to a story you think has merit.  And the timing was a little awkward. Here I was—the teacher. The role model. The writer that was supposed to be showing them how to have a career. I felt exposed. Not sure what to do.
So I did what my best teachers did for me—what the heart of the Highlights Foundation is all about. During our last night together, when everyone got up to read, I told everyone what happened. With the encouragement of the group, I read my peach sorbet!
And you know what? They liked it! More important, reading it made me happy! I wondered if writing something for myself might not be so silly after all.
That's the day I gave myself a challenge all about PLAY. For six months, I would write all the things I thought I couldn't write, from picture books, to essays, to adult stuff, and my peach sorbet, a chapter book series about fairy godmothers in training.
For six months, I did not think about selling a book. I did not worry about product. Or ego. Or what was going on in the Twitter Universe.
I did not compare myself to other writers. Instead, I drew a lot. I played with clay. I made eleven olive bowls at a pottery class!
And I wrote. A LOT.
When I was done, I had a lot of half-baked stories to play with. (About ten terrible picture books!) But I also had some gems I could send to my agent.  The Worst Fairy Godmother Ever (book one of The Wish List Series) was one of them. Another was Just Like Rube Goldberg, a picture book biography that will be published in 2019. (I have seen sketches and OH MY GOD, it is going to be amazing!!!)
Most of all, I learned that the joy of writing comes from the process of writing—from the process of creating a story—from sharing my heart. Sure, I still want the stuff I can't control. But in real life, I don't have a magic wand! I can't make that stuff happen! All I can do is write. And play. And honor the process. I am so grateful I get to do this. I hope that readers will see the my joy in these books!
To learn more about Sarah and her work, please visit Sarah Aronson